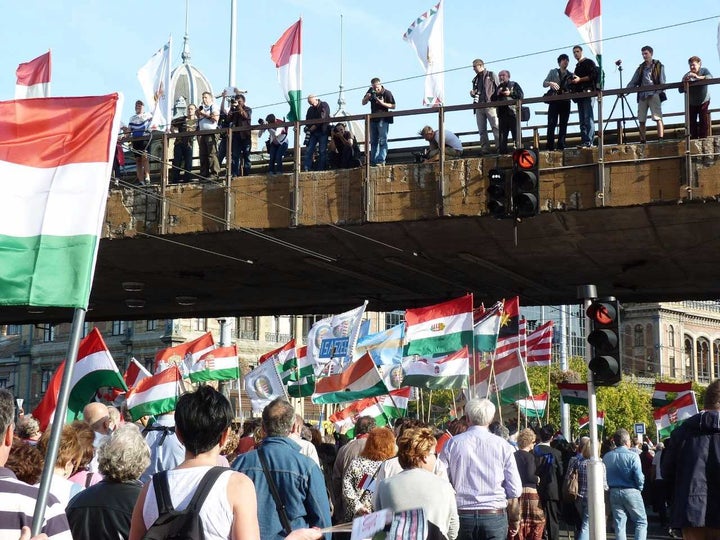 Next spring's Hungarian elections promise to be dominated by a person not on the ballot: George Soros.
The billionaire businessman, activist, and philanthropist has become the favorite bogeyman of right-wingers from the United States to Russia, who employ classic antisemitic tropes to depict Soros as a puppet-master. And nowhere is his influence more denigrated and exaggerated than in his home country. The ruling Fidesz Party, headed by Prime Minister Viktor Orban, is holding a "national consultation" about Soros, and pro-government media are promoting a blacklist of journalists, accusing them of being "Soros's foreign propagandists."
Last week Andras Aradszki, an M.P. from the governing coalition, gave a speech in parliament called, "The Christian duty to fight against the Satan/Soros Plan," in which he commended the national consultation as "an outstanding opportunity for us to make our opinions known about Satan's Soros Plan,"
For some time now Orban's government has been demonizing Soros, the 87-year-old Hungarian-American who funds civil society initiatives around the world. A few months ago it financed a billboard campaign featuring Soros and continually warns against his liberal influence on the country. Orban claims Soros, an advocate of refugees, seeks a "new, mixed, Muslimized" Europe.
In a sinister new twist, pro-government website 888.hu has issued a blacklist of journalists, claiming that eight reporters working for international media outlets are "Soros's mouthpieces." On Tuesday David Kostelancik, the United States' most senior diplomat in Hungary and the charge d'affaires at the U.S. Embassy in Budapest, said: "These media outlets have every right to criticize or disagree with the reporting of other journalists, but to attempt to intimidate them and make their work dangerous is inconsistent with international pledges to safeguard free media," and that "The United States unequivocally condemns any attempt to intimidate or silence journalists." Yesterday Hungary's foreign ministry said it has summoned Kostelancik over the remarks on press freedom, saying they amounted to interference in next year's elections.
An American citizen and Georgetown grad, Bayer is respected internationally for her reporting on police violence against refugees and Orban's close relationship with the Kremlin. 888.hu said she has "a penchant for abusing the Hungarian government and Viktor Orban. She was among the first Hungarian-rooted journalists who accused Viktor Orban of anti-Semitism when the prime minister raised his voice against George Soros' subversive activities. Aside from this, she has also contributed to Forward, the American Jewry's leading newspaper…"
Two weeks ago the European Federation of Journalists protested that Hungarian government spokesperson Zoltan Kovacs verbally attacked Bayer. "Kovacs first insinuated in a Twitter post that Bayer is on drugs... He went on by saying that Lili Bayer is not a journalist but a political activist serving Soros' interests."
The initial blog on 888.hu said the enemy journalists have "smart aleck opinions" and see Soros "as their sugar daddy." Their report was picked up by the more popular Origo site.
Nothing confirms Hungary's steady slide into authoritarianism more than the smearing of independent journalists. Month by month the country looks more like a 1980s retro version of itself, with secret police monitoring dissidents, the government assuming control over the media, and the ruling party demanding unswerving public loyalty. This year Human Rights First reported on attempts by the Orban government to close down the respected Central European University, and new laws targeting civil society's international support.
Bayer says that after the list appeared, she received a message, warning, "people like you should be hung on lampposts." Violence against activists and journalists often starts with demonization by the government as authoritarian rulers and their mouthpieces smear their work and assert they they are unpatriotic or agents of a foreign power.
At last month's conference of the Organization for Security and Co-operation (OSCE) in Warsaw, Harlem Desir, OSCE Representative on Freedom of the Media, warned against online harassment and intimidation of journalists in member countries.
Hungary is a member of the OSCE and the European Union. Both have guidelines on protecting human rights defenders. The OSCE version states that authorities "should take steps to ensure the safety of journalists and ensure that journalist human rights defenders are effectively protected from attacks and other abuses both by state and non-state actors."
But it's unlikely the Fidesz Party will depart from its xenophobic blueprint. Orban and his cohorts are prepared, it seems, to stoke fears of a Soros-led global conspiracy against the country and to threaten those who dissent from their anti-migrant, Putin-friendly policies. Hungary, a wayward NATO member and transatlantic ally, is becoming an increasingly dangerous place for critics of the government.