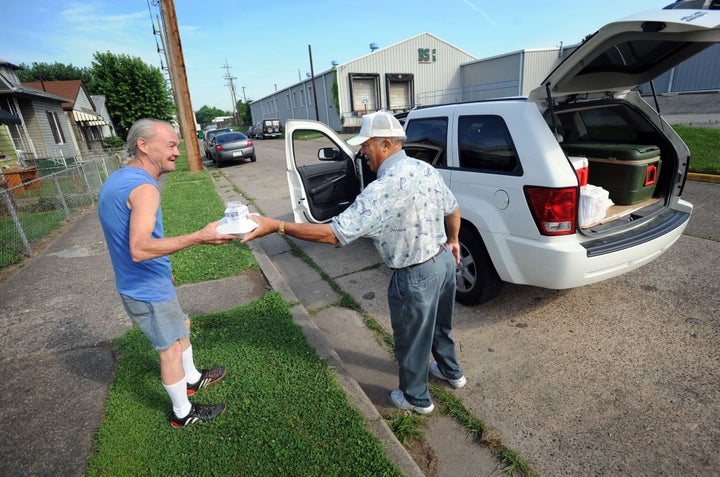 September is a very important month to me. And this year has been particularly significant for two reasons -- the 10th Anniversary of September 11, and this month, we are unveiling our national awareness campaign about the issue of hunger to everyone who will listen.
As a New Yorker, September 11 holds special meaning to me. I lost several classmates in the World Trade Center. As a transplanted Washingtonian I witnessed the devastation four miles from my office. Ten years out, like many others, I believe we should pay tribute by transforming this day into one of good will and service, and I offered a call to action along those lines.
September is also Hunger Action Month. My friends at Feeding America have done a wonderful job of bringing national awareness to a serious problem that our local Meals On Wheels programs around the country are challenged with every day. For me, for us, Hunger Action Month is every month of the year.
Yet the other day, my friend asked me a question that hit me hard. He asked, "It's great that we have Hunger Action Month but how exactly do you plan to end hunger?"
He's right. How do we plan to end hunger? What steps are we taking?
I know that the organization I lead, the Meals On Wheels Association of America (MOWAA), is trying to end senior hunger by taking a multifaceted approach that involves: serving as a national voice and advocate for our local Meals On Wheels programs, empowering them by providing the support and tools they need to deliver nutritious meals to more people in need, and undertaking quality research that will help us understand the true scope of the problem.
Our approach could help us fulfill our pledge of ending senior hunger by 2020, but that is only a segment (albeit, rapidly increasing and often invisible) of those who face the threat of hunger.
If we can't be all things to all people, and no organization should claim to be, how do we end hunger?
I think the keyword here is we. We can end hunger if we come together.
More often than not and when resources are limited, we are pitted against one another. Children against Seniors against ____ (you fill in the blank). The word is hunger and the condition on its own, doesn't discriminate based on age, gender, race, religion or any other way we choose to identify ourselves.
We need to take broad strokes and maybe we need to start by getting together to have some very open, honest, and hard discussions.
They might involve talking about proper nutrition for everyone.
And discussing why nutritious food is not accessible and affordable to everyone.
It could also include thinking about if, as a nation -- even and especially in tough times, if it makes more sense to support effective programs and groups that are addressing this issue now, or paying a greater price for not doing so later?
Many of us recognize the need to begin this dialogue. In fact, on our end, I have joined with the leaders of Feeding America and the AARP Foundation to begin a dialogue that we hope to continue, to move closer to ending hunger. We must work together to combat the scourge of hunger -- all hunger, not just one segment of our society. When one person is hungry, aren't we all? I mean the problem of hunger manifests itself onto and into everything and everyone we hold dear. That's why our slogan is, We are Meals on Wheels... After all, we are all in this together, aren't we?"
So, while I don't have a clear answer to my friend's question, I can say that with awareness campaigns like Hunger Action Month, more support on the ground to the folks that are actually feeding those who are hungry, and more dialogue and collaboration to address the issue as a whole- we are working on it.
And if in fact, we are more powerful together, greater than the sum of our individual parts, then maybe just maybe, we will have an answer and a day when no one goes hungry.
REAL LIFE. REAL NEWS. REAL VOICES.
Help us tell more of the stories that matter from voices that too often remain unheard.