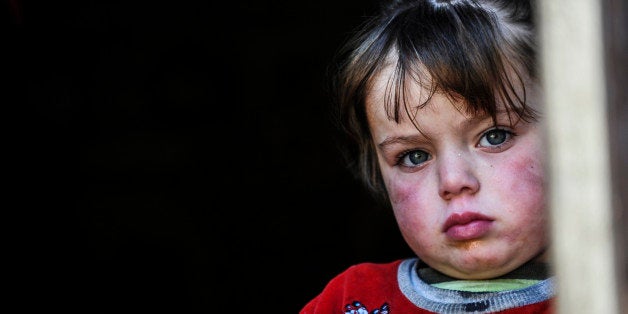 As President Obama delivers the State of the Union, there are hunger emergencies both at home and abroad.
At this very moment, children in Syria are starving because of food shortages caused by the civil war. Millions of families have been displaced and lost their livelihoods.
Think of three-month-old Yara who was born in displacement in Syria. Then, her family was displaced once again by the fighting.
Small children like Yara are extremely vulnerable to malnutrition. The lack of food can cause lasting physical and mental damage. It can even kill them. Only food from aid groups keep Yara and other children from starvation. That is if they can get the supplies through. Sometimes the military forces won't allow food aid to pass into certain areas of the country.
Over 7 million Syrian war victims need food aid to survive. Even if the war ended today, the needs would be substantial for some period of time. The food production system of Syria has been destroyed.
That is where the U.S. Food for Peace program, the single largest donor of food aid, comes in. President Obama needs Food for Peace as a central focus to U.S. foreign policy. It appears Congress is stepping up its effort to support Food for Peace funding in negotiations on the Farm Bill.
The UN World Food Programme (WFP), the largest hunger relief organization, depends on Food for Peace donations. On Monday, the WFP director, Ertharin Cousin, said from Rome:
The World Food Programme welcomes this renewed commitment from the United States, whose support in reaching the hungry poor has been essential and unwavering. At a time of multiple protracted hunger crises across the globe, new U.S. contributions to international food assistance will have an even greater impact than before. We thank the U.S. for giving WFP the opportunity to reach more in need.
There are many other hunger emergencies around the globe as we speak. In the Central African Republic and South Sudan, recent fighting has put both countries at risk of famine. The disaster in the Philippines last year has placed millions in need of assistance.
WFP operates in over70 countries including Yemen, Afghanistan, Iraq, Mali, Somalia and Haiti. Defeating hunger is the only way these countries can have peace and development. It is the most important help we can give them.
It's vital, therefore, that Congress support international aid through Food for Peace as well as other initiatives including the McGovern-Dole global school meals plan. UNICEF also needs funding for its programs that combat infant malnutrition.
President Obama also needs a hunger relief coordinator in the White House. Representative Betty McCollum (MN) put forward legislation calling for the creation of the position. It would improve the effectiveness of international food aid to have someone in charge, such as when Herbert Hoover organized relief after two world wars. Groups like Save the Children, Action Against Hunger, Catholic Relief Services, Bread for the World and Church World Service all want McCollum's bill (Global Food Security Act, H.R. 2822) passed.
On the domestic front, food insecurity impacts nearly 50 million Americans. Recent cuts by Congress to the food stamp program (SNAP) have placed a great strain on the unemployed and low-income families. They are turning to food banks for help, but these agencies are already stretched thin from the demand.
Our food banks are struggling to meet this increased need. We must ensure that all Americans have access to enough nutritious food to feed themselves and their families. This means Congress and the Administration must protect and strengthen federal food assistance, and we must all do our part in our communities to help our neighbors.
The extreme cold of this winter has placed even further strain on hungry Americans.
Hunger is a silent emergency, often taking place out of sight of the news media. It's power though is massive. For the well-being of any nation depends on nutrition. This is why defeating hunger must always take center stage in both domestic and foreign policy.
Popular in the Community