The New Hunger Games movie: Catching Fire has so much potential beyond being a stellar film. With extra imagination, and a little inspiration from history, this blockbuster can make a difference fighting world hunger.
A special web site has been set up to get fans involved. There is information about the global hunger crisis. There are even Hunger Games prizes for the film, which stars Jennifer Lawrence and Liam Hemsworth. A site dedicated to the first Hunger Games movie is also available. You can take a special quiz and see a video message from Jennifer Lawrence.
This is a great opportunity for the movie industry to use its powerful influence to help bring relief to the starving children in Syria, Mali, Haiti, Sudan, Afghanistan, and the Central African Republic.
This takes on even more urgency with the recent disaster in the Philippines, where a typhoon has left millions at risk of hunger and malnutrition. WFP is the lead agency in feeding storm victims.
The UN food agency, which relies on voluntary donations, is already stretched thin by the hunger crisis caused by the war in Syria. The Hunger Games, with its powerful media influence, can be a support in raising funds and awareness.

We know this can work. History tell us so. With famine lurking over Europe in the aftermath of World War I, the young motion picture industry came to the rescue.
Herbert Hoover and General John Pershing appealed for donations to the European Relief Council. As part of this campaign the movie industry held fundraisers nationwide. A two reel film was specially prepared for theaters. Stars made appearances at films to help the cause.
In Louisville, Kentucky two young local dancers performed at the Majestic and Crown Theaters. The Louisville Courier Journal proudly ran an article about its local talent with the headline "They're Helping Europe's Children." Millions of Europeans received food from this outpouring of support in America.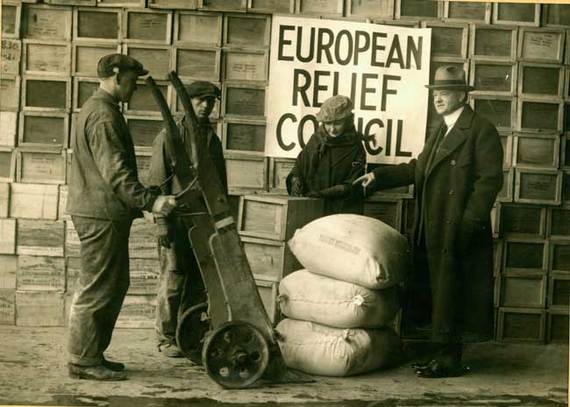 During World War II films were used by American Relief for Norway and other groups to inform and raise donations. After World War II a film called the Seeds of Destiny won an Academy Award for showing the plight of the starving overseas. This film was influential in helping secure the food that was needed for the rebuilding of the war devastated nations.
Now today there are 842 million people worldwide suffering from hunger. In America, cuts to the food stamps program is going to place a huge strain on Feeding America's network of food banks. The WFP and Feeding America each need support for their hunger relief missions.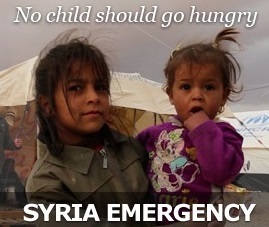 When you go to the movie theater, think of sending the cost of an extra ticket to the World Food Programme or Feeding America. If a ticket costs 10 dollars, that is equal to around 40 meals donated.
Feeding a "silent guest," one of the world's hungry, was a big hit in America after World War II. You can carry on that tradition with the Hunger Games film and throughout the holidays.
You can get started by visiting the Hunger Games site. Then let your own imagination take over from there.
Popular in the Community