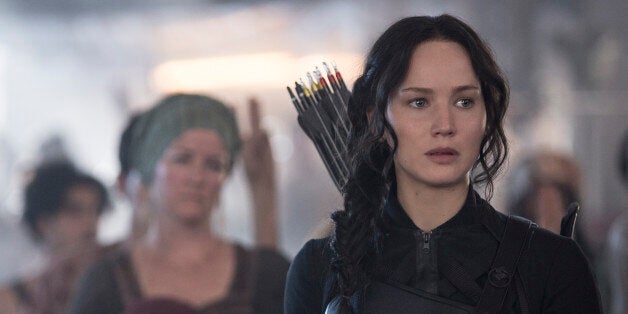 "The Hunger Games: Mockingjay - Part 1" isn't out in U.S. theaters until Nov. 21, but the film had its world premiere in London on Monday night and first reviews soon followed. The consensus? Mixed, with many critics citing Lionsgate's decision to split Suzanne Collins' source novel into two parts as a demerit. "Like an overgrown and bloated trailer for a film yet to come, Francis Lawrence's 'The Hunger Games: Mockingjay - Part 1' spreads perhaps 45 minutes of dramatic material across two far-too-leisurely hours," wrote Todd McCarthy for The Hollywood Reporter. If sick burns aren't your speed, there are other opinions about the film below.
1. "'Harry Potter' started it, and now it's bedevilling 'The Hunger Games' too. But the trend for dividing in two the last film of a series (see also 'The Twilight Saga') has less to do with story-tellers indulging our appetite for delayed gratification and more to do with executives enriching themselves." -- Brian Viner, The Daily Mail
2. "A film with the full title of 'The Hunger Games: Mockingjay – Part 1' may sound too self-consciously like a franchise building block to be best in series so far. And yet it is. [...] Francis Lawrence, his actors and crew have given us a blockbuster that uses all its wit and wile to fly on the wings of what makes us human." -- Sophie Monks Kaufman, Little White Lies
3. "Katniss arms up ... against anyone expecting diminishing returns from a four-part trilogy. With measure and muscle, Lawrences Jennifer and Francis nail the job of selling the long, twisting road towards revolution." -- Kevin Harley, Total Film
4. "Unsubtly resonant, at times quite rousing and somewhat unsatisfying by design, this penultimate series entry is a tale of mass uprising and media manipulation that itself evinces no hint of a rebellious streak or subversive spirit: Suzanne Collins' novels may have warned against the dangers of giving the masses exactly what they want to see, but at this point, the forces behind this hugely commercial property are not about to risk doing anything but." -- Justin Chang, Variety
5. "It may disappoint young fans who relished the sheer fantasy verve that drove the first parts, but as a thoughtful and at times moving preamble to a tough climax, 'The Hunger Games: Mockingjay - Part 1' delivers." -- Mark Adams, ScreenDaily
6. "This is basically the third time that we've seen the whole 'split the final book into two movies' gimmick, and this is frankly the first time I believe said choice has done the material an artistic disservice. [...] The acting is solid and there are interesting moments and beats throughout, but the film sadly feels like the first part of a two-part television series finale, with all of the proverbial 'good stuff' held in reserve for the theoretical final showdown." -- Scott Mendelson, Forbes
7. "'Mockingjay - Part 1' is still very much a 'Hunger Games' movie, yes, but it calls to mind smart political comedies like 'Wag the Dog' and 'Tanner '88' as well." -- Alonso Duralde, TheWrap
8. "'Mockingjay – Part 1' is all queue, no roller-coaster. The third of four films in the successful and admirable 'Hunger Games' series is any number of good things: intense, stylish, topical, well-acted. But the one thing it could never be called is satisfying." -- Robbie Collin, The Daily Mail
"The Hunger Games: Mockingjay - Part 1" stars Jennifer Lawrence, Josh Hutcherson, Liam Hemsworth, Elizabeth Banks, Julianne Moore, Philip Seymour Hoffman, Jeffrey Wright, Sam Claflin, Natalie Dormer and Donald Sutherland.
REAL LIFE. REAL NEWS. REAL VOICES.
Help us tell more of the stories that matter from voices that too often remain unheard.
BEFORE YOU GO
PHOTO GALLERY
"Hunger Games: Mockingjay - Part 1"