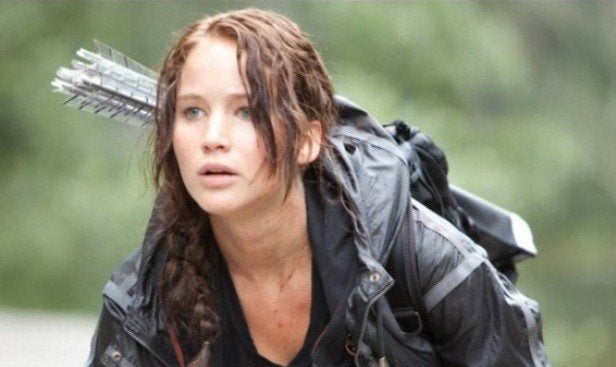 NOTE: THE SECOND HALF OF THIS ARTICLE CONTAINS DETAILS ABOUT THE PLOT OF THE NOVEL AND FILM ADAPTATION. PLEASE PROCEED WITH CAUTION.
Meanwhile, Kid Cudi's "Hunger Games" contribution might just be the most eerie track on the album, with Cudi narrating from the point of view of leaders of the Capitol. In "The Hunger Games" trilogy, the Capitol uses a lottery to choose children, ages 12 to 18, to fight to the death for the entertainment and horror of the masses. Needless to say, Cudi's "The Ruler & The Killer" is a far cry from "The Lonely Stoner."
SPOILER ALERT: THE REST OF THIS ARTICLE CONTAINS INFORMATION ABOUT THE NOVELS AND FILM
In other "Hunger Games" news, director Gary Ross apologized to fans for cutting some of the original novel's plot and a beloved character. In the Suzanne Collins' novel, Katniss meets the Avox, a Capitol servant who was aprehended by the Capitol and silenced forever. That subplot has been cut from the film adaptation, much to the disappointment of the fans.
"It was just that there was no room for that in the storytelling, unfortunately," Ross told MTV News. "The William Faulkner line is, 'You have to kill your darlings.' That was one that unfortunately fell by the wayside. I was sorry about it."
However, Ross did add a riot scene that he hopes fans will enjoy. Directed by his good friend Steven Soderbergh -- and approved by Collins -- the riot scene happens directly after Rue's death. "I thought it was important that you begin to start to make the turn into 'Catching Fire,' that you see the seeds of the rebellion, you see what Katniss has caused," Ross revealed to MTV.
"The Hunger Games" opens in theaters March 23, and the soundtrack hits shelves on March 20. Listen to "Eyes Open" and "The Ruler & The Killer" below.
Check out the red carpet looks from "The Hunger Games" premiere below.
PHOTO GALLERY
'Hunger Games' Premiere
Calling all HuffPost superfans!
Sign up for membership to become a founding member and help shape HuffPost's next chapter
BEFORE YOU GO