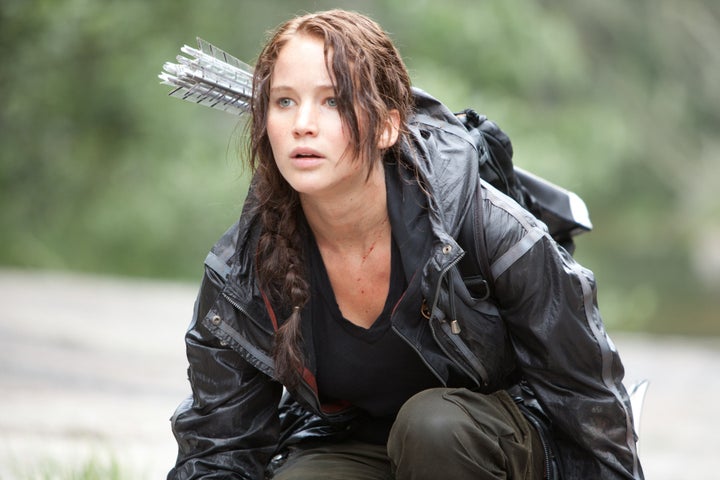 The highly anticipated big-screen adaptation of Suzanne Collins' bestselling novel has sold out nearly 2,000 screens in its pre-sale, Fandango announced on Tuesday. The online-ticketing company said the film is already accounting for 92 percent of its daily sales at the moment, and has surpassed the first "Twilight" film's pre-sales numbers.
The epic cinematic tale is currently on track to rank among Fandango's top five advance ticket-sellers of all time -- a group that is currently dominated by "The Twilight Saga."
Official forecasts call for "The Hunger Games" to make around $85 million in its opening weekend. However, studio insiders are privately saying that number could rise to as much as $130-140 millon. Many believe the new film will outpace the most recent "Twilight" installment, "Breaking Dawn: Part I," which earned $138.1 million.
The New York Daily News' Joe Neumaier called the film "light years ahead of 'Twilight'." "It's better and scarier than its source book," he wrote, "And aims an angry eye at our bloodthirsty, watch-anything-and-cheer culture."
Alonso Duralde of The Wrap also picked up on the social-commentary aspect of "The Hunger Games," comparing the film to the very reality shows it satirizes. "The movie dazzles you with its bravado and moves fast enough to keep you from asking too many questions about its implausibility," he said.
Meanwhile, for those who assume that "The Hunger Games" characters Katniss, Peeta and Gale are the new Bella, Edward and Jacob, Entertainment Weekly's Lisa Schwarzbaum wants to set the record straight.
"So little is seen of Liam Hemsworth as Gale, Katniss' soul mate/fellow hunter ... that the uninitiated might not pay attention to the third angle of the story's romantic triangle -- about the only element this high-quality pop culture phenomenon has in common with the swoons of 'Twilight.'"
"Gary Ross's 'The Hunger Games' ... is at best a mediocre effort -- an obviously second-tier thing, tedious, lacking in poetry or grace or kapow," he wrote. "It feels sketchy, under-developed, emotionally simplistic and hambone. And it looks cheap and cheesy."
Such gripes may ultimately form the basis of the inevitable "Hunger Games" backlash, but for now the vast majority of critics and fans are speaking in the same voice. And it's saying, "Let the games begin!"
"The Hunger Games," starring Jennifer Lawrence, Elizabeth Banks, Liam Hemsworth, Woody Harrelson, Stanley Tucci and Josh Hutcherson, will be released on March 23. Check out more reactions to the film below.
REAL LIFE. REAL NEWS. REAL VOICES.
Help us tell more of the stories that matter from voices that too often remain unheard.
BEFORE YOU GO