As a writer for Feeding America, I have the opportunity to spend time with many people who are visiting a food pantry for the first time. When they first walk in the door, many are nervous. But as they look around, their relief becomes clear.
When I speak with first-time visitors, a common theme seems to arise: our clients are often surprised by the people they run into who are also in need of help. Jim, a senior in Southeast Missouri, ran into old friends when he first visited a pantry -- friends he had no idea were struggling with hunger. Hunger exists all around us -- even in your hometown.
Feeding America recently released Map the Meal Gap 2014, the only report of its kind detailing food insecurity rates in counties and congressional districts across the United States. This year, the report affirmed once again that hunger is indeed in every hometown. In fact, it is in every single county and congressional district in America.
This may seem like a bit of bad news, but Map the Meal Gap also brings hope. By identifying hunger in local communities, the report enables food banks to get more food to the areas of greatest need.
Additionally, the report comes equipped with an interactive map, which easily enables individuals to learn more about what hunger looks like in their community. Discovering that hunger exists nearby can generate a greater commitment to fighting it both locally and across the country.
For example, last month I spoke with a volunteer at a food bank. She remembered being shocked to learn that 1 in 5 kids in her community struggled with hunger. But her shock quickly turned to action. Now she volunteers regularly at her local food bank, helping to provide thousands of meals to her neighbors in need.
Interested in learning about hunger where you live? Visit http://feedingamerica.org/mapthegap and select your state on the interactive map (pictured below). You'll discover both overall and child food insecurity rates by county. The map also reflects poverty rates, the price per meal and the additional funds needed to eliminate hunger in that community.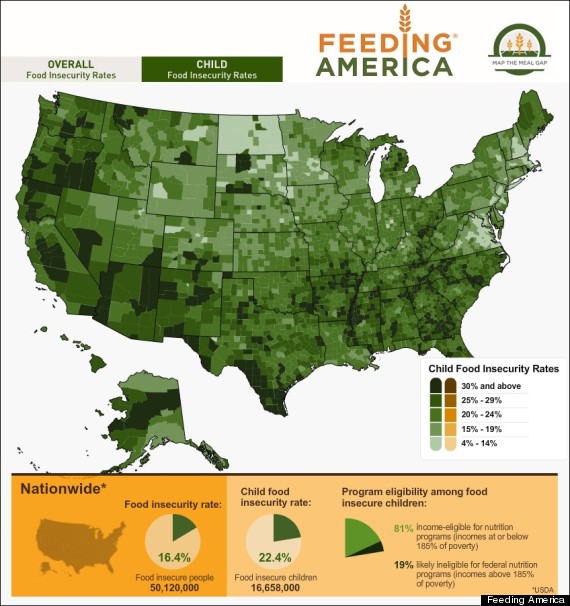 Hunger is closer than you might think. As Map the Meal Gap 2014 demonstrates, it is in your hometown. Help close the meal gap in your community. Visit feedingamerica.org/mapthegap to learn more. Together, we can solve hunger and help keep our communities healthy and strong.
Cisco support for a new transportation management system streamlined services for a network of 200 member food banks for a projected savings of $1.5 million over five years (or 12 million meals). For more information, visit: http://csr.cisco.com/pages/feeding-america

Calling all HuffPost superfans!
Sign up for membership to become a founding member and help shape HuffPost's next chapter