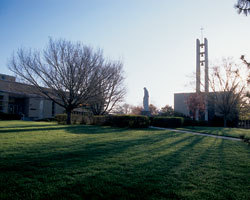 College student Kelly Burger no longer uses the expression "I'm starving." Why? Because she now knows what starving really means. It's not having a late dinner or missing one meal.
Even when her friends use the expression, Kelly reminds them "No, you are not starving." There are people in the world who really face starvation, struggling to find food every hour of every day. "Hunger is everywhere" as she puts it. This cruel condition is one no one should go through.
Kelly, a sophomore Biology major at the College of Mount St. Joseph, took part in a 30-hour famine last month. She was a bit apprehensive at first. She also knew this was an important spiritual experience to have.
By 9 a.m. on Friday, Feb. 28, Kelly and members of her campus ministry group had their last breakfast before the famine would begin. After a day of classes, the group headed to Camp Higher Ground in West Harrison, Indiana.
Joining them were growling stomachs! Yes, on the first night of the famine that was the common noise. Kelly said everyone just got used to it.
Kelly and the others spent the first night with games and reflection to help deal with the hunger that was coming on late in the day. They watched a documentary called the Human Experience to learn about the hunger and homelessness people were facing. The film took them to the streets of New York, Peru and Ghana to see what suffering truly is.
The next morning, with no breakfast, Kelly and the others would head to St. Vincent De Paul in Cincinnati to help those facing hunger in their own community.
At the food pantry Kelly's task was to help people select groceries for their home and follow a system that specifies the number of items beneficiaries can select.
Kelly never heard so many "thank yous" and words of appreciation at once than at the pantry. Some people really needed to talk and having someone there to listen to them meant a world of difference. She remembers Tyrone especially for his enthusiasm.
People left the pantry with fruits and vegetables, grains and other items to help them through tough times. Blessings though were felt by everyone because there was true appreciation felt.
After helping at St. Vincent De Paul, and still in famine, Kelly and the others now had to live the life of the hungry in America. They were given 1.50 each to go buy food at Aldi supermarket.
This was to simulate what it's like for people to get food on reduced buying power. It's not easy. You can't just grab anything and fill up your cart in a few minutes like some may do. That is what the hungry in America face every day.
The food stamp program (SNAP) gives the hungry buying power at stores. However, on November 1st of last year food stamp benefits were reduced for everyone in the program. Further cuts were in the recent Farm Bill legislation passed by Congress.
That strain of reduced resources, as Kelly's group found, severely limits your ability to get quantity and quality of food on the table. This hurts a family's chances of getting through difficult times whether it's unemployment or illness.
While shopping Kelly noted how they were soon at the end of their 30- hour famine. Hunger was consuming them. But they knew it would end by 3pm that day. A nice meal awaited back at the college. But for those who face hunger those growling stomachs, the despair, the difficulty of buying food, would continue the next day and the next.
Famine conditions are something people in Syria, Central African Republic, South Sudan and other countries are facing as we speak. Even in her own backyard, of course, Kelly had now seen hunger. She also knows now more of what can be done. She is determined to help.
Kelly says, "if everybody pitches in....it adds up." Kelly plans to get more support for her church's food pantry in Harrison, Ohio where she resides. The St. John's Baptist Church collects goods for St. Vincent De Paul.
That is what it takes for hunger to be defeated. People willing to first learn and become aware of what is going on in their world. Then comes the critical step, to keep up the fight. That is what it takes to end hunger both here and abroad.
Related
Popular in the Community