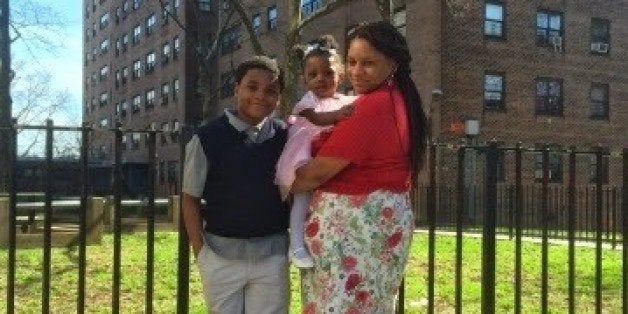 When Shawanna Vaughn, 36, started to lose her sight four years ago, the working, single mother quickly hit rock bottom. That year, Thanksgiving was turkey sandwiches and a bag of chips.
"It was the worst holiday ever," the South Bronx, New York, resident told The Huffington Post. "I had nothing."
The mom of two, who now works with at-risk youth, has a heart condition and keratoconus, a cornea disease that has already robbed her left eye of its vision. While Vaughn never thought she'd resort to accepting handouts, her mounting medical bills left her with no choice but to join the growing number of single parents struggling to feed their kids.
"The face of hunger is the working mother. It is the disabled parent," said Vaughn, who earns $21,000 a year and doesn't get any child support. "It's me and everybody who's like me."
Vaughn's unexpected spiral into near poverty represents a now-familiar narrative.
If you'd like to help Shawanna Vaughn and her family this holiday season, donate to her Crowdrise campaign through the widget below.
Such was the case with Vaughn who had never visited a food pantry before 2012.
In 2009, when Vaughn was diagnosed with her eye condition, doctors were blunt. They told her that without cornea transplants and retina surgery, she'd likely lose her vision.
Vaughn, who had been making a comfortable living as a massage therapist, underwent her first procedure the following year, and the next in 2012. One surgery "halfway worked," she said. But the other didn't, leaving her blind in her left eye.
She missed a combined nine months of work while she recovered and accepted that, because of her disability, she'd have to find a new means to make money.
Vaughn took an administrative position at Silent Cry, a nonprofit in the Bronx that empowers at-risk youth. She works five days a week from 12 p.m. to 7 p.m., and makes $21,000 a year.
But, soon after, Vaughn faced yet another blow.
Her now-2-year-old daughter was born three months early with a respiratory condition that required heart surgery. She's due to have tonsil surgery soon and relies on expensive medication to survive.
It was already a struggle for Vaughn to pay for the basics, which includes $400 rent for her two-bedroom apartment in the South Bronx and her own medication, which runs about $140 a month.
She then tacked on more than $2,000 a year for her daughter's medicine.
"After taxes, I feel like I make nothing," she said. "I never know what's coming next. I try and save and that's almost impossible."
Money was so tight at the time that Vaughn often had to choose between filling her daughter's prescriptions or buying the nutritious foods she wanted for herself and her now-13-year-old son.
She typically went for cheap McDonald's and Burger King meals, and helplessly watched as her son gained weight and grew increasingly lethargic.
"I'm guilty," Vaughn said. "When you only have $5, and you have three people to feed, you stretch it the best way you can."
Still, despite her struggles, Vaughn didn't technically qualify as living below the poverty line.
It was at that point that Vaughn forced herself to swallow her pride and accept a friend's recommendation to seek help from the Food Bank For New York City. Two years ago, she visited the group's soup kitchen in Harlem for the first time, a program that serves 10,000 meals each month to locals in need.
While she hung her head in shame with her two kids in tow, the soup kitchen's director approached Vaughn in the same vein anyone involved in customer service would.
"How can we serve you?" he asked. "How can we make your day better?"
In that moment, Vaughn peered around the room and noticed just how many clients looked like her. She realized that she was hardly the anomaly in this group whom she describes as "financially challenged," because it has a much better ring to it than the term "poverty" does.
She stopped blaming herself for her misfortune and started accepting the help needed to turn her life around.
"They make me feel like it's OK to come there," Vaughn said. "It's never a place of embarrassment, no matter what time of the day."
These days, the family goes to the soup kitchen about three to four times a week for dinner where Vaughn says they're treated with the same dignity a paying customer would get at Applebee's or IHOP. The center is so close to Vaughn's son's school that the eighth-grader always has a safe and inviting place to go when he gets dismissed at 4 p.m. before his mother and sister join him.
"This reminds me of [the TV show] 'Cheers,' a place where everybody knows your name," Vaughn's son told her recently. "I'm not a ticket. I'm not a number. I'm not a caseload. I have a name," she added.
Vaughn stocks up on groceries there twice a month and is now able to fill her fridge with the nutrient-dense produce she couldn't afford before. The food bank has also taught her creative ways to prepare vegetables -- like cooking cauliflower in a way that it resembles mashed potatoes -- so that it's appealing to her son.
Vaughn said she's lost about 60 pounds since she started visiting the food bank and that her son has dropped about 15. His energy levels have also improved, as has his GPA, which has climbed to 3.8.
But it isn't just the nutrition boost that has changed Vaughn's life.
She now has a safety net, which constantly protects her from the crises she couldn't withstand before.
When Vaughn had a procedure on her heart last month, she took a few weeks off from work with ease, knowing that if she needed extra help, she could turn to the food bank.
When Vaughn couldn't afford diapers recently, a staff member at the center found some in storage for her. When her son needed a coat, they gave one to him.
And when Thanksgiving rolled around, she didn't fret over how they'd celebrate this time.
The family sat down to a three-course meal -- which tastes just like "grandma's food," according to Vaughn's son -- at the soup kitchen on Wednesday with the friends they've made and the staff that's supported them.
The food bank boxed up all the holiday's trappings for them to take home, so that on Thursday, they can enjoy a holiday meal in the comfort of their own home.
"For me, that's the gift. If we get nothing else, that's the gift," Vaughn said. "We'll all eat together. We can come home and laugh with each other. At the end of the day, that's what it's all about."
Calling all HuffPost superfans!
Sign up for membership to become a founding member and help shape HuffPost's next chapter
BEFORE YOU GO
PHOTO GALLERY
The Hungriest States In America