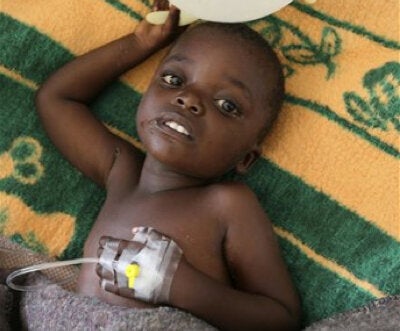 Tomorrow, I will break my fast. The last few days have been challenging, but incredibly inspiring.
On Saturday, I had the privilege of meeting with someone who has inspired me since I was 15 years old - Archbishop Emeritus Desmond Tutu. Given my waning energy, it was incredibly special and gracious of him to meet me, along with a few members of the media. His words of support have not only inspired me to finish this fast, but more importantly, they have re-energised the entire campaign. It was significant to hear Archbishop Tutu recognising the presence of hope at this point of Zimbabwean history - and, despite its shortcomings, to acknowledge that the agreement between ZANU-PF and the MDC holds possibilities if nurtured properly.
Saturday was also special because it was my brother's birthday. An activist, himself imprisoned by the South African Apartheid government, he came to visit me with his wife to lend support to the campaign. The level of support from individuals globally has been astounding, but I want to express thanks to my family for their incredible contribution. Their encouragement gives us all the energy to continue.
Once my fast ends on Wednesday, Nomboniso Gasa, the chairperson of the Commission for Gender Equality will begin her 21-day hunger strike. She visited me on the weekend, and I am constantly impressed by her courage, fortitude and perspective. Her contribution to the campaign has been invaluable - especially in the way that she reminds us all of the differentiated ways in which women have been treated in Zimbabwe.
Though we are fighting to unite Zimbabweans, it is crucial that we also address them as a diverse and heterogeneous group of people - no two Zimbabweans have experienced the last few years in the same way. Though we speak about the torture and rights violations perpetrated by Mugabe's regime, we often overlook the way rape is used as a weapon of war - that women's bodies are used as a battlefield. Nomboniso reminds us that it is our job to ensure that this under-reported issue is recognised and addressed in this time of transition.
Over this last week, the interviews have not let up - and we've had some amazing stories told by Carte Blanche, and Eastern Mosaic who will be airing their feature on 21 March which is South Africa's Human Rights Day. I sat in on a public ring-in show on Thursday morning, and was touched by the involvement of fellow activists. Many called in to give their support to the campaign. The vast majority of calls were very positive - and we have drawn inspiration from the many citizens here who wanted to know how they too could be counted and make a difference.
Even beyond South African shores, the impact of our actions here have had a resonance.
On Monday morning, the campaign team received a briefing from a representative of the National Constitutional Assembly, a Zimbabwean civil society organisation, at the Central Methodist Church about how the ZANU-PF/MDC agreement has been received in Zimbabwean civil society. Though there are mixed feelings about the agreement, and some feel that it disregards the voice of the Zimbabwean people as expressed in the March 29th elections, most are taking a "wait and see" approach. Some view it as naive to believe that a previously antagonistic regime can set aside its differences with the opposition in such a short period of time; yet, this is a period of confidence-building for the people of Zimbabwe. We all hope that there is a paradigm shift that allows for this agreement to succeed.
An agreement that shapes Zimbabwe's political machinations, however, does not necessarily address civil society's main concerns. The NCA representative made it clear that Zimbabwean CSOs are in fact most concerned about whether restrictive media laws will be repealed; the deterioration of the humanitarian situation; the spread of cholera - now reported in all villages across the country; and the ongoing and increasing repression of citizens.
Perhaps most importantly, he made it clear to the campaign team that African and international solidarity will be critical in upcoming months in order to ensure a proper and viable transition of power.
As I count down my last 24 hours, my energy, concentration, and sense of balance are waning - but I am amazed at what the human body can do. I thought going for twenty-one days without food would be much more difficult, but I have had the fortune to be surrounded by incredible support and care - and have always been able to look forward to my next meal, knowing that I will be breaking my fast. Others, particularly those in Zimbabwe, do not have that luxury.
Many have asked what my next meal will be. I will be on a liquid diet for two weeks after I break my fast on Wednesday, with my body slowly reintroduced to solid food thereafter. I never thought I would be so excited by the thought of a glass of freshly-squeezed orange juice and some hot soup!