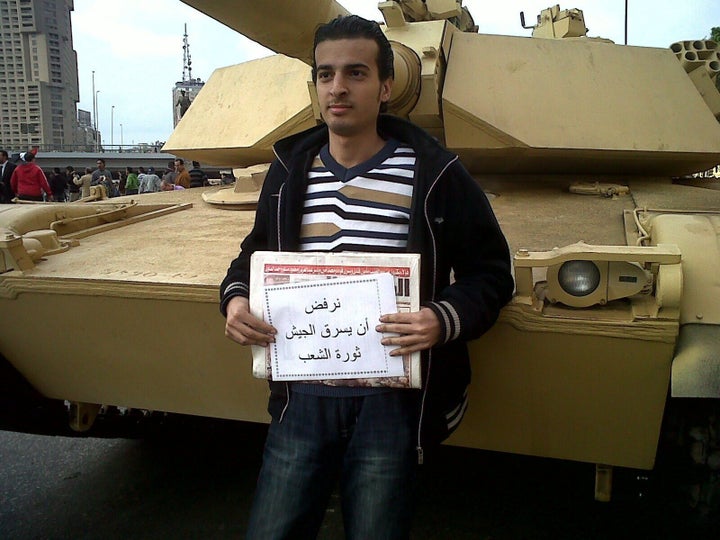 Back in March, when the ouster of Hosni Mubarak was still fresh, the Egyptian government arrested a 25-year-old blogger named Maikel Nabil Sanad and sentenced him to three years in prison. Under Mubarak's rule, the incarceration of dissident bloggers was not uncommon, but Maikel's trial was the first of this kind in the post-Mubarak era, and many saw it as a sign of things to come. Human Rights Watch deemed it "the worst strike against free expression in Egypt" in more than three years, and several U.S. lawmakers pressured the head of the Egyptian military to release him. A spokesperson for the State Department said America was "deeply concerned."
Those expressions of concern went unheeded, however, and now Nabil's family and friends say Nabil is dying. He has been on a hunger strike for three weeks, and a few days ago he announced that he'd begun refusing medicine and water as well. Yesterday he wrote a letter to the public in which he said he was "unable to leave bed" due to the "great pain and loss of vision" that he experiences whenever he stands up.
Nabil was arrested for the crime of libel: He'd written an article on his blog in which he criticized the military's role in the revolution. Although protesters in Tahrir Square famously cried out that they supported the military, Nabil argued that the military was in fact an enemy to the protestors, and described several cases in which he claimed that soldiers had physically and sexually abused them.
"The revolution has so far managed to get rid of the dictator," he wrote, "but not the dictatorship."
In April, the authorities brought him before a military tribunal, where he was tried and sentenced without his lawyers present. His lawyers say that when they showed up at the courthouse that morning, they were told that their trial had been postponed until the next day. Nabil had taken a stand against the military before. Last fall, he refused to report for compulsory military duty and was arrested by military intelligence, but he was allowed to go free two days later. They then discharged him from military service, declaring that he was unfit to serve.
And then on February 4, 2011, he was arrested while participating in a demonstration in Tahrir Square. He claimed that the soldiers who took him into custody blindfolded him, beat him and sexually harassed him. This alleged incident formed the basis of the report for which he was later arrested and found guilty.
Nabil is not the only civilian to have undergone a military trial since the revolution. An article from the Pulitzer Center for Crisis Reporting places the total number at 12,000, and says that suspects have been typically tried in three or four days and have been given sentences of between a few months to several years.
Earlier this year, Asmaa Mahfouz, a prominent Egyptian activist, wrote the following Tweet (translated from Arabic): "If the judiciary does not get us our rights, don't be upset if armed groups carry out a series of assassinations as there is neither law nor justice."
She was brought before the military prosecutor last month and charged with insulting the military. The case became a flashpoint in the growing movement to end the military trials, with presidential candidates and political groups criticizing the decision. The military council eventually ordered that the charges be dropped.
But Nabil is different from Mahfouz. He isn't a star, for one thing. "Maikel isn't a prominent public figure," his father told the press during a recent demonstration in support of his son. "Maikel is a normal person and that is why they imprisoned him. Others who had a lot of public support and had similar charges were released. But Maikel is one of the general public and he doesn't have anyone to defend him."
There's also the fact that Nabil supports Israel. He says he objected to military conscription in the first place because he refused to "point a gun at an Israeli youth who is defending his country's right to exist," and a section of his website is in Hebrew.
Several organizations are again calling for his release. A statement from Reporters Without Borders observed that Nabil "could very soon die" and warned that he could become "the symbol of a repressive and unjust post-Mubarak Egypt."
In response, a military official was quoted as saying that what Nabil wrote on his blog was "a clear transgression of all boundaries of insult and libel."
In April, shortly after Nabil's arrest, a friend of Nabil's and fellow blogger wrote an email to The Huffington Post in which he said that Nabil's sentencing proved "every word Nabil has ever said about our regime."
"The military council wants to annihilate anyone who questions what it does," wrote the blogger, who calls himself Kefaya Punk. "That reminds me of how the Catholic church treated its opponents in the medieval ages."
In an email yesterday, the blogger mostly stuck to the facts around Nabil's health -- the little he'd managed to gather. "About an hour ago, his brother called me on the phone to update me with the visit," he wrote. "He learned that Maikel was very fatigued."
Related
Popular in the Community