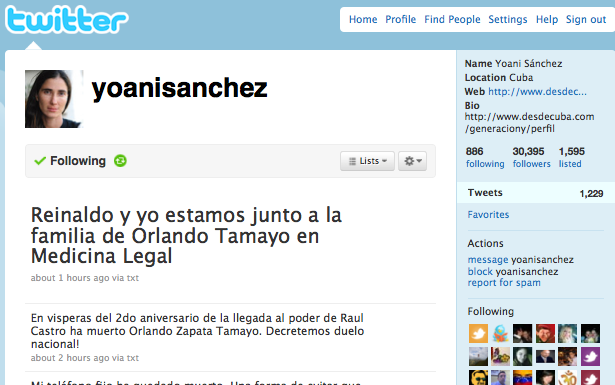 Reinaldo and I are with the family of Orlando Tamayo in Legal Medicine. (7:30 pm Havana time.)
On the eve of the 2nd anniversary of coming to power of Raul Castro, Orlando Zapata Tamayo has died. We decree national mourning.
My home telephone has been cut off. A way of preventing us from finding out about the indignation generated by the death of Zapata Tamayo.
Elizardo Sanchez confirms that Orlando Zapata Tamayo has died. We must respond to this!
Zapata Tamayo's state of health has been very serious for some hours. Frightening news circulates.
I spoke with two of the Ladies in White: 20 minutes ago State Security took Zapata Tamayo's mother to see him in the Ameijeira Hospital.
Terrible news has just come to me on my mobile about Orlando Zapata Tamayo. I am trying to verify it.
We are trying to connect with Orlando Zapata Tamayo's mother to learn about the condition of her son, but her telephone doesn't work.
Please help recharge the mobile phone of Reina, +5352395169, the mother of Orlando Zapata Tamayo, at turecarga.com. She has no minutes.
They have moved Zapata Tamayo to the hospital in critical condition. (1:30 PM Havana time.)
Popular in the Community