I eat a lot of fast food, because honestly I don't have lot's of spare time and fast food is well "fast." I love when companies get creative because let's face it, fast food can get really boring. Taco Bell has always held a special place in my heart because its inexpensive, tasty and they are always creating new menu items.
I saw that the much anticipated debut of the "Naked Chicken Chalupa" had arrived so I promptly hit the nearest Taco Bell to be one the first to try one. I threw down my $3.59 and sat down, excited like a school girl who just got asked to prom.
I was impressed with the overall presentation and balance of color of the Naked Chicken Chalupa. it's got beautiful ripe red tomato's , crispy green lettuce and the shell itself, which is made of breaded chicken! I must admit, it was strange because the meat is usually inside the shell, but in this case, the meat IS the shell!
The shell itself is made of a nicely spiced chicken that has been breaded and is crispy yet not "greasy" like I expected. The best way to describe the shell is to take the "pattie" off of a chicken sandwich and make it a "U" shape, then fill it with the other ingredients.
Delicious, crispy and flavorful chicken shell, I was really skeptical at first but let me tell you , it was good, the "inside' ingredients of cheese, lettuce and tomato added and nice textural contrast and worked in harmony with the "shell".
The Naked Chicken Chalupa comes with an avocado-ranch dressing that for me, was a missed opportunity. The flavor was too tangy and overpowered the subtle spices inside the chicken shell. Taco Bell allowed us to order it with different sauces I think they would have huge hit with this. Oh , maybe with nacho cheese inside, that would rock!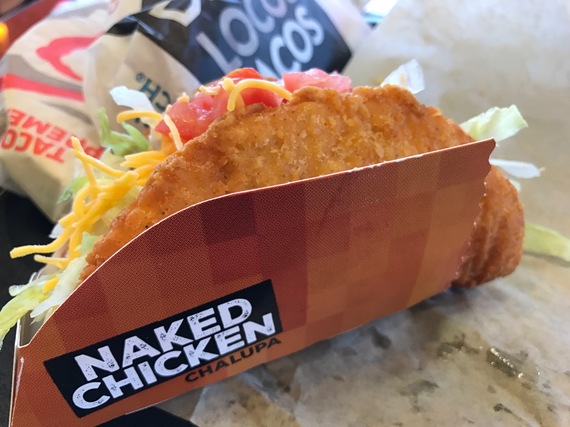 I applaud the folks at Taco Bell for continuing to come up with fun and creative new menu items, the creativity and willingness to take a risk on something different is what makes Taco Bell great! they are one of the top fast food chains in the country along with Jack in the Box as far as creativity goes.
So, if I were you, I would race on down to Taco Bell and order one of these fun to eat and tasty creations now because who knows how long they will be on the menu!