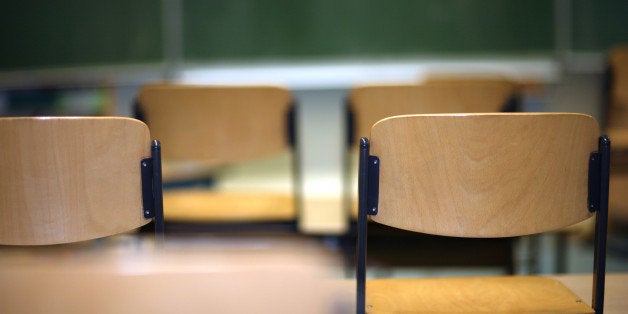 It's been more than two weeks since 12 Chicago mothers, grandmothers and other community leaders launched a hunger strike to keep their neighborhood school open in Bronzeville, a historic African American community located in the South Side of the city.
Due to significant health concerns--hunger strikes, or voluntarily not eating in protest--are demonstrations used as a last resort.
Known as the "Dyett 12," hunger strikers are sacrificing meals and endangering their bodies to call attention to the neglect and disinvestment of neighborhood schools with a particular focus on Walter H. Dyett High School. One can only imagine what drove them to forgo food to protest the closing of the last open enrollment high school in the mid-South area of Chicago. Secondary education options for community youth are limited as nearby high schools are either selective enrollment, privatized, or have attendance boundaries that do not include the community area.
As an education advocate, I'm alarmed at the extreme measures these community leaders feel they need to take. The Latino Policy Forum believes strong neighborhood public schools create and sustain community cohesion and transformation. Chicago has several schools across the city that serve as hubs for community resources and services--this model works as evidenced by the Community School movement started by Children's Aid Society in New York City.
Last week, the Forum hosted a summit discussing the implications of upward economic mobility with respect to education, housing and immigration. In a live polling segment of the agenda, nearly 200 respondents overwhelmingly (56 percent) selected "Investing in community and neighborhood schools" as the top response to the question "What is the best way to support parents in ensuring an adequate education for their child(ren)?" Additionally, respondents selected "Creating viable avenues for collecting meaningful parent input and cultivating deeper engagement" as their second most popular choice to the previous question. Given this feedback and the Dyett situation, what does it mean for the state of education when communities have to resort to hunger strikes?
The Dyett 12 are members of the Coalition to Revitalize Dyett High School Advocates, an active group that has been articulating and promoting their vision of a Global Leadership and Green Technology High School since 2009. The vision has been translated into a formal proposal submitted to district officials through an RFP process at the conclusion of the phase-out. Two other proposals are under consideration, including one submitted after the deadline, however no other proposal can carry the legitimacy and weight of representing the hopes and desires explicitly articulated and authored by community stakeholders. The district scheduled a hearing for August 10 and a board vote on August 26. Both events were postponed, however according to the Coalition; the hearing was canceled without notice. In 2012, Chicago Public Schools began a phase-out process which ended this spring when the remaining 12 seniors completed their high school education in a nearly vacant building with primarily online classes. As a result, the community no longer has an open enrollment high school as one of the options for secondary education within neighborhood boundaries.
Coalition members are beyond frustrated because they "followed the rules" by submitting a proposal, met with district leadership on multiple occasions, provided testimony at monthly board of education meetings, and organized community participation in school closing hearings. Essentially, they modeled active civic engagement in a way that is rarely featured in mainstream media. Their commitment to ensuring community voice and participation in district proceedings is now elevated to the level of initiating a hunger strike to demonstrate how serious they are about seeking equitable resources and opportunities for the young people of Bronzeville.
Chicago has a history of hunger strikes. Looking back ten years ago this fall, a Mexican community just a few miles away achieved the opening of Little Village Lawndale High School (LVLHS), a neighborhood high school for students from North and South Lawndale. The history of LVLHS is born out of struggle and sacrifice as 14 mothers and grandmothers embarked on a 19-day hunger strike on Mother's Day in 2001.
Just like Dyett, the hunger strike commenced to send a clear message to Chicago Public Schools leadership that the time is well overdue on making good on a promise for an additional neighborhood high school to serve the exploding youth population of South Lawndale. The existing local neighborhood high school, Farragut Career Academy, had been overcrowded for many years given that Little Village has the largest population under age 18 in the city of Chicago. Furthermore, the longstanding gang rivalry that divided the neighborhood into two territories prevented many young people in the western region of the community from attending Farragut which was located in the eastern region of the community area.
Today, LVLHS has graduated many young people who are now in the workforce and occupy positions of community leadership. It has also enjoyed recognition for various elements of its academic and out-of-school programming, but most importantly, remains inextricably linked to and driven by the community pulse.
Two hunger strikes in nearly 15 years should sound the alarm to the district that something is inherently wrong with the decision-making process about school actions. The extreme measures currently taken by community leaders should trigger a gut-check from the district as it relates to being in tune with community needs and effective engagement practices. No one should intentionally give up sustenance and nutrition in order to receive what should be a basic right--public education. At last check, my understanding was that education is a right--not a privilege. Sustainable and equitable investment in neighborhood public schools will lift all tides and serve as foundation for just and productive society.
Calling all HuffPost superfans!
Sign up for membership to become a founding member and help shape HuffPost's next chapter