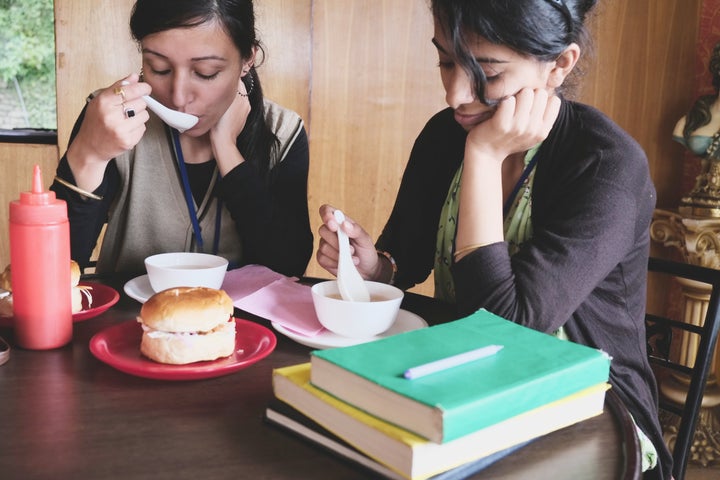 When the federal government created the National School Lunch Program in 1946, it was viewed at the time as a national security initiative. Undernourished students, after all, would likely not be fit enough to serve in the armed forces. But it was also described more broadly as strengthening the nation as a whole.   
"We have the technical knowledge to provide plenty of good food for every man, woman and child in this country," President Harry Truman said when he signed the act into law. "Despite our capacity to produce food, we have often failed to distribute it as well as we should."   
The program, Truman said, was a step forward in correcting this national failure. In the decades since, progress has been made in ensuring our students no longer go hungry, but there is still much work to be done. Student hunger does not end at high school graduation. Food insecurity is plaguing our college campuses, with thousands of students each year skipping meals, going to bed hungry and suffering in class.     
It's a crisis that warrants federal intervention at a level similar to the National School Lunch Program. Yet, little is being done to address the issue.    
A recent Brookings Institution study found that food insecurity among households with students in four-year colleges in 2015 was 11.2 percent. Households with students who enrolled in two-year colleges were more likely to be food insecure, with average rates of food insecurity of 21.2 percent during 2008-14. A 2015 study at California State University estimated that food insecurity affected an alarming 21 percent of students. Feeding America, a national nonprofit network of food banks, estimates that nearly half of the college students who use its pantries each year must choose between paying for educational expenses and food.     
According to the University of Wisconsin HOPE Lab, undergraduate students are at greater risk for food insecurity than the general population. Earlier this year, researchers at the lab surveyed 33,000 community college students across the country. They discovered that one-third of those students are going hungry.    
The concept of the starving college student is too easily dismissed, thanks to long-standing caricatures of campus life. All college students eat ramen noodles, so what's the big deal? True hunger and food insecurity is no joke, however. As Brookings noted, food insecurity among college students is "associated with poorer health, poor academic performance, and mental health symptoms such as depression and anxiety."    
Colleges are trying to help. Amherst College, for example, has gone so far as to open a year-round dorm so that housing- and food-insecure students have a place to stay and get food during times when the normal dorms are closed. Last year, California passed legislation that requires its public colleges to apply to participate in local food assistance programs. It also established funding for college food pantries as part of the state's Emergency Food Assistance Program.  
Many institutions have opened up such food pantries in recent years. Nearly 400 schools are now part of the College and University Food Bank Alliance. Four years ago, the organization had just 15 members. One member, George Washington University, opened its food bank last year. Within a month, more than 250 students were using the pantry each day.    
Colleges have had to step up, not only to address the immense needs of their students, but because little help is coming from anywhere else. As a country, we are ignoring the problem. The systems currently in place for keeping Americans from starving do not translate well to college campuses. While a growing number of college students are enrolled in the federal Supplemental Nutrition Assistance Program (SNAP), the vast majority cannot use those benefits on campus.    
As of 2016, just two college campuses were known to have cleared the many hurdles that prevent colleges from participating the program.    
At a minimum, the federal government should require the states to track graduation rates for food insecure students. Sara Goldrick-Rab, a professor at Temple University and a leading expert on student hunger, has proposed extending the National School Lunch Program from schoolchildren to college students, and extending subsidized housing and transportation to college students. But this is hardly enough.    
Many food insecure students are also homeless. The University of Wisconsin study found that 14 percent of community college students are currently experienced homelessness. They require counseling, shelter, and often clothing subsidies and emergency funds.    
We need to do much more to facilitate these struggling students' success.  
Calling all HuffPost superfans!
Sign up for membership to become a founding member and help shape HuffPost's next chapter