Hunt Slonem is arguably one of the most fascinating artists of our time. His celebrated career continues to perpetually move forward in leaps and bounds, with a remarkable schedule of museum and gallery exhibitions around the world attesting to the admiration and curatorial support his art has elicited. I use the word "fascinating" because there are very few artists who can match his daily working and travel schedules.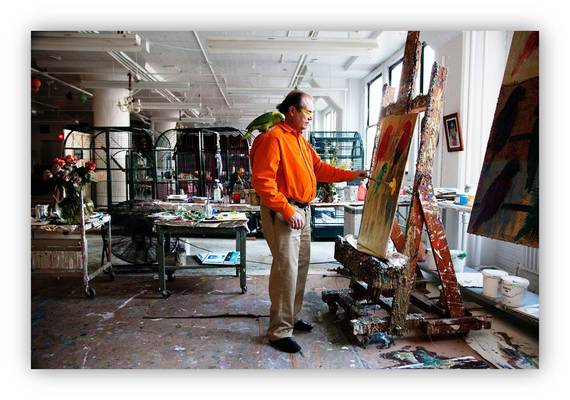 Hunt Slonem painting in his Chelsea studio, Manhattan.
His spacious Chelsea studio of about 30,000 square feet is Manhattan's biggest, and every corner is filled to the brim with thousands of extraordinary, gorgeous, hand-picked found objects, including colored glass vases, Gothic Revival furniture, marble busts and columns, plants, 19th century Southern portraits, old Paris porcelain, and vintage rugs, all accented with large bird cages occupied by exotic, winged inhabitants (many of whom were rescued by Hunt), and everything serves as a utilitarian and theatrical backdrop for hundreds of finished canvases or works in progress.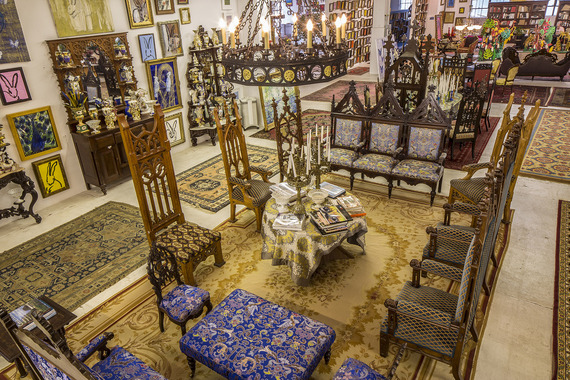 Collections, Hunt Slonem Studio, Chelsea, Manhattan.
The juxtaposition of Hunt's collections and art on view is nearly unparalleled, with perhaps the exception of Chihuly Studio in Seattle. Hunt Slonem and Dale Chihuly, both coincidently represented by the formidable Marlborough Gallery, among others, share a rare passion for making unique art and accumulating things, following in the footsteps of Andy Warhol, whose daily routine included amassing newly discovered items for his numerous collections. Artists who collect, even on a much smaller scale, have an innate compulsion to acquire in huge groups wondrous items with a striking common denominator, and their intuitive sensibilities and attraction to great design and craftsmanship are talents that inspire and enrich their lives (and ours) through a perpetual search that is balanced with their work.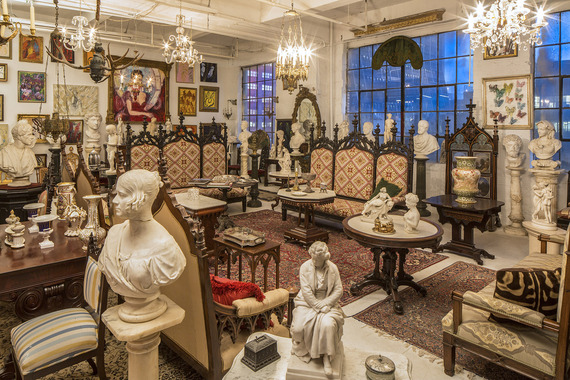 Collections, Hunt Slonem Studio, Chelsea, Manhattan.
Although best known for his depictions of colorful birds embellished with a singular style of cross-hatched lines, Slonem has explored many other subjects in great depth, including rabbits. At some point in the last decade, he decided to start each morning, often after a quick trip to a flea market or secondhand store, with what he describes as his "daily warm-ups:" painting a series of small rectangular panels made of wood and Masonite, each depicting a single rabbit in a different pose, which become a de facto post-expressionist narrative gesture of the artist, who is definitely in his element. It should be no surprise that the artist's collecting habits expanded to include handsome antique frames, which he incorporates into these small works, making a complex "wall of bunnies" into a celebration of the old and the new.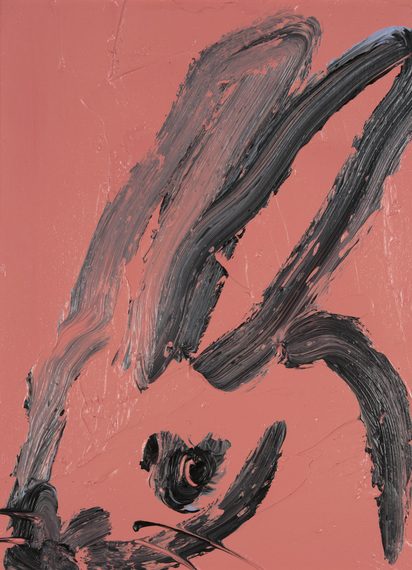 Hunt Slonem, Confederate Rose, 2013, oil on wood, 10 x 8 in. From Bunnies by Hunt Slonem, © 2014, published by Glitterati Incorporated. www.GlitteratiIncorporated.com
After years of painting these fluffy creatures, Hunt has a remarkable familiarity and expertise with his 'models,' enabling him to make simple, commanding brushstrokes that are full of assurance, risk, and joyful exploration. His perseverance to this theme has allowed him to intuitively attack a prepared canvas with just a minimum amount of perfectly placed instinctive marks, which, like the grandmasters of abstract expressionism, depend a great deal on speed, fluidity and self-confidence. In keeping with the habit of his proliferating friends, Slonem also paints enormous, ambitious pictures of multiple bunny-colonies.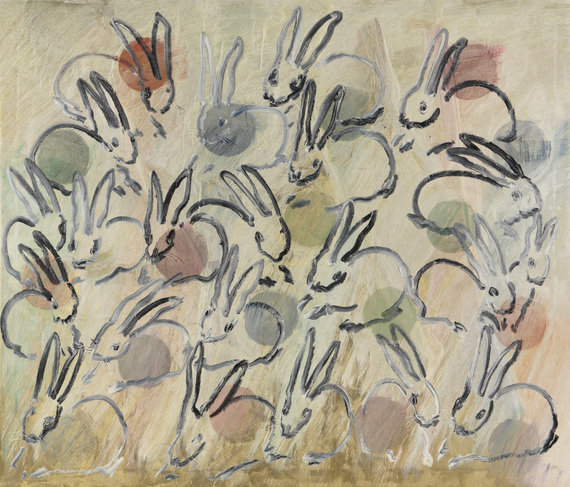 Hunt Slonem, Chinensis, 2012, oil on canvas, 72 x 84 in. From Bunnies by Hunt Slonem, © 2014, published by Glitterati Incorporated. www.GlitteratiIncorporated.com
Consequently and not surprisingly, with dozens of books already published on Slonem's eclectic paintings, his latest hardcover, titled simply Bunnies and produced by Glitterati Inc., is an enjoyable retrospective on his artistic dedication to a notorious, symbolically lucky four-legged creature that is both lovable and challenging to replicate. What is so utterly captivating about the artist and this relatively new subject matter is the way he successfully has interpreted the forms of rabbits utilizing the exquisite tradition of fast-paced abstraction developed from memory. His coolness with a distinct, idiosyncratic paint application supercharged with momentum and an uncanny ability with simple gestures, create a convincing single profile of a rabbit.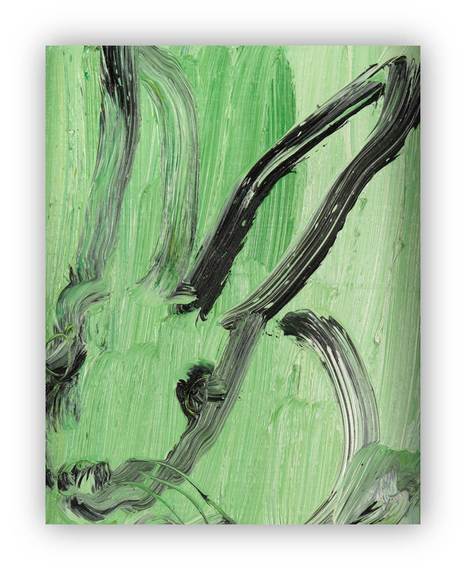 Hunt Slonem, Green Bunnie, 2007, oil on canvas, 48 ¼ x 71 ¼ in. From Bunnies by Hunt Slonem, © 2014, published by Glitterati Incorporated. www.GlitteratiIncorporated.com
Now, imagine the visual treat of a sizeable coffee table book chock-full of beautiful color plates of pure bunny-themed magic. Indeed, this handsome volume, arguably one of the most gorgeous fine art books published this year, is the most intimate look (with over 250 illustrations) at one of Slonem's beloved subjects, and his obvious fondness for these creatures materializes on each page of this dazzling manuscript.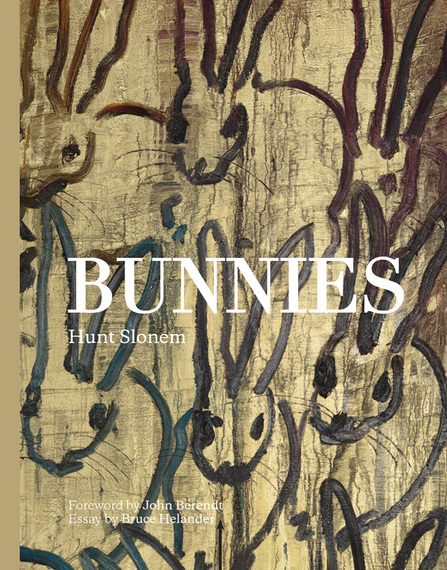 Cover of book. From Bunnies by Hunt Slonem, © 2014, published by Glitterati Incorporated. www.GlitteratiIncorporated.com
As a budding art dealer in Palm Beach and SoHo in Manhattan during the late eighties and nineties, I had the pleasure of discovering a great young ambitious talent in Hunt, which over the years turned into a close personal and professional friendship as I became one of his dealers and often times a guest curator for his work, the most recent at the Coral Springs Museum of Art.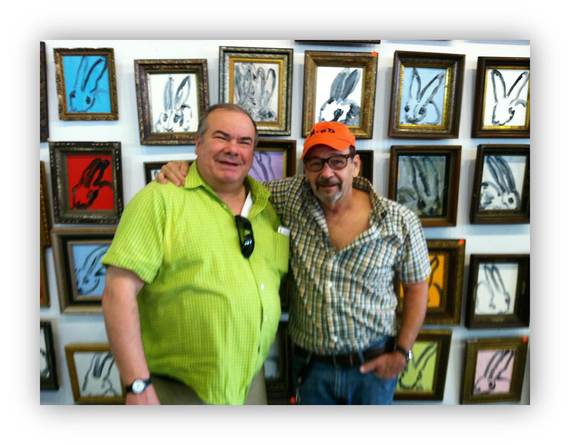 The artist with Bruce Helander; photographed in Slonem's Chelsea studio.
Since then, I have happily kept an eye on his career and have written various reviews and catalogs for the artist, including the introduction titled "Quantum Leapus" for Bunnies; there also is an insightful foreword by Pulitzer Prize finalist author John Berendt. As an anthology, these bunny images appear here for the first time as a treasury of enchanting paintings that are at once pop culture and fine art. As part of the introductory paragraphs I wrote, "Perhaps it was the rabbits that inhabited his childhood yard in Kittery, Maine that made an indelible impression on the artist and now manifest themselves in his illustrious career....The use of a bunny as a subject has a distinct and delightful charm of its own. Slonem takes a cue from a bunny's soft and independent character, usually one at a time in a portrait that convincingly accommodates tall, unruly ears and some long whiskers to boot. His are a line-up of fuzzy likenesses that are created quickly and forcefully with a clear sense of compassion and precision."


Hunt Slonem, Wall of Bunnies. From Bunnies by Hunt Slonem, © 2014, published by Glitterati Incorporated. www.GlitteratiIncorporated.com
The artist will discuss the book in person during a talk moderated by me at Art Southampton, Saturday, July 26, at 3:00 p.m., where I also will reveal in a PowerPoint presentation the connections of Hunt's paintings to early abstract expressionist gestures by de Kooning, Guston and Kline. In addition, Hunt will be exhibiting recent bunny paintings at the Gallery Valentine booth (AS71) throughout the fair, which opens on July 24 and continues through the 28th. For more information on the lecture and fair go to: www.art-southampton.com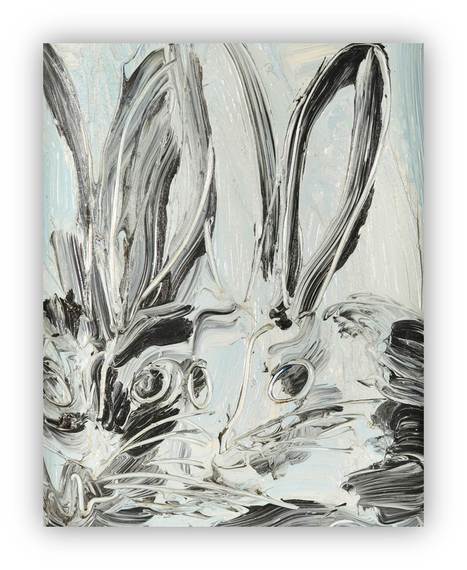 Hunt Slonem, Blue Bunnie, 2010, oil on canvas, 50 ½ x 67 in. From Bunnies by Hunt Slonem, © 2014, published by Glitterati Incorporated. www.GlitteratiIncorporated.com
If you want to meet the artist this summer and cannot attend Art Southampton, there are plenty of other book signing events: July 25 at ARC Fine Art in Amagansett; August 8 at Quidley & Co., Nantucket; August 23, Madison Gallery in La Jolla, California; and September 12 at Weinberger Fine Art, Kansas City, Missouri. For more book signing events and information on ordering the book go to: www.glitteratiincorporated.com
Calling all HuffPost superfans!
Sign up for membership to become a founding member and help shape HuffPost's next chapter