I'm not sure that anyone really knows exactly when the habit of collecting was initiated, but I suspect that early humankind was at least near the front of the line to claim bragging rights. The first official collector, the inquisitive, black and white feathered magpie, wasn't really a person--but acted like one--and apparently still spends the day foraging for non-traditional nest-building materials, from car keys and pieces of cloth to coins and newspaper pages (perhaps for weather reports or migration news), among other housewarming objects that make this seeming loony bird quite sane and supremely intelligent.
The great essence of independent accumulation of contemporary art is exemplified in another rare-feathered friend of mine, who not only is a frequent flyer into concentrated areas of secondhand stores and art galleries, but has been a huge inspiration and noteworthy benefactor for the Palm Beach community. Beth Rudin DeWoody is a delightful, adventuresome snowbird who migrates between Manhattan, Palm Beach and Los Angeles and has an enlightened view of collecting, as she utilizes her own polished vision coupled with a passion for eccentric, handmade, often utilitarian objects, and is highly astute in her recognition of the work of talented young emerging artists, such as the brilliant abstract expressionist Joseph Conrad-Ferm (recently shown at the Paul Fisher Gallery). A choice assortment from DeWoody's collection of well over 10,000 items is on view at the Norton Museum of Art in a fascinating and exciting exhibition titled "The Triumph of Love: Beth Rudin DeWoody Collects," organized by hotshot Curator of Contemporary Art, Cheryl Brutvan.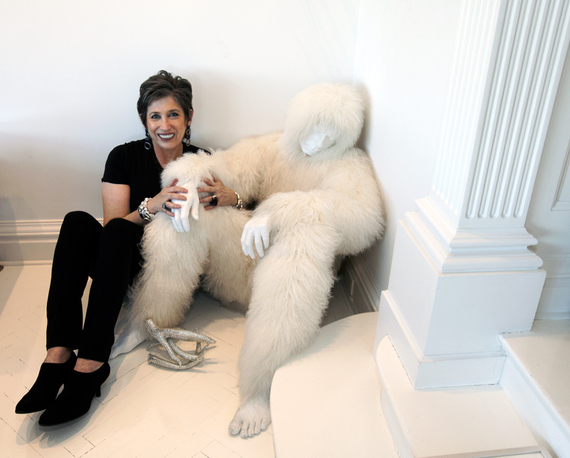 Beth Rudin DeWoody, pictured with Yeti, by Mark Swanson. Photograph © Harry Benson
It seems likely that the first bits and pieces amassed by primitive societies followed an intuitive urge to assemble objects outside the protective, homesteaded man cave, only to later pile them inside and then sort them neatly into categories, either for pure enjoyment or for functional reasons. Whatever the motivation, these early documented collecting practices sank slowly and deeply into human double-spiral DNA, which has been inherited for thousands of years and has kept the collecting bug alive and well and multiplying from one generation to the next. Perhaps it was the inherent beauty of birds' eggs, seashells or river rocks that encouraged one to start with a handful of organic shapes that retained some kind of common denominator, producing curiosity or an internal desire to gather. But wherever this natural instinct came from, obviously it was passed down for our benefit and remains an important part of understanding ancient cultural history. For example, the Medici family in Renaissance Florence made the first effort to collect art by private patronage. As a precursor to modern day benefactors, artists could be free for the first time from the money given by the Church and the nobility in exchange for dictating the subject matter; the Medici tradition continues today with artists receiving financial backing from private art collectors and foundations. In fact, the collecting hobby is a modern descendant of the influential "Cabinet of Curiosities," which was customary among scholars with the means and opportunities to acquire unusual items from the 16th century onwards.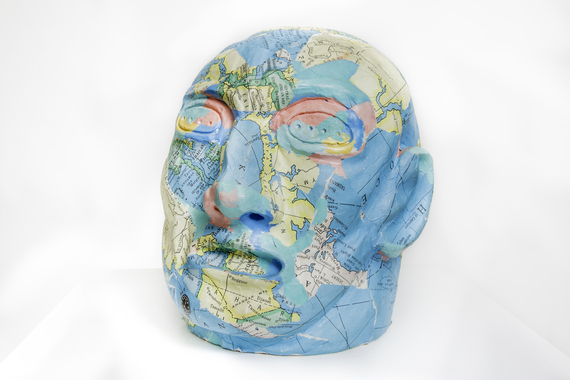 David Wojnarowicz, Untitled (Map Head), 1984, Ed. 1/23, map collage and acrylic on plaster. Collection of Beth Rudin DeWoody. Courtesy of the Estate of David Wojnarowicz and P.P.O.W Gallery, New York. Monica McGivern Photography.
Collecting for most people is a clear choice, but for some it can be an invigorating compulsion, sharing physiognomies with obsessive hoarding (see Warhol). You could pick any century and find a dedicated collector that transformed the way we examine and appreciate things. I personally salute anyone who gives their collecting a serious spin, whether it's the farmer who covers his barn with vintage license plates or the chef who fills her cabinets with dozens of vintage salt and pepper shakers. Prominent artists can be very serious collectors, like Tony Berlant who acquires ancient hand-axes, some over a million years old, Dale Chihuly, who collects tens of thousands of objects, and Hunt Slonem, who follows the Warholian philosophy of collecting in huge drafts absolutely anything that appeals to him. Recently, the Barbican in London offered an eye-opening show titled "Magnificent Obsessions: The Artist as Collector," which was comprised of personal collections amassed by Peter Blake, Damien Hirst, Sol LeWitt and Jim Shaw, who loaned not only paintings by other artists, but eccentric assortments of objects.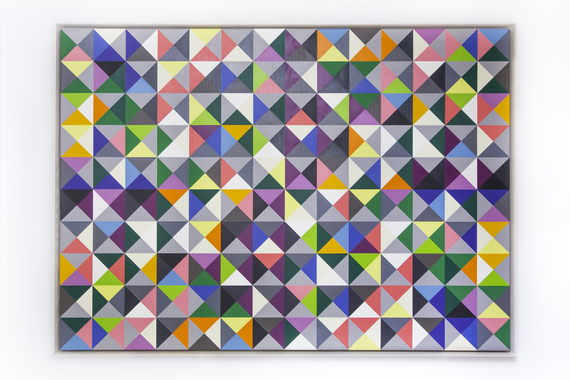 Karl Benjamin, #4, 1967, oil on canvas. Collection of Beth Rudin DeWoody. © Benjamin Artworks, reproduced by permission. Monica McGivern Photography.
Without public-minded collectors, including artists themselves, museums simply would not exist, and the admirable stewardship of preserving works for generations to come would be lost to commercial enterprise and ultimate destruction. Beth Rudin DeWoody has become an important player in the global art scene and is increasingly recognized for her generosity of spirit and sponsorship of numerous institutions. She is a board affiliate of the Whitney Museum of American Art and Creative Time, among others; she was the executive producer of "Who Gets to Call It Art?", the highly influential and celebrated documentary about the iconoclastic life of museum curator Henry Geldzahler (who wrote the introduction to my first book, Curious Collage); she is the president of Rudin Family Foundations; and has steadily and unfailingly championed numerous museum exhibitions and substantial independent awards to promising artists and photographers. This year she will inaugurate her own projects warehouse to exhibit works from her collection in West Palm Beach.
Two other bold women who made an early difference in the way the contemporary art world was shaped are Peggy Guggenheim and Gertrude Vanderbilt Whitney, whose impressive foresight is with us still today. Following their historic lead, there's truth to the old adage that birds of a feather flock together, as there are numerous women in contemporary society that continue to effect change globally in the way art is perceived, understood and collected, among them Agnes Gund, the current President Emerita of MoMA; Sheikha Al Mayassa Al Thani, who at 31 is the Director of the Qatar Museum Authority with an unlimited acquisition budget; Emily Fisher Landau, famed art collector and philanthropist, who founded the Fisher Landau Center for Art and is a trustee and generous donor for the Whitney Museum of American Art; Rosa de la Cruz, who with her husband Carlos, founded the de la Cruz Collection Contemporary Art Space (Miami), which provides education and awareness in the visual arts; Dasha Zhukova, the formidable founder of the most significant private art foundation in Russia, the Garage Museum of Contemporary Art; and Miuccia Prada, CEO of Prada fashion and co-founder of Fondazione Prada, which promotes contemporary art and other arts-related interests; all of these remarkable women share the passion that Beth has developed for the arts and artists.
While all of the above are tremendously supportive collectors, the works on display at the Norton redefine the terms innovation and invention. DeWoody takes a different and refreshing position in that she is interested in the new, not necessarily a branded artist, or acquiring a work for investment, which she does not do. If I was limited to one word only to describe Beth's collecting habits, it would be consistency. Consistency in novelty and originality and progressive judgment. Consistency in discovering artists with her own "on the spot" self-regulating conclusions, pretty much devoid of persuasion from what's en vogue or whose work others may be collecting.
Overall, the compilation on display is basically narrative; that is, the works often tell a story through recognizable imagery as opposed to abstraction. A communal thread often found in the presentation is wit and whimsy (see the weak-kneed, deflating Donkey, by Daniel Arsham). There's also the naughty (see Lisa Yuskavage, Strand of Pearls); the historic (see Cy Twombly's classic Study for Triumph of Love, the borrowed and certainly appropriate title for this show); the sinister (see Playdate, by John Waters);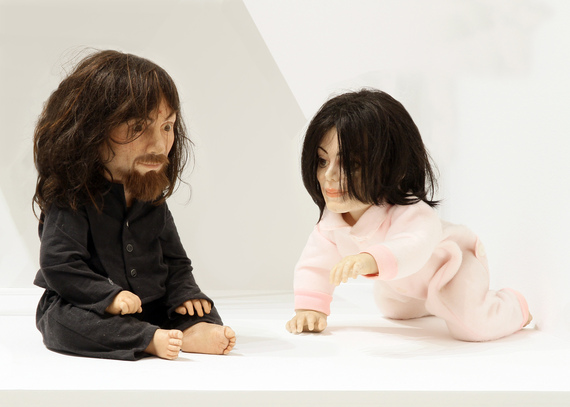 John Waters, Playdate, 2006. Collection of Beth Rudin DeWoody. Photograph by Christopher Fay.
social commentary by Kara Walker; the shiny (see Prada Boots, by Sylvie Fleury, and Rudolf Stingel's reflective graffiti square); impossible circumstances (see Mark Tansey); appropriation (see overturned Degas ballerina by Richard Jackson); exquisite portraiture by Jamie Wyeth; sweetness (see Al Hansen); a giant Tiffany's shopping bag titled The Wedding Present, by Jonathan Seliger; text imagery by Bruce Conner (that we all can applaud), Lisa Anne Auerbach's knitted reminder, Vive La Revolution d'Amour, and one of DeWoody's favorites, transparent glass letters spelling out Almost Nothing, by Rob Wynne.
The centerpiece of the exhibit is a tiered cake-like semi-circular staging that you might spot in a department store. Each shelf, filled with sophisticated, three-dimensional trinkets, gradually becomes smaller as the display climbs higher toward another work by Sylvie Fleury: a spanking new gold-plated luxurious grocery cart that slowly spins full circle. Whether planned or not, the cart has a perfect, metaphorical connection to DeWoody's discriminating consumer desire for hunting and gathering unique art into an empty basket, which itself is a dazzling work of art.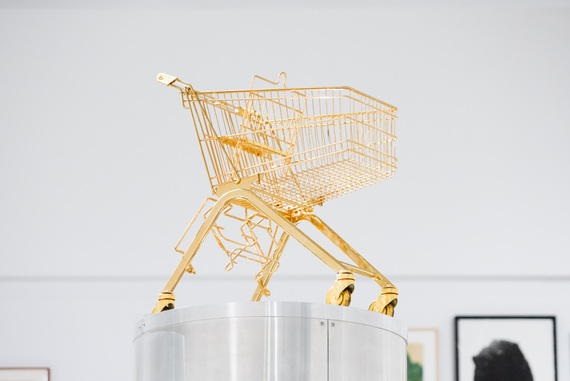 Sylvie Fleury, Serie ELA 75/K; (Easy, Breezy, Beautiful), 2000. Collection of Beth Rudin DeWoody.
Apparently Beth's been told that like the curious, constantly foraging magpie, she's afflicted with "love of shiny objects syndrome" due to her attraction to metallic works. Whatever chronic condition DeWoody may have, we all are the beneficiaries of her marvelous, confident vision and devotion to creativity, and her support of artists that makes this delightful museum show, not surprisingly, one of the most inspiring of the year in America.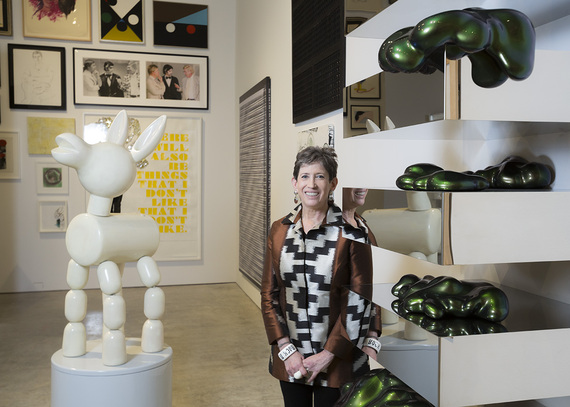 Beth Rudin DeWoody, pictured with Donkey, by Daniel Arsham. Photograph by Jacek Gancarz.
"The Triumph of Love: Beth Rudin DeWoody Collects" at the Norton Museum of Art continues through May 3, 2015. For more information: www.norton.org
Popular in the Community