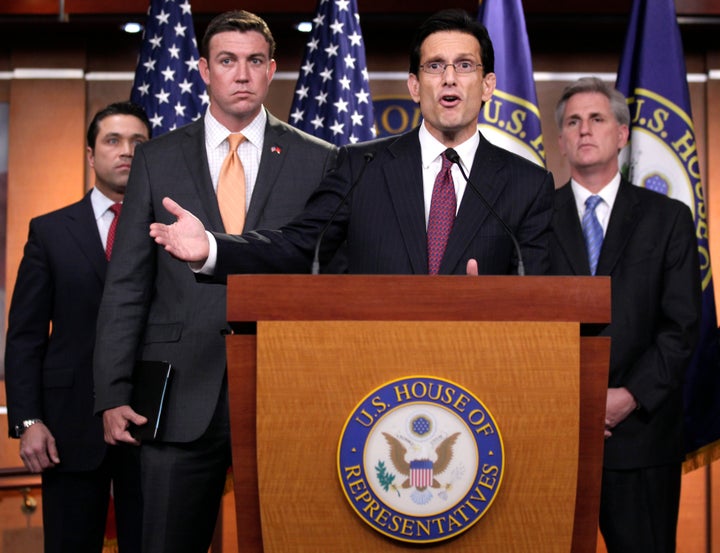 NEW YORK -- If California Republican Rep. Duncan Hunter has his way, 43 federal education programs will be slashed.
The bill is the latest in a stream of federal education bills involved in broader legislation related to the re-authorization of the Elementary and Secondary Education Act, a 1965 law that funds public education.
Plans for the bill were first reported by Education Week's Politics K-12 blog, which notes that the bill aims to cut more than half of all ESEA-authorized programs.
Programs on the legislative chopping block include Grants to Reduce Alcohol Abuse; Elementary and Secondary School Counseling Program; Teaching American History; Excellence in Economic Education; and Reading Is Fundamental.
The bill's summary explains that its sponsors see the programs listed for elimination as wasteful, redundant or unnecessary on the federal level. Some haven't received funding in years; some are carnage of the recent budget; and others still were headed for consolidation in President Obama's 2012 budget request.
But others say these federal programs are vital to support local school districts.
"The history of ESEA really grows out of the Civil Rights Act," said Pedro Noguera, an education professor at New York University. "It has provided an important supplement to what states and local districts can provide. If these programs were to be cut, it would have a devastating impact on the students who need them most."
"There may be programs here or there that we might argue how essential they are, but when you hear a list like that, this is just a meat cleaver being used to do away with programs that they either don't understand or simply don't value," Noguera said.
Democrats have introduced their own legislation to address education shortfalls on the federal level.
Earlier this week, Sen. Patty Murray (D-Wash.) introduced the LEARN Act, which would promote literacy programming.
In a conference call with reporters, Murray noted that only 42 percent of eighth graders are proficient in reading. "The LEARN Act would put in place a new comprehensive federal literacy program," she said. "It fills a critical void at an important time to make sure literacy doesn't get left behind."
Calling all HuffPost superfans!
Sign up for membership to become a founding member and help shape HuffPost's next chapter