Hunter Hayes recently returned from a long run in Europe, where he performed for military troops in the U.K., Germany, Spain and Italy. The "Invisible" singer was humbled by the opportunity, and wants to do everything he can to shed light on their "heavy" experiences. 
Being a public figure, the 25-year-old feels he has the platform to spread awareness, which is why he takes the time to help our servicemen and -women in any way he can. 
"My thing is if you got a microphone, you got a responsibility," he told The Huffington Post during a Build Series interview Tuesday. "It's not saying that everybody's got to say the same thing, but I just really connect with the people who spread love, who lift, who encourage, who strengthen. And, to me, [veteran] stories strengthen. [They] lift people up, [they] inspire." 
Hayes, who recently released a new video for "Yesterday's Song" and plans to debut more music soon, is partnering with Heartgard Plus and Warrior Canine Connection for the Heartgardians program to make sure dog-assisted therapy is available for all service members and veterans who may need it.
"I want to positively affect any man or woman serving our country," Hayes said. "It's incredible, the strength that they have, and the stories are just so inspirational."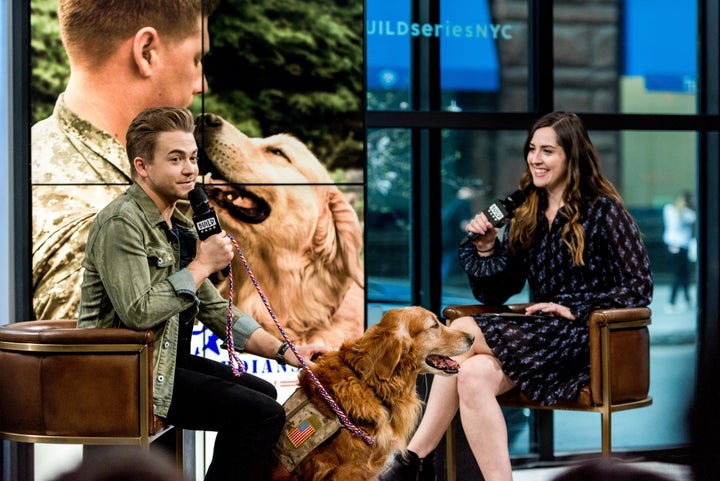 Aside from this passion project, Hayes has been in the studio working on a new album, which will showcase a more "moody, intense" vibe. Although many know him for his happy tunes and high-pitched tone, Hayes says his voice has changed since he debuted his first record when he was 19. 
"This voice that I had when I was 16 and then 19 and then 20, it got harder at 21, and then 22, I was like, 'Oh, my God, what am I doing?'" he said. "It got so hard that I had to embrace where my new voice is and also learn, musically, to kind of embrace space." 
Hayes assured fans that the album is coming and to just to patient. 
"I'm having to hold back the reins on telling you all the details," he told HuffPost. "But we're so almost done!" 
Watch the full Build Series interview with Hunter Hayes below: 
From April 3 to June 30, the HEARTGARD Plus "Heartgardians" program offers consumers nationwide the opportunity to nominate a deserving U.S. Service Member or Veteran to win an all-expense-paid trip to Nashville and a year's supply of HEARTGARD Plus for their dog. Veterans can be nominated on heartgardians.com or via Twitter or Instagram by using the hashtags #NominateAVeteran and #Sweepstakes. For every nomination, the HEARTGARD Plus team will donate $10 to Warrior Canine Connection. The HEARTGARD Plus team will contribute up to $100,000 to Warrior Canine Connection in 2017.
Calling all HuffPost superfans!
Sign up for membership to become a founding member and help shape HuffPost's next chapter
BEFORE YOU GO
PHOTO GALLERY
Forgiveness Ceremony For Veterans