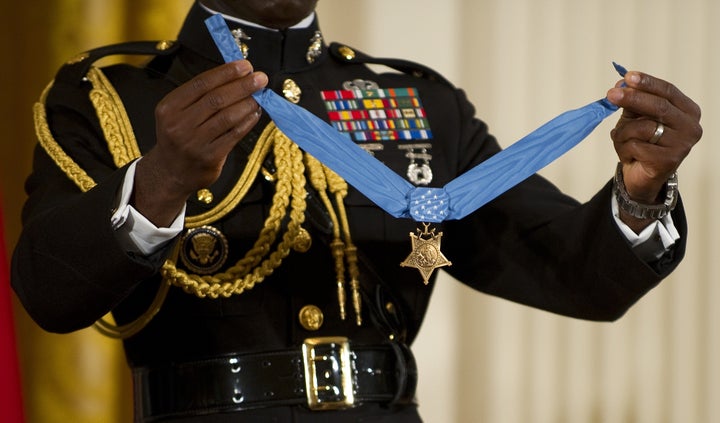 WASHINGTON -- When former Marine Sgt. Dakota Meyer was awarded the Medal of Honor in September, he became the first living Marine to earn the nation's highest military award for valor in the wars in Iraq and Afghanistan.
With 2.3 million veterans having served in Iraq and Afghanistan and a combined 18 years of conflict, Meyer was just the 10th veteran of those wars to earn the honor. Rep. Duncan Hunter (R-Calif.) is now trying to make the case to the Pentagon that many other heroic acts have been downplayed by the Department of Defense and are worthy of the nation's highest military honor.
Hunter, who served as a Marine officer in both wars, wrote a letter to Secretary of Defense Leon Panetta on Tuesday urging him to review past awards and determine if any should be upgraded to the Medal of Honor. The review would cover those who earned the Silver Star, Distinguished Service Cross, Navy Cross, and Air Force Cross, all medals awarded for battlefield bravery.
In the letter, Hunter highlighted dangers the military faces in Iraq and Afghanistan. Despite the unconventional nature of current wars, he said, American troops are still "taking and holding ground from the enemy, and often engaged in close-quarter combat."
"There is no amount of time or difficulty that should prevent us from ensuring we properly recognize the heroism and sacrifice of this generation's combat heroes," he said.
The Veterans of Foreign Wars seemed to welcome Hunter's call, saying he had "raised a very valid issue." VFW spokesman Joe Davis told The Huffington Post that "awarding the Medal of Honor is about proper recognition, not numbers, but it is very obvious that there is a huge imbalance between the number of medals awarded for Afghanistan and Iraq and the number awarded for previous wars and conflicts."
The letter cited four instances of unrewarded heroism. In a notable case, Marine Sgt. Rafael Peralta, who died during the Battle of Fallujah in November 2004, was posthumously awarded the Navy Cross. Peralta was denied the Medal of Honor over a medical dispute in which Peralta's fellow Marines claimed he died deliberately shielding them from a grenade blast. Investigators believed he had been killed by a gunshot and fell on the grenade by chance.
Also mentioned was Army Sgt. First Class Alwyn Cashe, who dragged six of his soldiers to safety from a burning vehicle in October 2007 and later died of severe burns from the incident; he earned the Silver Star for his actions. Along with Air Force Staff Sgt. Robert Gutierrez and Capt. Brian Chontosh of the Marines, the men represent "even more instances of awards that are consistent with the history and tradition of the Medal of Honor," wrote Hunter in his letter.
Hunter blamed the military's process for approving Medals of Honor, calling it "onerous and intimidating," and claiming it discourages commanders from recommending their troops for the award.
Others allege that approval is haphazard and subjective. Former Capt. William Swenson fought alongside Dakota Meyer in September, 2009, moving through heavy fire to retrieve the bodies and equipment of four Americans. Meyer received the Medal of Honor, but Swenson's part went unnoticed, possibly because of his angry comments about second-guessing by distant commanders. The top U.S. commander in Afghanistan, Marine Gen. John Allen, recently intervened and recommended Swenson for his own Medal of Honor.
Writing about the case for TIME's Battleland blog, former Army officer Matt Gallagher bluntly noted, "It's no great guild secret that the military's awards system is as right as a football bat."
The Pentagon did not return a request for comment on Hunter's letter. Spokeswoman Eileen Lainez told the San Diego Union-Tribune that regarding the Medal of Honor awards, "the standards have not changed -- they are high, as one would expect for our nation's most prestigious decoration."

Popular in the Community