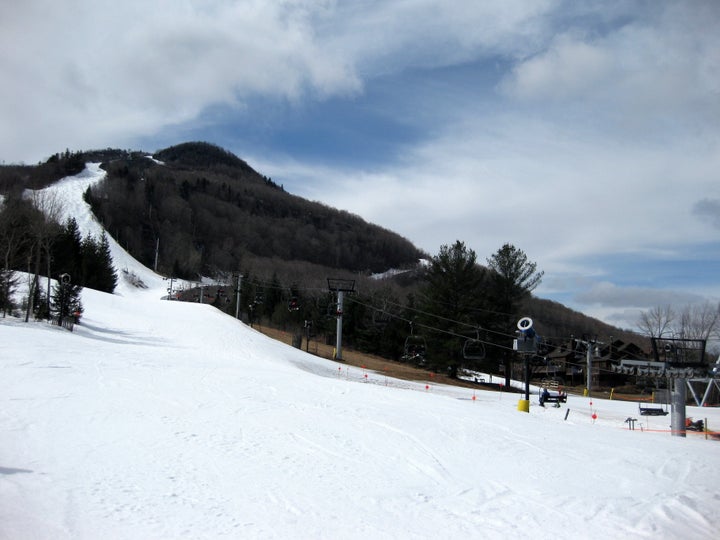 Nestled in the northern Catskills of upstate New York,
offers 240 acres of frozen fun. The winter wonderland, complete with 55 trails and 11 lifts, lies just an hour from the
.
also provide a convenient path to the mountain's slopes.
The popular snow-covered ski destination contains three mountains (Hunter One, Hunter Mountain and Hunter West) that cater to different levels of ability. The base elevation climbs to 1,600 feet above sea level while the summit elevation ranks at a whopping 3,200 feet with a vertical drop of 1,600 feet. In addition to the impressive mountain
, Hunter Mountain guarantees
. The ski resort, committed to producing ideal snow conditions, can cover one acre in a foot of snow every hour.
Open for use from morning to late afternoon, Hunter Mountain's 55
and 11 assorted lifts facilitate quality skiing for guests from beginner to expert. A portion that includes 30 percent of the terrain caters to beginners. An additional 30 percent is geared toward intermediate level skiers. Advanced level guests can enjoy 27 percent of the area. The remaining 13 percent is for the experts. Hunter Mountain's 11 assorted lifts include a six-passenger chair lift, two quad chair lifts, four double chair lifts, two triple chair lifts, a detachable quad chair lift and a handle tow lift.
Hunter Mountain's Snowsports School gained this mountain national recognition as an accredited venue to learn to ride. From the intensive classes in the
to the workshops of the
, aspiring snow-sport participants acquire the knowledge to dominate the snow like professionals. In addition to rising stars, Hunter Mountain also welcomes celebrities including
, co-host of the Rollin' with Nick Cannon radio show.
Hunter Mountain offers a variety of ticket prices and plans including season passes. Weekend and holiday full-day
range from $10 for toddlers to $68 for adults ages 19 to 64. Midweek prices are significantly less, with toddlers admitted free and adults paying $58. Tickets are also offered at a discounted rate when arriving after 1 p.m. Hunter Mountain also offers a "
" valid for 3 days of skiing or riding for $119.
range from $49 for toddlers to $949 for an adult gold pass. Family rate plans are available.
at the resort offer an apres-ski treat for all tastes, from the Mediterranean style cuisine at VanWinkle's to the sushi bar at the Summit Lounge. A
awaits guests to soothe aching bodies and rejuvenate the mind after a long day on the slopes. Treatments include massages, facial and body treatments, manicures and pedicures and hair removal. In addition to the fine dining and relaxation options the Hunter Mountain area regularly offers, the resort hosts several high-quality festivals including the
, which calls Hunter Mountain home in the spring. The festival encompasses the entire Base Lodge facilities at Hunter Mountain as well as added tent space with more than 40 invited breweries on display offering lagers and ales of all kinds.