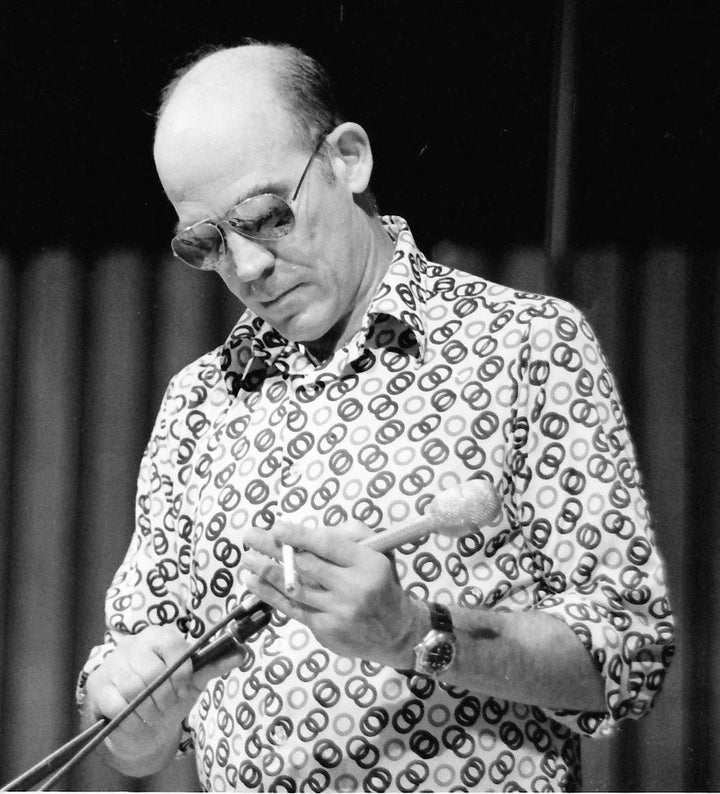 The record shows that in 1970 we published Hunter S. Thompson's The Battle of Aspen; in 1971 he wrote about the stirrings of Mexican unrest in East Los Angeles, featuring a fiery lawyer named Oscar Zeta Acosta, who later that year emerged as Dr. Gonzo in Fear and Loathing in Las Vegas.
In 1972, we began nonstop coverage of the Nixon-McGovern presidential campaign. Hunter took over my life then--and for many years after that when he was reporting (long, nocturnal telephone calls and frequent all-night strategy sessions), and especially when he was writing.
After Fear and Loathing in Las Vegas, everything else he wrote was a full-on siege. Setting up the assignment was easy--Hunter was pretty much welcome everywhere and had the skills and instincts to run a presidential campaign if he had wanted. But then came the travel arrangements: hotels, tickets, researchers, rental cars.
Later in the process, finding a place for him to hunker down and write--The Seal Rock Inn, Key West, Owl Farm, preferably isolated and with a good bar. Flying in IBM Selectric typewriters with the right typeface; booze and drugs (usually he had this part already done); arranging for a handler-assistant at his end. Back at Rolling Stone, I had to be available to read and edit copy as it came in eight-to-ten-page bursts via the Xerox telecopier (the Mojo Wire), a primitive fax using telephone lines that had a stylus that printed onto treated, smelly paper (at a rate of seven minutes per page).
I had to talk to Hunter for hours, then track and organize the various scenes and sections. He would usually begin writing in the middle, then back up or skip around to write what he felt good about at the moment, report¬ing scenes that might fit somewhere later, or spinning out total fantasies ("Insert ZZ" or "midnight screed") that would also find a place--parts that were flights of genius. Generally the lede was easy, describing the invariably dramatic weather wherever he was writing from. Then a flurry of headlines and chapter headings and the transitions he had to produce on demand to create the flow and logic, and always, sooner or later, the conclusion, which we always called "the Wisdom."
He liked to work against a crisis, and if there wasn't a legitimate one, he made one. We never had a fight about the editing. I never tried to change or "improve" him, but since I had a pretty deep understanding of his style and his motives, I could tell where he was going and sit at his side and read the map to him. If I didn't personally supervise everything he wrote for Rolling Stone, he wouldn't finish. It was a bit like being a cornerman for Ali.
Editing Hunter required stamina, but I was young, and this was once in a lifetime, and we were both clear on that.
We were deep into politics and shared the same ambition to have a voice in where the country was going (thus the "National Affairs Desk"). We became partners in this as well, as mad as it may have seemed at the time--a rock-and-roll magazine and a man known for writing about motorcycle gangs, joining forces to change the country.
We used to read aloud what he had just written, get to certain phrases or sentences, and just exclaim to each other, "Hot f**king damn." It was scorching, original, and it was fun. He was my brother in arms.
Now those days are gone. I still feel deeply in debt to him, and I never seem to stop working for him. And so it goes. And here we are publishing yet another volume of his work.
After Hunter's death, we produced a special tribute issue of Rolling Stone based on memories and vignettes from nearly a hundred of his friends, colleagues, and coconspirators. It took ten days, with a half-dozen editors working around the clock against a hellacious deadline, and once again we were in service to Hunter S. Thompson, busting our asses on his behalf. He had again touched us in some magical, unforgettable way, even affecting those on our staff who had never met him.
That special issue was commissioned as a full-length book, Gonzo: The Life of Hunter S. Thompson, a one-hundred-fifty-thousand-word oral history. For now it stands as the definitive Hunter S. Thompson biography, and an essential companion to any understanding of his work and life; I edited it word by word, with much devotion.
I've always thought that Hunter had, in a sense, written his own autobiography in the pages of Rolling Stone, and that if there was a way to take his collected work and edit it properly, there would emerge a narrative of Hunter's great and wild life, a story about himself, who was, after all, his own greatest character.
This notion was among the things I discussed with Paul Scanlon, who was my trusted right-hand man and managing editor for many of our San Francisco years, when we sat down to edit this book. Paul knows the Rolling Stone lore thoroughly, was a tasteful and meticulous editor, and was a natural to work with me on this comprehensive look at Hunter's years with the magazine.
We've also included some correspondence between Hunter S. Thompson and me (actually a very small sample), as well as a couple of thoughtful--and hilarious--memos to the staff that bring yet another subtext and flavor to the arc of his work. Hunter lived a great life of genius, talent, and righteousness. It is reflected in these pages.
From Fear and Loathing at Rolling Stone by Hunter S. Thompson. Copyright © 2011 by Wenner Media LLC. Reprinted by permission of Simon & Schuster, Inc. All rights reserved.
Popular in the Community