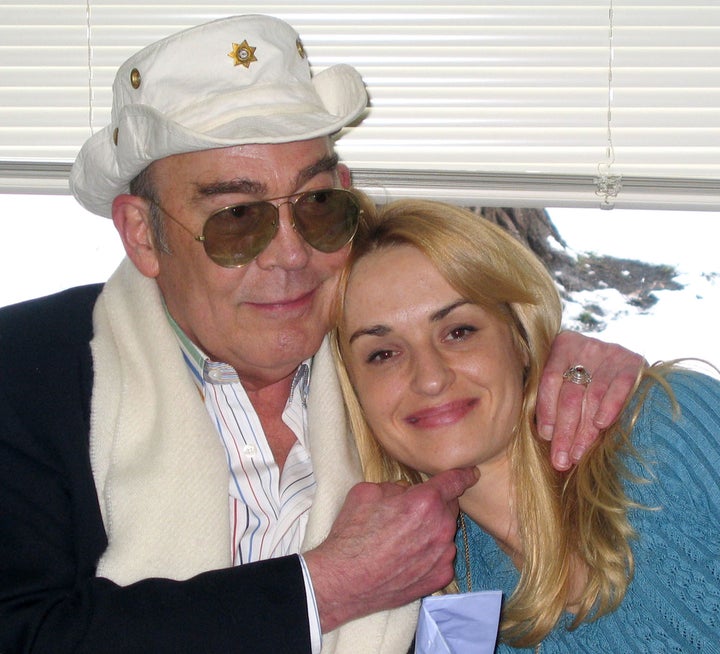 Hunter S. Thompson's widow Anita dropped a casual bombshell with the Scottish Sunday Herald - that killing himself in February 2005, he could still be a father again. He has one son Juan, 44, and a grandson Will
According to his widow, she and Hunter talked about and tried to have children, and before his suicide Hunter had had some of his sperm frozen.

"I put all my hope in Will, that he will carry on the good family name."

There is, though, another option, which Thompson has never before made public. "Hunter and I were always trying to have children," she says, "but we just never did." She broke down in tears recently while reading a New York Times article on home birthing, the memories flooding back of the couple's incomplete family unit. "Hunter was such a loving person that it would have been a joy to have a family with him," she says, and then adds, almost casually: "But I could still have his child if I want to." As this bombshell resonates, Thompson opens up, clams up, opens up again. There are certain things she wants off the record - specifically the words "frozen sperm". I respect those wishes, naturally, but, having tried for several days, I genuinely can't think of any other way to put it. "He left that possibility for me but it's a long series of ethical questions for me whether I would want to have his child now...

And so what are the questions, the ethical issues, surrounding a possible heir to the "outlaw" journalist? "Well, would I want to raise the child without Hunter? Children do better with a father, although I think it would be beautiful for Hunter to have another child, as we had tried so many times unsuccessfully. I believe it's something Hunter would want but at this point in my life I'm a little fearful of making that kind of decision. I wouldn't want to do it as a way of replicating Hunter, of prolonging Hunter, or as a way of filling the void. It's something I haven't decided on yet."
Calling all HuffPost superfans!
Sign up for membership to become a founding member and help shape HuffPost's next chapter