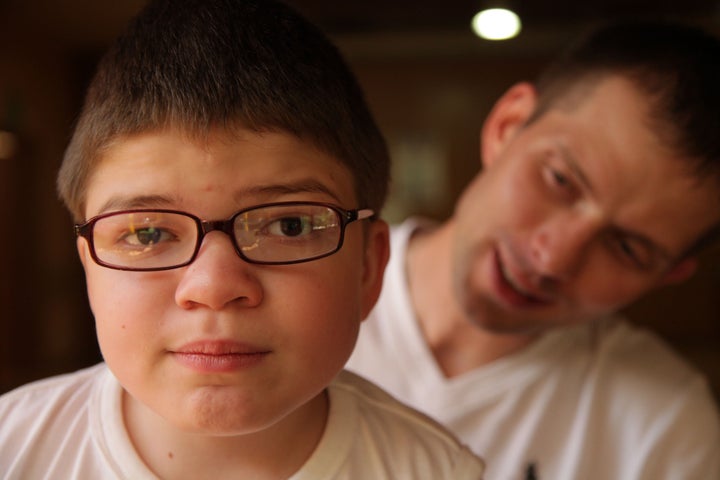 Rick Guidotti is the founder of Positive Exposure™, a non-profit organization founded in 1997 that uses the arts to transform public perceptions of people living with genetic, physical and cognitive differences -- from albinism to autism to Hunter syndrome.
His latest exhibition, "Hunter In Focus," will be displayed at Positive Exposure's Annual Fall Benefit on Thursday, October 18th in New York City, and displayed in Grand Central Terminal on Friday, October 26 from 8:00 a.m. to 7:30 p.m.
He recently spoke with HuffPost about his latest project and how to find beauty in difference.
I was a fashion photographer here in New York City, but I also lived and worked in Milan and Paris and London, for lots of different clients and magazines and with a lot of fun models, but I was always told who was beautiful and shown who the model of the moment was. But I didn't see beauty just on covers of magazines.
I passed by a girl waiting for the bus who had albinism. She was gorgeous, yet never included in that beauty standard. Instead, there are really horrible images of kids with genetic differences up against walls in doctors offices with a black bar across their eyes. They were nothing compared to this gorgeous kid, these were images of disease.
So, and this was in 1997, I contacted a support group called NOAH, the National Organization for Albinism and Hypopigmentation, and told them I wanted to show the world the beauty of albinism. Their reaction was so negative, and I kept asking why. They made it clear to me that every time there was an article about albinism, it was a story about a victim, it was exploitative, it was sensational. But I wanted to create a positive experience in a series of images.
I was really excited to photograph the first girl, she was stunning. But she walked in with her shoulders hunched, no eye contact, and I knew this kid had been teased her whole life. It had taken out any bit of self esteem she had, she was just so fragile. Just the day before I had shot Cindy Crawford on the same set, so I turned on the music and the fan, and I picked up a mirror and said, "Christina, look at yourself. You're magnificent!" All of the sudden her hands were on her hips, she started bouncing all over the studio; that transformation empowered her, that's how she was going to change her community.
Scroll down for some of the photos to be featured in the "Hunter In Focus" exhibit.
I looked up chromosome 18 anomalies in medical textbooks and found images of feeding tubes and trachs, really disturbing imagery that was burned into my head when I walked in. The kids were being entertained by a clown on stage, and there was so much love and laugher and life in that room. That's what was missing in those images. I was invited to create an exhibition for the Smithsonian, which wanted me to show albinism worldwide, but I explained my experience with Chromosome 18 and said why don't we invite these other foundations to be part of this to illustrate the universal applicability of celebrating differences by using the arts. Since then, we've been lecturing to medical students, nursing students; there are opportunities to bring these stories back to families and kids themselves, but we're taking the whole idea of making it relevant to the general public. Because by the time a girl with differences leaves my studio, 15 people could look at her wheelchair or her birthmark or point at her.
I was invited to photograph these gorgeous kids with Hunter syndrome. I got the opportunity to meet some of these amazing kids and their beautiful families, who see these kids not as diseases or diagnoses -- instead they giggle and they laugh and they enjoy things.
You have one of two reactions when you see someone who's different on the street. You either stare, or you look away. But what if we provided an opportunity to steady your gaze long enough to see beauty in those gorgeous eyes, not disease. Once you're able to look with a different eye, the beauty washes over you, everything shifts, and you start to see beauty everywhere. You see kids doing what kids do -- with certain challenges -- but they're still kids.
Positive imagery is starting to move forward -- look at medical textbooks! People don't want to look down or look away, but they don't have the alternative. It's changing in the medical field, not just in terms of inclusion programs, but it's really starting to spark conversations and dialogue outside of "diversity week" or "disability day," a dialogue that lasts all year long.
I believe the world is ready. I've had opportunities to speak to communities around the world where we were told photographs would be insulting, and then as I started my presentation, parents would stop me from speaking to bring their kids on the stage and say, "Please, show the world the beauty of my kid, let the world see my son the way I see him."
But people often fear what they don't understand. I work with kids with a variety of illnesses, and the knee-jerk reaction is a negative response. Looking away is even worse than staring sometimes. A young woman with Sturge-Weber syndrome with a birthmark across her face developed a way of not seeing people stare at her -- she looks down. But you can't! Be proud of who you are! It's become this internal struggle -- kids with physical differences and their families feel shame, but we need to change that, we need to start these conversations so people can find alternatives.
One example: A young girl with albinism in the UK did not want to be photographed at first. Finally she agreed to be photographed and we had a blast, and she said, "I realize the hatred and abuse I experience every day will never disappear, but what has disappeared is the hatred I felt toward myself." We have a knee-jerk reaction to find disgust in difference because we're afraid of it, and through the visual arts we're going to change that to show the beauty in difference.
"Hunter In Focus" will be the first time we've ever had such a public exhibition. It's really our dream, to make it relevant not just to our communities but to the everyday person. We also hope to have people start questioning their own ideas. Instead of seeing one of these kids and thinking, "Oh, what a shame," they'll say, "I can think differently about this, I can look at this with a new set of glasses and see beyond how I'm told I'm supposed to react to this." Once there's this shift in attitude you stay enlightened, you continue looking at things differently from then on.
As told to Sarah Klein. This interview has been condensed and edited for clarity and length.
For some of the photos to be featured in the "Hunter In Focus" exhibit, click through the slideshow below.