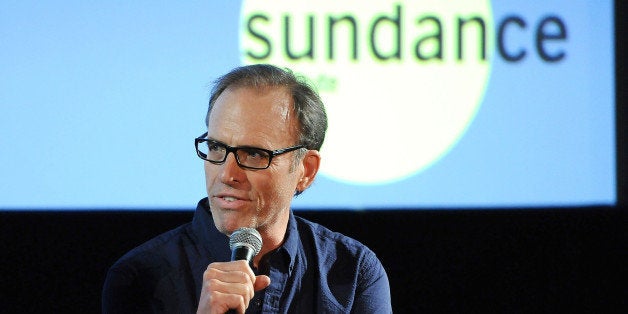 The filmmakers behind the campus rape documentary "The Hunting Ground" have invited the Florida State University administration to a screening and panel discussion that will take place in Tallahassee this week.
The invitation puts FSU in an odd spot, given that the movie attacks the university and Tallahassee police for how they handled allegations that star quarterback Jameis Winston sexually assaulted a female undergraduate. FSU has complained the filmmakers did not give the school an adequate opportunity to respond.
On March 19, documentary filmmakers Kirby Dick and Amy Ziering invited FSU President John Thrasher to a screening of "The Hunting Ground," to be held March 26 at an AMC theater in Tallahassee. They also asked if Thrasher would participate in a panel, according to a copy of the email obtained by The Huffington Post:
Following the screening, we would welcome your joining us for a panel discussion with the filmmakers and local experts to discuss campus sexual assault and explore ways that institutions of higher learning can address this national problem.

We know that as President of FSU, the safety of your students is of utmost concern. The Florida State community and the country would view your acceptance of this invitation as a sign of courage, vision, and leadership.
FSU's general counsel, Carolyn A. Egan, sent a response to the filmmakers Wednesday afternoon. A copy of the email was shared with HuffPost and reads in full:
This is in response to your recent letter inviting President Thrasher to the screening of your movie on March 26th and a panel discussion on the very important subject of campus sexual assault. As you are aware, Ms. Kinsman has filed suit in federal court against FSU. In light of that pending litigation, any university representative would be unable to fully and freely discuss the contents of the documentary, especially as they relate to Ms. Kinsman. Accordingly, we will not be sending a university representative to participate in the panel discussion. We continue to direct our efforts toward making our campus the safest it can be for all of our students.
The school has been criticized because Athletics Department officials learned of the rape allegations in January 2013, but decided not to tell FSU officials after Winston and two teammates said the sex was consensual. A campus hearing, which found Winston not responsible for sexual misconduct, was not held until 2014, but FSU says that a lack of cooperation from Kinsman and her attorney was the reason for the delay.
Tallahassee police were also blamed for several delays, including the detective handling the Winston case waiting two months to write his first report, and closing the case "without interviewing crucial witnesses or getting DNA or phone records" from Winston, according to The New York Times.
Last month, Thrasher issued a statement that claimed "The Hunting Ground" is "seriously lacking in credibility and presents a one-sided view of Florida State's actions in the Jameis Winston case." The university said it was not contacted by the filmmakers until Dec. 18, 2014, and that they did not disclose that Winston's alleged rape victim would be the focus of part of the movie.
"Had FSU been given the opportunity to reply, we would have made it clear the university went to extraordinary lengths to support Ms. Kinsman and to initiate an impartial, independent Title IX investigation of her allegations against Mr. Winston," Thrasher said on Feb. 27.
Dick said his team kept the film open for revisions or additions until Feb. 19, but didn't get a response until the week after, when Thrasher issued his public statement.
"It's unfortunate because we would have welcomed including President Thrasher or another FSU official in the film," Dick said on March 4, noting that representatives from the Tallahassee police declined to be interviewed, and Winston and his attorney did not respond to multiple requests. Dick added that they spoke with seven other FSU sexual assault survivors who had complaints about the university that were similar to Kinsman's.
"Rather than attack the messenger, President Thrasher should show leadership and focus on the problem that has existed on his campus for decades," Dick said.
This post has been updated with FSU's response to the invitation.
Popular in the Community