Every day history is lost. Those who bear witness to moments in time pass away, taking their memories with them. Old photos and letters are tossed into the trash or forgotten in trunks in the attic. And of course, time and the elements ultimately turn most things to dust. However, once in a while a piece of history long thought lost is found.
In January of 2017, two brothers, Brian and Keith Collins, found what may be an amazing piece of lost history. On an antique-hunting trip to the famous Western town of Tombstone, Arizona the brothers walked into a thrift store to look for old photos. In a bin of century-old images the brothers focused in on a sixteenth-plate tintype, showing two young men, maybe teenaged boys, sitting side by with one's leg curiously slung over the other's in a casual pose. The brothers bought the photograph for $13, tossed it in the glove compartment of their truck and went on their way.
Now cool old photos are something of a passion for the Brothers Collins. In 2011, they drew media attention for finding what is purportedly a lost Earp family (as in Wyatt Earp) photo album at an antiques store in Hesperia, California and then in May of this year they purchased a photo off of eBay that allegedly shows Abraham Lincoln during his famous debates with Stephen Douglas. It is key to note that the brothers are careful to use words like "allegedly" and "purportedly" when referring to their historical finds because being careful stewards of history they believe that every historical item needs to be thoroughly vetted and researched before it can be accepted as part of the historical record.
Now back to that photo they picked up in Tombstone. After a day of rummaging through other antique stores the brothers looked at the photo more closely and were struck by the realization that, "We were looking at Billy the Kid and his brother Joseph Antrim!" said Keith. The careful stewards feel very confident that their latest find will only temporarily require the use of conditional adjectives and soon enough be authenticated as a the only known image of the American West's most infamous outlaw and his brother.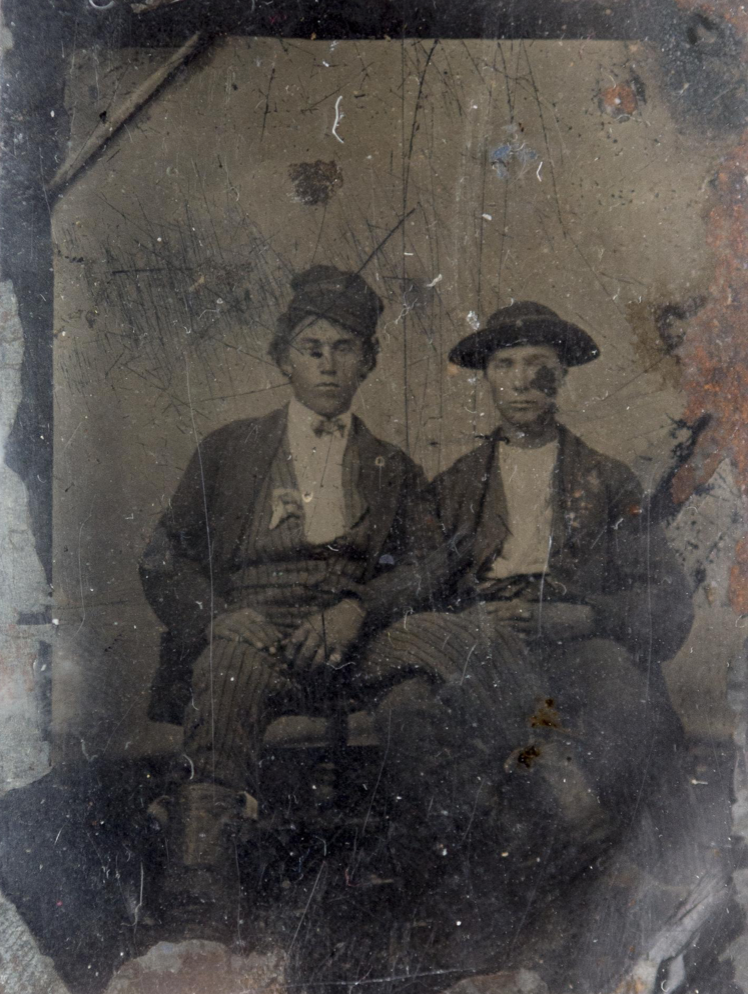 Claiming to have found a lost photo of Billy the Kid is a common enough occurrence. Appraisers and authentication experts are approached frequently by collectors who have come across an image of a clean-shaven, baby-faced young man in a cowboy hat and think that they have found a lost photo of Billy the Kid. The Western collectibles world is a notoriously difficult cohort to convince, in part because there is so much money at stake. The famous Upham tintype, which was for over a century the only known image of Billy the Kid, sold at auction to Bill Koch in 2011 for $2.3 million, making it the most expensive photo ever sold at auction at the time. Then in 2010 Randy Guijarro, a Fresno, California man bought a tintype for sixty-nine cents that appears to be the only known photo of Billy the Kid and the Regulators playing croquet. The "Croquet Image" has been insured for $5 million and received several seven-figure offers.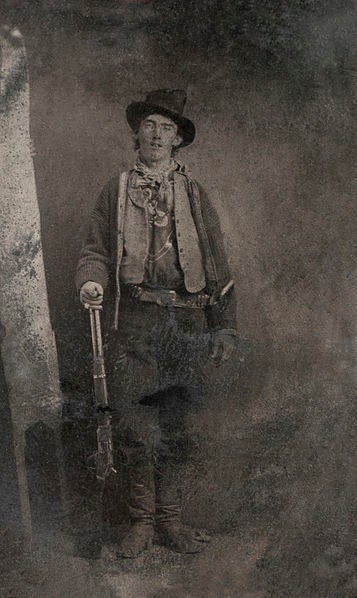 The Collins are quick to point out that while big price tags make for great talking points, for them the historical value of an item is of far greater interest than the monetary value. And they believe that the historical value of their image is immense. But what details have them so certain that their tintype is truly Billy the Kid and his brother?
When a random photo is found with no accompanying documentation the item lacks provenance. Essentially, the photo's chain of custody has been lost, so determining the item's authenticity is next to impossible. However, if the circumstantial evidence surrounding the photo is strong enough it can merit further research and the circumstantial evidence surrounding this image has made the Collins brothers push forward. When they bought the photo they asked the store owner if he knew anything about its origins. He explained it had been dug up near the site of some old gambling tents. Upon further reflection, it occurred to the brothers that Joseph Antrim was said to have been a professional gambler in the Colorado, New Mexico and Arizona Territories and was even said by historians to have spent time in Tombstone. Interesting…but still not enough evidence to convince the Collins brothers they had the real McCoy. They then moved to side by side comparisons of the known images of Billy the Kid and Joseph Antrim and their photo.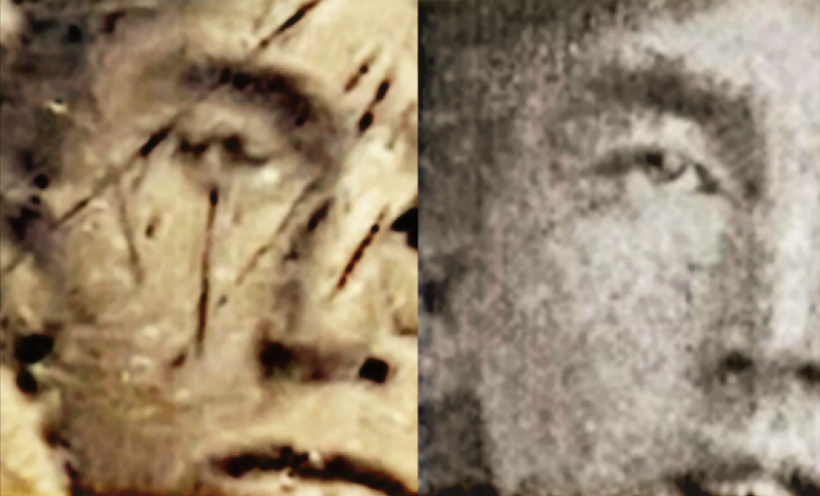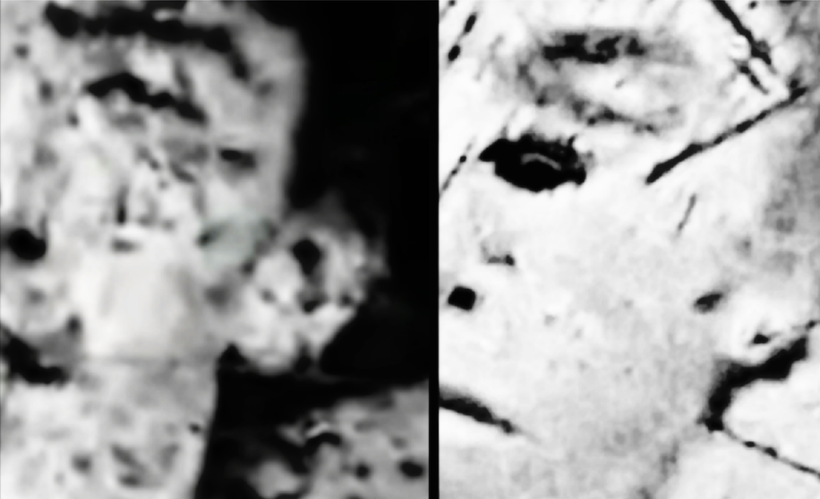 The Collins brothers are awaiting the results of facial forensics and analysis of the collodion. But they are encouraged by their initial findings. One feature in their photo that stood out was the shiny bauble on the alleged Billy the Kid's pinky finger. The young man appears to be wearing a signet ring. A similar ring is also evident in the famous Upham tintype.
Furthermore, the hand wearing the ring appears to be quite swollen. Now here is where the historical timeline begins to lend credibility to the photo. On August 17, 1877 in Fort Grant, Arizona Billy the Kid is said to have gotten into a brutal brawl with Frank "Windy" Cahill and shot and killed him and then fled from the law. The Collins brothers theorize that perhaps he fled Fort Grant to find his brother and in the days following the fight Billy and Joseph sat for the photo, Billy still nursing an injured hand with fight bite sores on the knuckles.
There is still a tremendous amount of research to be done on the photo before it can be considered authenticated but for the moment it offers a possibility that there may be more to tell in the Billy the Kid saga and the hope that a moment in time in history is not lost after all.
Calling all HuffPost superfans!
Sign up for membership to become a founding member and help shape HuffPost's next chapter
This post was published on the now-closed HuffPost Contributor platform. Contributors control their own work and posted freely to our site. If you need to flag this entry as abusive,
send us an email
.