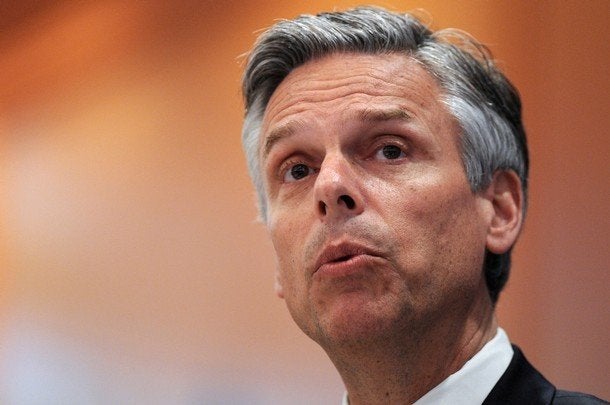 MANCHESTER, N.H. -- An adviser to Mitt Romney was relaxed enough Monday night to joke about Jon Huntsman, the latest challenger to Romney in the 2012 GOP presidential field.
The comment, while harmless on the surface, was laced with a dismissive tone. Fehrnstrom was throwing a few different labels at Huntsman all at once: showboat poseur, political lightweight, non-factor.
But those labels, especially the last, might not stick here in the Granite State.
Interviews with numerous New Hampshire political players indicate that if Huntsman comes here often enough, there is space for him to gain some traction.
"We are going to run the most aggressive campaign in modern New Hampshire political history," John Weaver, Huntsman's campaign manager, told HuffPost in a phone interview.
Weaver said since Huntsman returned from China on April 29, the candidate has already done 40 events over 12 days in New Hampshire -- and that this is only the beginning.
"Huntsman more than any other candidate will be standing in people's living rooms and local meeting halls taking questions from all comers, and that sense is already out there," Weaver said.
While Romney is the current GOP front-runner, the storm clouds are there, hanging over his head.
"Most people are not decided, not committed," said Ovide Lamontagne, a likely Republican candidate for New Hampshire governor in 2012. "So [Huntsman] could catch fire; anybody could catch fire."
Rep. Michele Bachmann (R-Minn.) looks primed to take off, too, after her solid debate performance. But her wheelhouse is in Iowa, where the GOP electorate is further to the right than it is in New Hampshire.
Given the uncertain state of the GOP playing field, Huntsman's decision not to take part in the debate Monday was cited by several people as a mistake.
"To skip the first real event of the campaign is confusing a lot of people," said Mike Dennehy, an experienced New Hampshire political consultant who ran Sen. John McCain's (R-Ariz.) state campaigns here in 2000 and 2008.
Huntsman "started off on the wrong foot" by missing the debate, Dennehy said. "That puts them behind and playing catch-up."
Kevin Smith, a former state legislator who now runs an influential conservative organization called Cornerstone Action, said people "just don't know who Huntsman is yet, and not being in [the] debate isn't helping."
Weaver downplayed Huntsman's absence from the debate, telling HuffPost, "There are going to be tons of debates in New Hampshire."
"I wish the debate had been three weeks from now," he said. "But do I think it hurt us? No. I don't think the voters in New Hampshire will use that as a barometer when they make a decision."
As Huntsman does introduce himself to voters, he will be helped by the contrast between his personal style and that of Romney's. Where Romney is stiff, awkward, and in a hurry on the stump, Huntsman is at ease, smooth, and articulate. He clearly enjoys talking to people.
Romney, by contrast, spent 15 minutes sitting in a parked SUV in a McDonalds parking lot between campaign stops on Tuesday, rather chatting with voters in the fast food restaurant.
The conventional wisdom among the political class is that Huntsman is too unknown and too liberal, or moderate, for the Republican electorate. He supports civil unions for gay couples, and as Utah's governor was in favor of giving illegal immigrants in-state tuition at state universities. He also supported cap-and-trade legislation in the past, a position he now disavows.
His opponents will also tie Huntsman to President Obama, citing the former ambassador to China's service to the administration.
"I don't think he's answered the question of how does he run against Barack Obama, who appointed him as ambassador," Lamontagne said.
But Smith and several others said they are taking Huntsman seriously.
"I've always thought there was a place for Huntsman in this primary," Smith said.
State Sen. Gary Lambert (R-Nashua), said he spent time last Saturday with Huntsman, who he said has "impressive credentials."
"I'll be watching him closely," Lambert said.
Among Tea Party activists, Huntsman is largely unknown.
"I don't know anything about him," said state Rep. Sue DeLemus (R-Strafford), who helps lead one of the most active Tea Party groups in the state, the Rochester 9/12 Project.
Her husband, Jerry DeLemus, said he had "heard [Huntsman is] really liberal" but that he was still "anxious to see him."
Charlie Arlinghaus, a former state GOP executive director who is now at the Josiah Bartlett Center for Public Policy in Concord, said that the numbers show Huntsman has an opening.
"Probably 80 to 85 percent [of voters] are functionally undecided. In addition, there is probably an opening for a moderate," Arlinghaus said. "In 2008 exit polls, 55 percent of GOP primary voters identified themselves as conservative or very conservative. That leaves 45 percent who self-identified as moderate."
"Further, the 2012 electorate is likely to include a broader range of people," Arlinghaus added. "In 2008, the breakdown was 65/35 registered Republican/Undeclared. With no Democratic primary, I would expect more undeclared to vote GOP this year, moving the breakdown closer to 60/40," he said. "This is only the beginning of the beginning."
Calling all HuffPost superfans!
Sign up for membership to become a founding member and help shape HuffPost's next chapter