From Meghan Mccain to the Huntsman sisters, this generation's edgier, funnier, and savvier daughters are rebelling against the formality of the typical White House campaign.
You couldn't have missed Herman Cain's hilariously bad campaign ad. The random campaign manager. The stubbornly out-of-style mustache. The cheesy patriotic jingle. The baffling cigarette smoke. The slow, creepy smile. Predictably, the parodies were endless, from Colbert to Conan. But one stood out from the crowd: instead of an aging comedian, three fresh-faced ladies sported fake mustaches and dished out quirky one-liners. Their comedic timing may have been amateur, but these girls were hardly unknown.
Liddy, Abby, and Mary Anne are the daughters and biggest cheerleaders of Republican presidential candidate Jon Hunstman. Their Cain parody was both a political jab and self-indulgent Youtube video -- but it was also symbolic of a new breed of image-savvy political offspring. Unlike the candidate kids of yore, this year's aspiring first daughters are no longer content to stand quietly behind the podium. Their lingo is more Gossip Girl than C-Span. Their platforms not open mics, but open newsfeeds.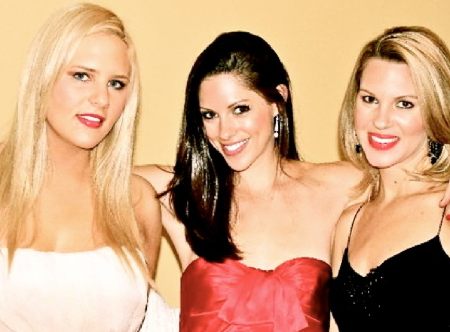 Despite their dad's embarrassing poll numbers, the "hottie" Huntsman daughters have already made a name for themselves. They boast a photo spread in Vogue, a profile in the Times, and appearances on Fox News. Their snarky twitter feed, @Jon2012girls, is catnip to the media, and their prom queen looks irresistible to everyone else (their 7,001 following is so devoted that a trio of Ken-doll men started a twitter handle called @Jon2012boys in hopes of wedding the girls). During a recent GOP debate, the girls brazenly tweeted, "How does Romney know anything about China? He's only been there once and that was for the Olympics. Panda express doesn't count." How's that for an off-script social media strategy?
Though trendy, the girls aren't trailblazing. They're following in the stilletoed footsteps of the first politician's daughter to overshare herself into the spotlight. While John McCain ultimately lost 2008's presidential race, his daughter Meghan emerged a major winner. Her behind-the-scenes musings at McCainBlogette -- ranging from footwear exclusives to tattoo predilections -- offered a young, candid, and girly take on the campaign. Her unorthodox approach didn't come without its setbacks though: she got kicked off the campaign five weeks before the election. Still, she was able to parlay her TMI exclusives into a reported six-figure book deal, along with a regular column for The Daily Beast and lucrative public speaking gigs. Now, the recent Columbia grad has the name recognition approaching that of her father.
The Huntsman daughters have not expressed a desire to pursue punditry after the campaign ends. But in a world still hungry for big personalities and even bigger smiles, you can bet those wholesome looks won't be far from the spotlight for too long. Perhaps they would find inspiration from another trio of sisters who parlayed family name recognition into a multimillion reality TV deal. May I suggest Tweeting Up With The Huntsman's?
Calling all HuffPost superfans!
Sign up for membership to become a founding member and help shape HuffPost's next chapter