Over 3,000 Disc Jockeys and industry enthusiasts will be flooding Miami and the surrounding beaches later this month for the 30th annual Winter Music Conference (WMC). Established in 1985 by founders Bill Kelly and Louis Possenti, WMC was conceived as a platform to help advance the popularity of Electronic Dance Music (EDM). The very first WMC was held in Fort Lauderdale, Florida with approximately 80 dance music industry professionals. Now, WMC has evolved into a global phenomenon, attracting industry professionals and DJs from over 70 countries, making it the largest longstanding EDM and dance music gathering in the world.
"It was always my expectation and my lifelong goal to continue to make the dance music scene grow. Just like rock 'n' roll; despite decades of doomsayers, it never went away. Now DJing and the DJ culture are here to stay and are now part of the establishment," co-founder Bill Kelly states.
The weeklong series of over 400 scheduled events, encompass far beyond the exuberant parties scattered across the various venues throughout Miami Beach and downtown Miami. The conference serves as a forum that includes seminars, panel discussions, and workshops, where industry experts meet to discuss the latest trends and future technological advancements. The highlight of the week is the International Dance Music Awards (IDMA), which recognize exceptional achievements in 57 categories. The IDMA's generate over two million votes from EDM aficionados across 209 countries.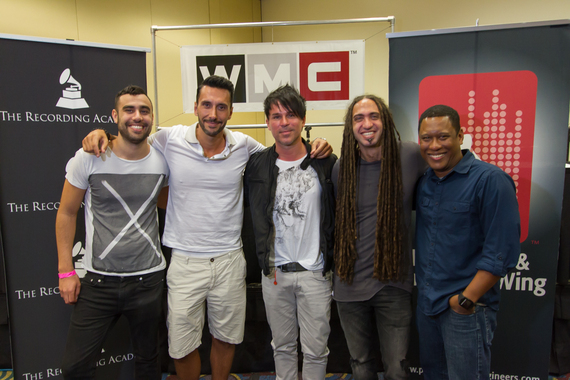 Artist BT with Artist Cedric Gervais and Artists Sultan and Shepard at The Recording Academy Producer's Forum
When asked to describe the evolution of the DJ over the past 30 years, Kelly, also known as "The Godfather of Fun" stated, "From the turntable and tube amplifiers to the Intel micro-chipped laptop digital mixer and onboard Sound FX's, the DJ culture has exploded to virtually every living room status." He continued. "Here's a question answered with a question. Do you personally know a DJ or more directly are you a DJ too? Thought so!"
Some exciting and upcoming acts that Kelly is eager to see perform are both from the UK. Blonde, which is comprised of Adam Englefield and Jake Manson with roots from Bristol, have morphed different genres of music such as the occasional R&B riff and UK garage elements, to help create their unique upbeat sound. The duo Wayward from London, consisting of the DJ partnership of long-time friends Louis Greenwood and Lawrence Gales Hayes, are said to have a "sassy metropolitan sound that suitably falls under the pop-esque, 4 x 4 banner, " according to Fabric, one of the top nightclubs in London. WMC is undeniably a world class centerpiece, where young and upcoming acts, can show off their chops to their peers as well as EDM fans.
The 30th anniversary of WMC also coincides with the 100th birthday of Miami Beach, which will equate to an even more massive influx of visitors and WMC attendees. It is estimated that over 250,000 people from all over the world will be in attendance this year for the non-stop parties and loaded DJ line-ups throughout the Magic City.
Brittany Bonner, who hasn't missed a WMC in 14 years exclaims, "It is all about the music for me! Being able to experience all of your favorite DJs in one city coupled with the ability to make new friends from all over the globe who share the same love of EDM is why I look forward to going every year."
Economists have predicted based on past years trends that the financial impact of the WMC in the greater Miami area, is estimated to exceed over 300 million dollars for the events leading up to, during, and after the conference. The WMC also has a rather vast online footprint, as over two million visitors logged on to the WMC website during last year's event.
Whether you are watching online or attending the event itself, the 30th annual WMC is definitely one not to miss.