FAYETTEVILLE, N.C. — Florence's rain came down in sheets ― unrelenting, and for days on end.
The water inundated homes, many still boarded up from Hurricane Matthew two years earlier. It swallowed farm operations, killing millions of chickens and turkeys and overflowing open pits full of hog feces. It flooded coal ash ponds, sending the toxic byproduct of burning coal into area waterways. The smell of human waste tainted neighborhoods; in the small town of Benson, 300,000 gallons of raw sewage spilled into the streets.
On Friday, Charlotte-based Duke Energy reported that a dam containing a lake at one of its power plants in Wilmington had been breached by floodwaters, potentially spilling coal ash from a nearby dump into the Cape Fear River.
Many parts of North Carolina are still unnavigable, with entire stretches of highway turned to rivers. Rural roads have been washed out.
From a bridge in east Fayetteville on Monday afternoon, residents watched as a plastic barrel, basketballs, fishing gear and a decapitated duck decoy floated down the swollen Cape Fear River toward the Atlantic Ocean, some 80 miles away. Along the bank, mattresses, a dog kennel, a frying pan and scores of garbage bobbed among the trees.
Mitch Colvin, the mayor of this inland city of more than 200,000, spoke with members of the media and law enforcement officials on the bridge Tuesday and marveled at the height of the river. By that point it had reached the bottom of a railroad bridge, causing trees and debris to pile up behind it.
Colvin told HuffPost he's no expert on climate change, but the frequency and magnitude of recent storms have made it clear that "something has happened."
"You know, this is our second 500-year storm in two years," the 45-year-old mayor said as he leaned against the bridge's concrete railing. "We need to reassess the classification of these storms. But we also need to plan as a community and as a region for how to prepare for this."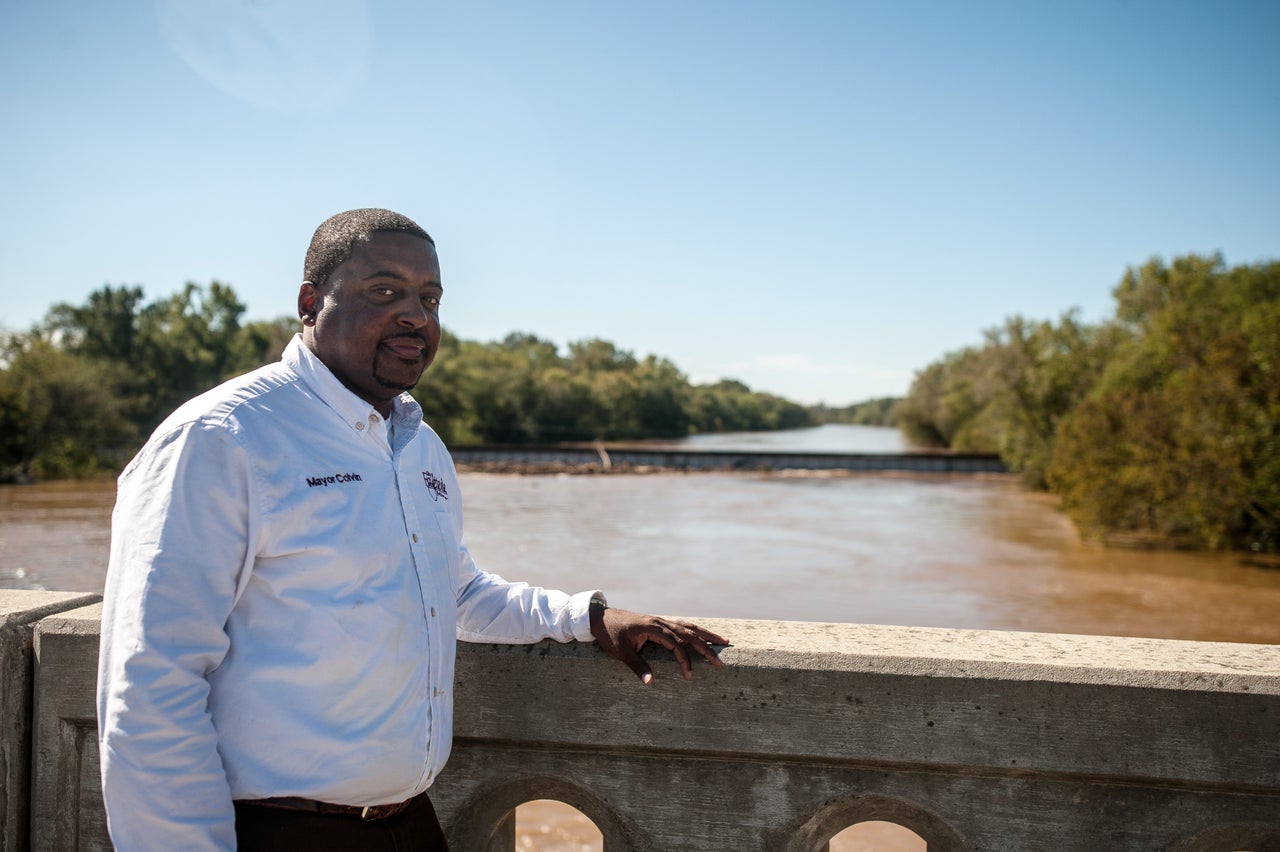 Hurricanes like Florence aren't simply natural disasters ― they're catastrophic events made worse by anthropogenic climate change, events that threaten human health and safety long after the storm has passed.
As it happened, industries that are among the biggest contributors to the climate crisis were some of the hardest hit in Florence's aftermath.
Livestock production accounts for 14.5 percent of global human greenhouse gas emissions, according to the United Nations' Food and Agriculture Organization. The Environmental Protection Agency estimates the agricultural sector, including livestock and crop production, is responsible for 9 percent of all carbon emissions in the United States.
North Carolina is the second-largest pork producing state in the country, behind Iowa. Nearly 9 million hogs are raised for slaughter on the state's 2,100 hog farms, where the animals' waste is dumped into massive open-air cesspools called lagoons.
By Friday, flooding had caused structural damage to at least six of the state's 3,300 hog waste lagoons. Three of these damaged pits were breached and another 30 had overflowed, causing swine fecal matter to spill into and potentially contaminate the surrounding waterways with toxic hydrogen sulfide and ammonia.
One hog farmer in Duplin County reported the flooding resulted in a "total loss" of at least 2.2 million gallons of waste from a single lagoon, according to North Carolina's Department of Environmental Quality.
"It's yet another problem that is posed by this industrial model of production," Waterkeeper Alliance attorney Will Hendrick told HuffPost. "It should be the case that we can produce food without putting our people in jeopardy."
The North Carolina Pork Council has downplayed the significance of the lagoon overflow.
"While we are dismayed by the release of some liquids from some lagoons, we also understand that what has been released from the farms is the result of a once-in-a-lifetime storm and that the contents are highly diluted with rainwater," the hog farm advocacy group said in a statement Wednesday.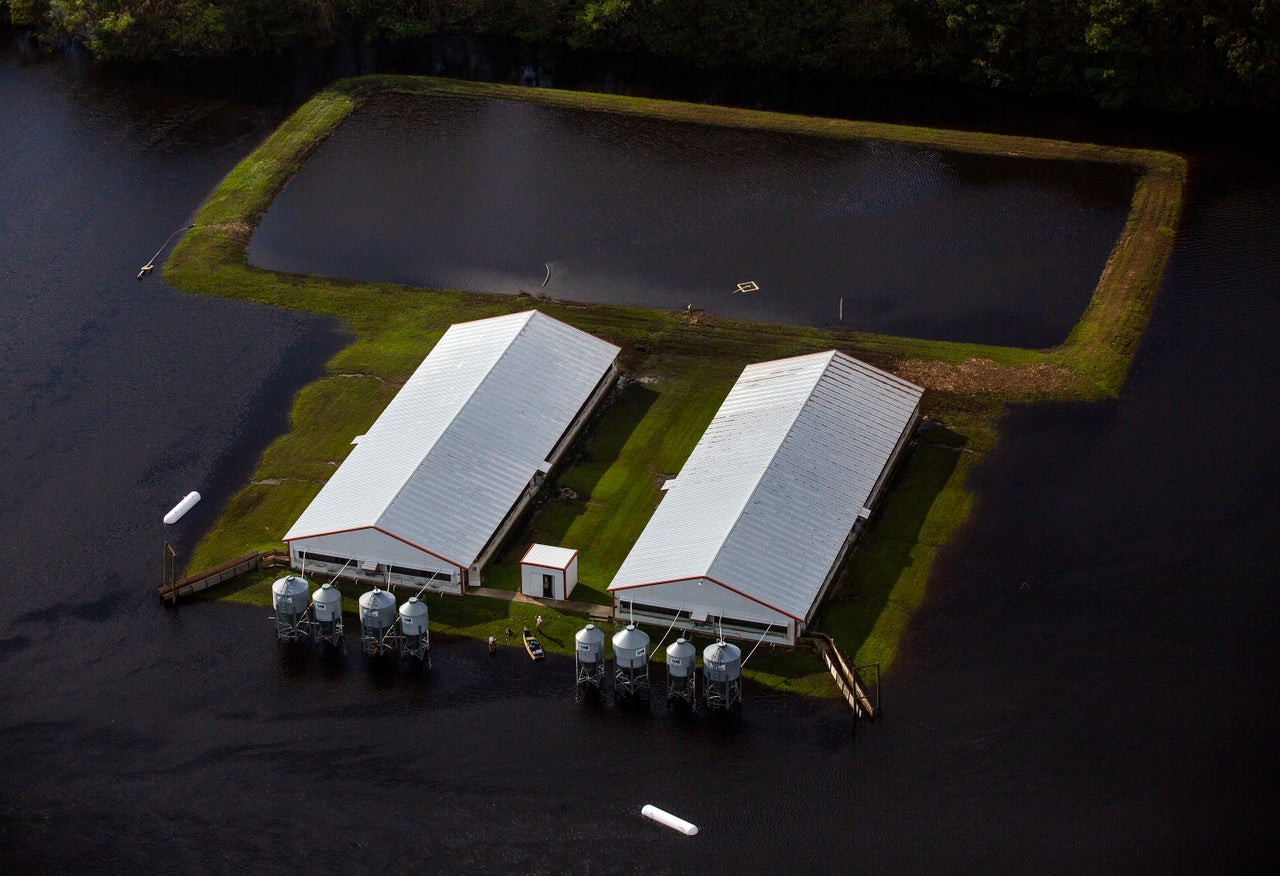 But the increasing frequency of severe weather events in the last few years due to climate change suggests Florence is in no way a "once-in-a-lifetime" storm. And since most of the state's hog farms sit on coastal plains, and climate change is producing bigger, wetter storms, it's likely these swirling cesspools of hog waste will continue to pose a threat to waterways and their surrounding communities for years to come.
"This industry has shown its vulnerabilities in terms of these weather events for decades and has still resisted the need for change," Hendrick said. "They continue to prioritize profit over people who are affected by their operations."
The storm has also wreaked havoc on North Carolina's energy sector, causing coal ash containment ponds in at least two sites to swell. The ash, which is the residue left behind by burning coal, contains toxic elements like arsenic, mercury and lead and is often doused with water and left in containment ponds for years.
In 2017, coal accounted for 69 percent of all carbon emissions from the U.S. energy sector.
Duke Energy, one of the world's largest utility companies, has 31 coal ash basins across North Carolina, holding 111 million tons of waste. It has decommissioned several of its coal power plants in the last few years, and earlier this month announced plans to shutter its remaining seven by 2048.
Many of those coal ash ponds are dangerously positioned next to rivers and lakes and are highly vulnerable to flooding in an event like Florence. Like hog waste lagoons, heavy rains can cause these coal ash landfills and ponds to overflow into waterways ― and Florence did just that, even as Duke downplayed the risk in advance of the storm.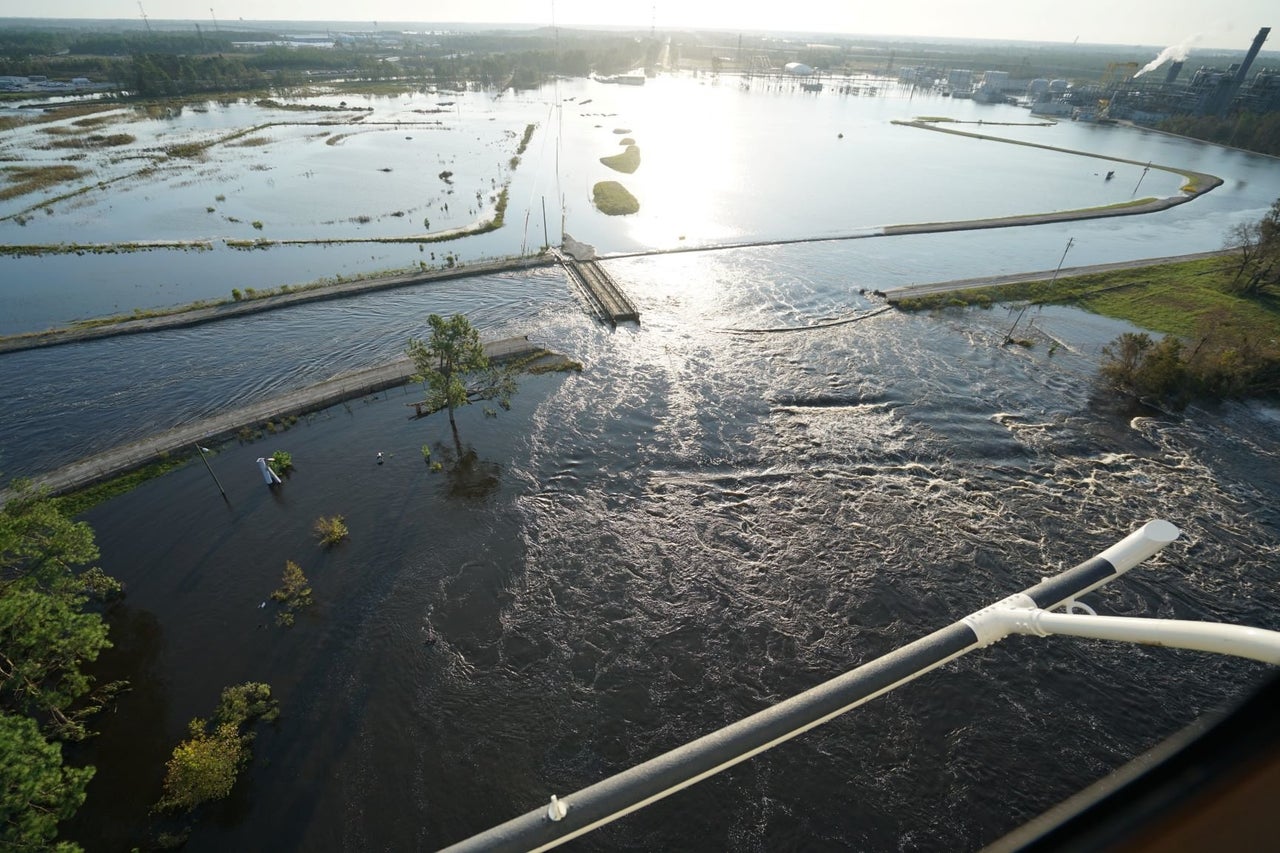 Duke Energy reported last Saturday that 2,000 cubic yards of coal ash had poured into Sutton Lake from an adjacent coal ash pond. The lake, constructed by Duke Energy in 1972 as a cooling pond for its power plant, has also been designated as a recreational boating and fishing area by the state.
On Friday, the company said floodwaters breached a dam containing Sutton Lake and that it could not rule out that coal ash was flowing into the Cape Fear River.
Spillage from three inactive coal ash ponds was also reported at the H.F. Lee Plant in Goldsboro on Monday. Duke Energy said visual inspections suggested low-hanging vegetation allowed only "a small amount" of coal ash to be displaced. But Waterkeeper Alliance pushed back on the company's assessment after visiting the site.
"Floating coal ash is clearly visible because flood waters have eroded the vegetative cover and are steadily washing ash downstream," Donna Lisenby, global advocacy manager for Waterkeeper Alliance, shared in a Facebook post on Wednesday. "Duke Energy is falsely telling news reporters and the public that the tree cover on the ash ponds at Lee are preventing ash releases."
Frank Holland, an attorney with the Southern Environmental Law Center, said this was an entirely unnecessary catastrophe that could have been prevented by evacuating the coal ash ponds and moving its contents uphill.
"Duke could have greatly reduced the risk to North Carolina and its rivers during Hurricane Florence if it had spent years removing the ash from these sites rather than spending years spending money on lawyers and lobbyists," Holland said.
In 2014, a drainage pipe burst at a Duke Energy coal ash pond in Eden, North Carolina, causing 39,000 tons of the contaminant to flow into the Dan River. It was the third-largest such spill in U.S. history and resulted in Duke Energy pleading guilty to criminal negligence. The company agreed to pay $102 million in fines and restitution, the largest federal criminal fine in state history.
But Holland said Duke Energy has continued to drag its feet in cleaning up other coal ash basins, pushing back on demands from the state and environmental activists to evacuate its toxic ponds and landfills.
"This is a danger nobody should have to worry about," Holland told HuffPost. "The only reason this ash is sitting in these unlined pits next to these rivers is because Duke Energy … made a choice to flush this ash downhill and create water pollution and a public safety hazard purely for their own convenience and to save some marginal dollars."
Hurricanes Matthew and Florence have highlighted the urgency of removing coal ash from Duke Energy's ponds as quickly as possible, Lisa Evans, an attorney for environmental advocacy group Earthjustice, told HuffPost.
"If the water level rises sufficiently ― and it doesn't have to rise very much in [Sutton Lake] ― it's going to flood the ponds that hold 2.1 million cubic yards of coal ash," she said. "It's a huge danger."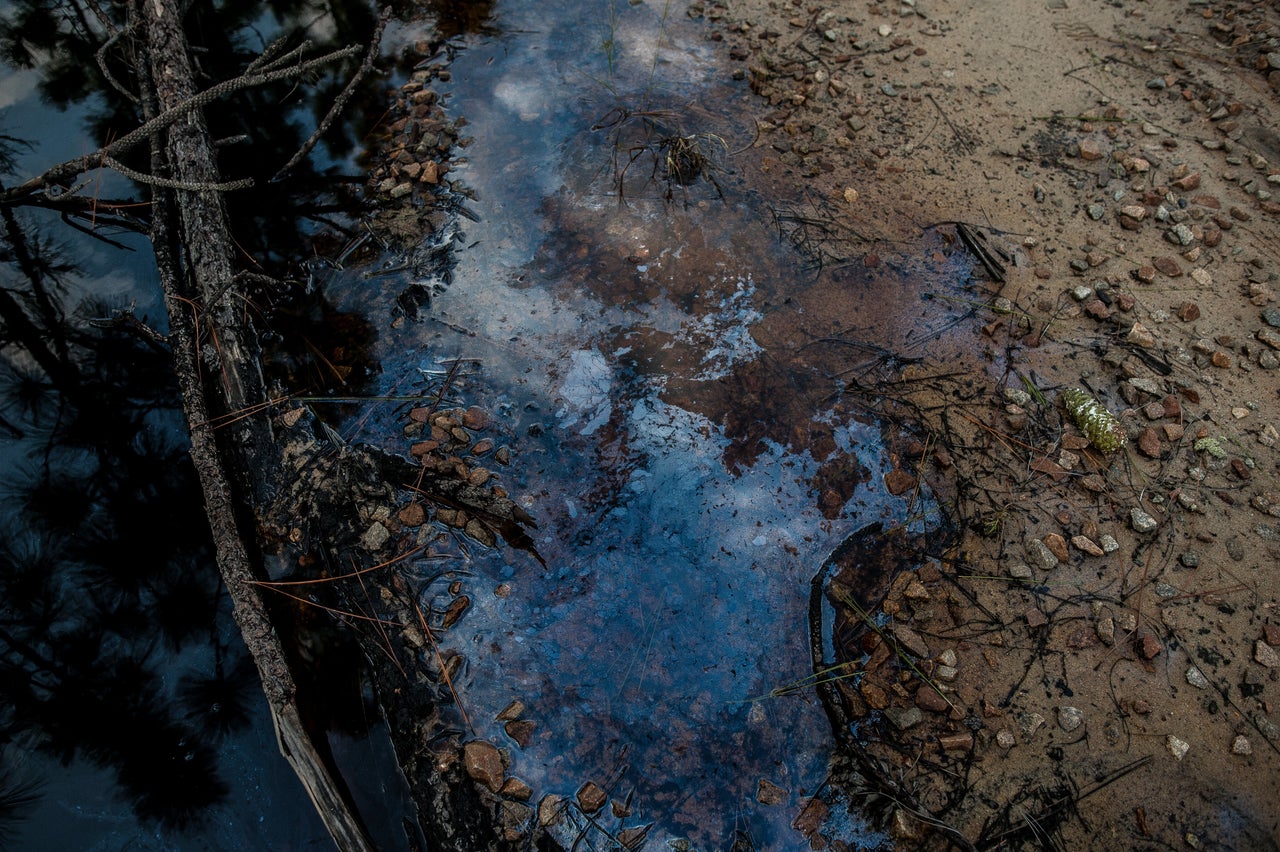 Scientists have also revealed there's been a marked slowdown in hurricanes' speed over both water and land, which increases the risk of heavy rain, flooding and storm surges. And a 2016 study found that climate change has caused hurricanes in the North Atlantic to migrate farther north ― a trend that is expected to continue as temperatures rise.
Most scientists are careful not to attribute any single storm to our changing climate. But Florence, in many ways, exemplified hurricane behavior in a warming world.
The storm slammed into Wilmington, North Carolina, last Friday as a Category 1 hurricane, pushing storm surge up Pamlico Sound and into connecting rivers where it devastated cities like New Bern and Washington. The damage could have certainly been less extensive if not for sea level rise brought on by climate change. (In 2012, conservative North Carolina lawmakers chose to ignore the threat of sea level rise, passing a bill that barred policymakers and developers from using up-to-date climate science to plan for rising waters on the state's coast.)
"There is simply more water filling these rivers because of the duration of these storms," Evans said. "What we're seeing ― what we saw in 2016 with Matthew and what we're seeing right now with Florence ― is that this is having a tremendous impact on the storage of toxic waste in basins."
"The injustice is that climate change was, in part, caused by these industries ― but who pays? It's the communities whose drinking waters are contaminated and harmed by these spills," she added. "It's an unjust situation when these communities bear all the risk and all the harm."
Support HuffPost
The Stakes Have Never Been Higher
Popular in the Community