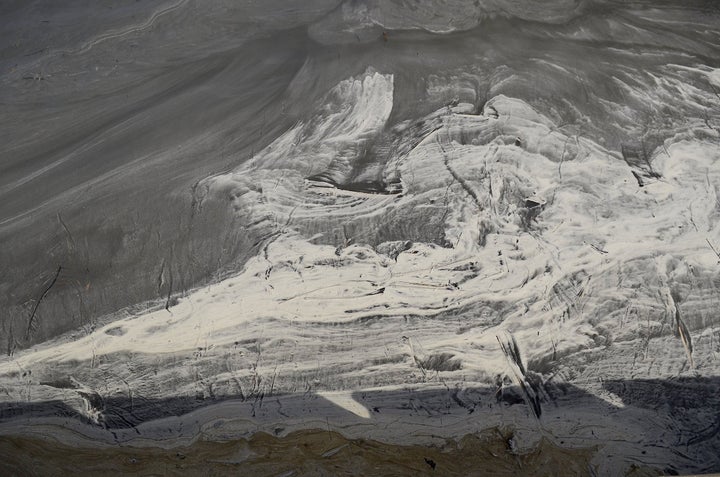 After Hurricane Matthew inundated parts of the southeast in 2016, aerial photos showed North Carolina's Neuse River overflowing into a Duke Energy coal ash pond, flushing unknown amounts of the coal byproduct into the local ecosystem.
Photos taken after the storm also revealed that a Duke Energy cooling pond dam had collapsed, as well as the flooding of several livestock poop lagoons around North Carolina.
With Hurricane Florence barreling toward the Carolina coast this week, environmentalists worry flooding could once again carry industrial byproducts out of their impoundments. The ash is a byproduct of burning coal for power, which is then doused with water and left in containment ponds for years. Much of that waste is stored in ponds that are unlined or of questionable structural integrity, increasing the possibility that they will leak toxic elements like arsenic, mercury and lead.
Duke Energy, which is North Carolina's largest power supplier, has 31 coal ash basins across the state, holding 111 million tons of waste. Environmental groups have been pushing for the sites to be cleaned up for years, particularly after an impoundment failed and caused a devastating ash spill into the Dan River in 2014.
"Duke Energy has fallen behind in getting these sites cleaned up so here we are again facing the risk of catastrophe in the coastal plain of North Carolina," said Frank Holleman, an attorney with the Southern Environmental Law Center, one of Duke Energy's adversaries in court.
Duke Energy spokeswoman Erin Culbert told HuffPost the company is ready for the storm and has already sent extra staff and equipment to a half-dozen sites in North and South Carolina.
Culbert said the company's ongoing efforts to close its basins, which involve removing water so the basins can be capped or excavated, have reduced but not eliminated the flooding threat.
"The ash basins are in a fairly good position to receive significant rainfall," Culbert said. "There is some potential for ash to be displaced if we see similar conditions" to Hurricane Matthew.
The bigger threat from the storm, Culbert said, is that a lot of people could lose electricity for an extended period of time. The company said Wednesday that as many as 3 million people could lose power in the storm.
The Obama-era Environmental Protection Agency moved to better regulate coal ash disposal after years of federal-foot dragging on the issue. But even those rules disappointed many environmental and community groups, as they put coal ash in the same disposal category as household trash and non-hazardous industrial solid waste, and still left enforcement largely up to states and local governments. The rules called for the closure of active surface impoundments and landfills that "fail to meet engineering and structural standards," and required regular inspections, monitoring and cleanup of unlined surface impoundments found to be leaching into groundwater.
Andrew Wheeler, the former coal lobbyist who took over at the EPA in July, quickly finalized a rollback of those rules. The rollback once again gives industry a lot of leeway in how they dispose of the waste, which Wheeler said would "save tens of millions of dollars in regulatory costs."
Some utilities have done better than others when it comes to cleaning up the waste, said Holleman, pointing to South Carolina's Santee Cooper as one that has been more aggressive about excavating its ash in response to legal and public pressure. The Post and Courier in Charleston, South Carolina, reported last year that every coal ash site in the state had either been dug up or was in the process of being dug up.
Coal ash waste can be hazardous even in ideal conditions, Holleman said, noting that the 2014 Dan River disaster happened on a sunny day, without any help from a hurricane.
"This is a risk we should not have to face," he said.
Popular in the Community