A Wilmington, North Carolina, family is trying to find a way forward after experiencing a double tragedy during Hurricane Florence: the loss of a mother and her infant son.  
Earlier this month, Lesha Murphy-Johnson, 41, and her 8-month-old son, Adam, were the first reported storm casualties in North Carolina after a tree crashed into their home. The tree also injured her husband, Adam Zachary Johnson, 48.
The death toll from the hurricane and its aftermath has since climbed to at least 47 people across three states, with 36 of those killed in North Carolina.
"It's been a roller coaster ride with flashbacks of that day," Johnson told HuffPost from the rehabilitation facility where he's now recovering.  
The tree that fell onto the bedroom Johnson shared with his wife and infant son broke his right leg and injured his left, and left him with cuts and bruises. Johnson also suffered a blood clot in his lungs.
"My head is swimming about how am I going to support the rest of my family; how am I going to support myself in my condition," Johnson, a maintenance worker, said.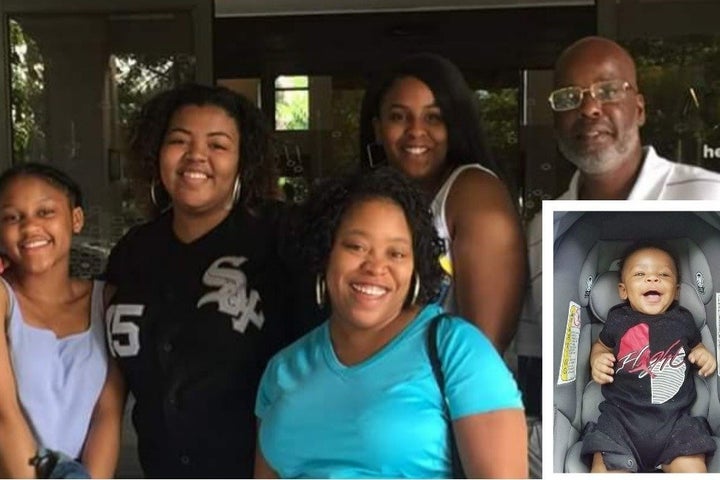 Johnson told The Daily Beast that his family, including Murphy-Johnson's three daughters, had stayed in their one-story rental home because it wasn't in the city's mandatory evacuation zone, and authorities had warned that the greatest threat would be from flooding.
In the early morning hours of Sept. 14, as strong winds whipped through Wilmington, the tree smashed into the house.
Johnson's daughter, Shameque Johnson, 28, described breaking down in the terrifying moment when she learned what had happened to her family. 
"My daddy is my world, my whole life, my best friend, and it was just heartbreaking," she said. "I just didn't want to believe it. And then it hurt even more knowing that my stepmom and my brother were killed."
Although she lives about 30 minutes away in Leland, North Carolina, Shameque Johnson had evacuated to Georgia because of the storm. She was able to reach her father last week, who was still in the hospital.
"We still have to go through this — the losses — but it was a relief to see him and that he was OK," she said.  
Murphy-Johnson was a stay-at-home mother who had previously worked as a property manager at the Wilmington Housing Authority. Shameque Johnson said her stepmother loved the job because it involved community outreach.  
"She always helped whoever she could help," said Shameque, who was about 5 years old when she first met her stepmother. What she remembered most about Murphy-Johnson was her sunny disposition and ever-present smile. Adam Johnson and her infant son "were her world," she said.
Murphy-Johnson and Adam Johnson were married in a May 2017 ceremony.
"She touched people with her personality, with her wonderful smile," said Adam Johnson.
The couple was ecstatic when their son was born earlier this year. Adam Johnson said his baby boy was just learning to crawl and had recently grown his first tooth.
"He had a personality: he was a kid who was bright and had the biggest smile," he said. 
The family buried mother and son at a funeral this week, which Adam Johnson described as an outpouring of love from the community. Adam Johnson is now the family's sole provider, which Shameque Johnson said would be difficult as he recovers from his own injuries. Murphy-Johnson's daughters are 21, 18 and 13.
Their house is currently unlivable, and in addition to Johnson's medical expenses and the funeral expenses for his wife and son, the family needs money simply to survive. 
Murphy-Johnson's eldest daughter, Chyna Doughty, created a GoFundMe page for the family. She described how the money raised will help the family find a new home, pay for transportation, and replace clothing and shoes.
The family spent much of last week planning the funeral, but beyond that they are still trying to figure out what to do next, said Shameque Johnson, who created a GoFundMe page as well.
"They lost everything, so we don't know," she said. "We're trying to take it one step at a time."
REAL LIFE. REAL NEWS. REAL VOICES.
Help us tell more of the stories that matter from voices that too often remain unheard.