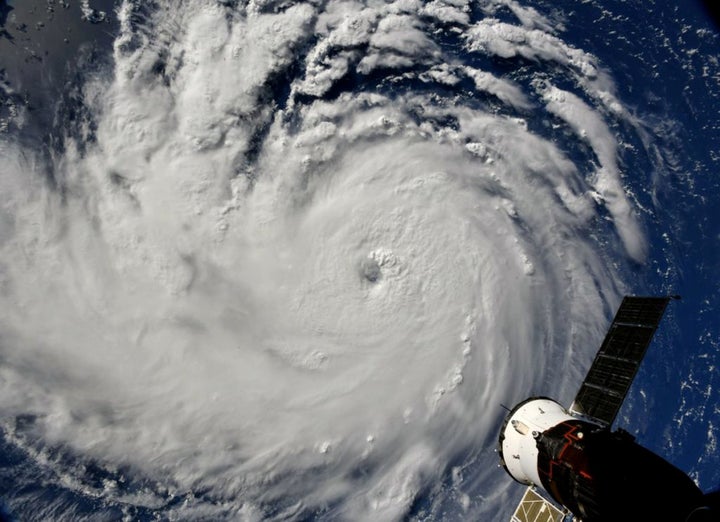 As Hurricane Harvey barreled toward the coast of Texas last summer, forecasters issued dire warnings that the storm would pack a "one-two punch" ― extremely dangerous winds and storm surge followed by days of sustained rain and "catastrophic flooding."
Now meteorologists are sounding similar alarms about Hurricane Florence. The rapidly intensifying storm, expected to hit the southeast U.S. coast later this week, likely as a Category 4 or 5 storm, threatens catastrophic damage along the coast and devastating inland flooding.
Marshall Shepherd, director of the atmospheric sciences program at the University of Georgia and a former president of the American Meteorological Society, described some of the computer models for Florence as "very Harvey-esque." It is currently a Category 4 storm with sustained winds of 130 mph, and could stall over the Carolinas for several days and dump upwards of 20 or 30 inches of rain.
"We have the potential here for just a disastrous flood event," Shepherd said, adding that an already-saturated landscape could make matters even worse.
Like Harvey, Florence has been "supercharged" by climate change, according to Michael Mann, a climate scientist at Pennsylvania State University.
"It is fair to say that the very same factors are likely at play here, namely very warm ocean temperatures and an anomalous jet stream pattern favoring stalled weather systems," Mann wrote in an email.
Each tropical cyclone is different, but Florence and Harvey have much in common. Like Harvey, Florence gained strength very rapidly. In a little more than 24 hours, it grew from a tropical storm to a powerful Category 4 hurricane. It is being fueled by unusually warm ocean waters ― over the next 48 hours, it will traverse sea surface temperatures around 84 degrees ― and there is little wind shear to break up the storm.
An extreme ridge of high pressure is also preventing Florence from moving north, steering the storm directly toward the U.S. East Coast. The Washington Post's Capital Weather Gang reports that "the strength of this ridge will be unprecedented in 30 years."
The inland flooding threat stems from a second high-pressure ridge building over the Great Lakes and Upper Midwest regions that is forecast to "cause a significant reduction in Florence's forward speed," according to the National Hurricane Center, which says "the hurricane is predicted to meander over the eastern portions of North or South Carolina" for two days.
"We have the potential here for just a disastrous flood event."
Thomas Galarneau, an assistant professor at the University of Arizona's department of hydrology and atmospheric science, told HuffPost that the big question is whether Florence will park itself offshore or over land, which could mean a huge difference in the amount of damage it causes.
"These flooding impacts can last several days and be over a much wider area than the typical rain and wind that you expect from a hurricane" along the coast, he said. "These types of situations are certainly very worrisome."
A pair of studies released last December found that Harvey's unprecedented rainfall was at least 15 percent heavier due to global warming. And Charles H. Greene, a professor of earth and atmospheric sciences at Cornell University, said that warming in the Arctic "likely played an important role in making Hurricane Harvey such an extreme killer storm."
Speaking by phone on Monday, Greene said he sees parallels between Florence and Superstorm Sandy, which wreaked havoc on New York and New Jersey in 2012.
Arctic warming slows down global air currents called jet streams and "increases the probability of these high-pressure blocks forming," he said. "That might be one factor that's feeding into what's going to happen with Florence."
Research also shows there's been a marked slowdown in hurricanes' speed over both water and land, which increases the risk of heavy rain, flooding and storm surge. Moreover, a 2016 study found that climate change has caused hurricanes in the North Atlantic to migrate farther north ― a trend that is expected to continue in a warming world.
If Florence maintains its strength and current path, it could become the northernmost Category 4 hurricane on record to make landfall in the United States.
Shepherd said that while he can't speculate on what effect, if any, climate change is having on the formation and path of Florence, it will certainly lead to more damage along the coast.
"It's no doubt that we have higher sea level because of changing climate, and that always means that a storm like Florence is going to be pushing more storm surge," he said.
The surge from Florence could reach 15 to 20 feet, possibly exceeding North Carolina's record of 18 feet, set during Hurricane Hazel in 1954. On Monday, officials ordered some 1 million people to evacuate from the South Carolina coastline. The storm is expected to make landfall on Thursday or Friday.
Shepherd emphasized that Florence ― like all hurricanes ― is not simply "a dot on a map" that will impact only the area where it makes landfall.
"It's a broad area of significant impact, particularly with the rain," he said.
Related
Popular in the Community