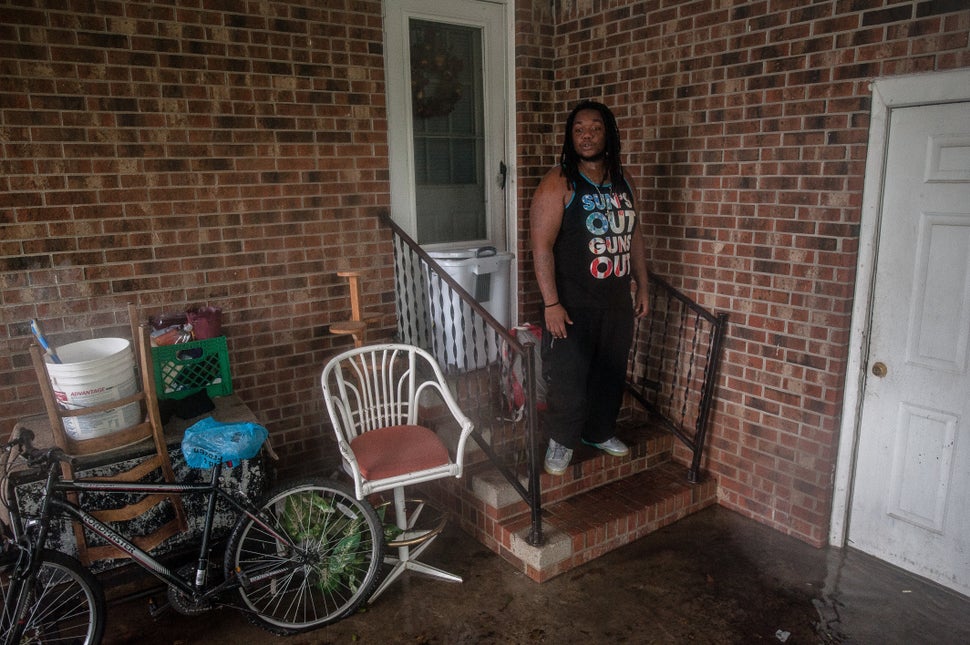 WASHINGTON, N.C. — Sharon Langley quickly gathered some essentials in a laundry basket then stepped out on his porch and lit a cigarette. In his carport and front lawn, empty packs of Newports and potted plants bobbed in the floodwaters from Hurricane Florence, then only a foot or two deep. Downed tree branches littered the neighborhood.
A few hours earlier, water crept to the top of the stairs, coming within inches of his front door. Langley says he would have stuck it out, but his mother, grandmother and two younger sisters were in the house.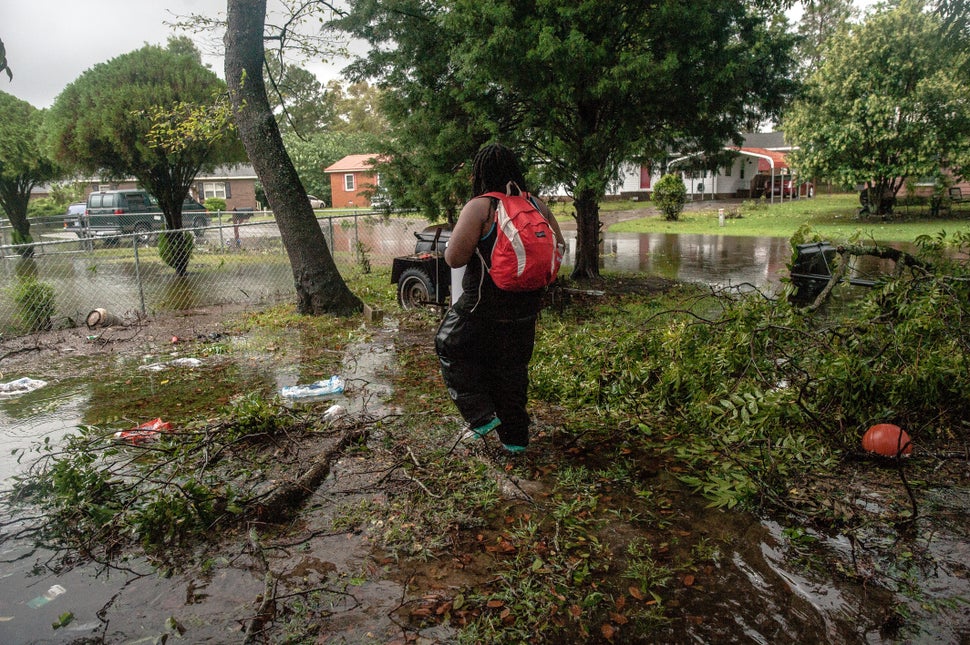 "We couldn't get trapped in here like that," the 27-year-old told HuffPost. "I had to get them outta here."
Langley and his family were among the dozens of people rescued by boat from flooded neighborhoods of Washington on Friday morning. Assisting federal officials with the response was an urban search and rescue unit from New Jersey.
Langley managed to return home around 10:30 a.m. to grab a few items, once the waters started to recede.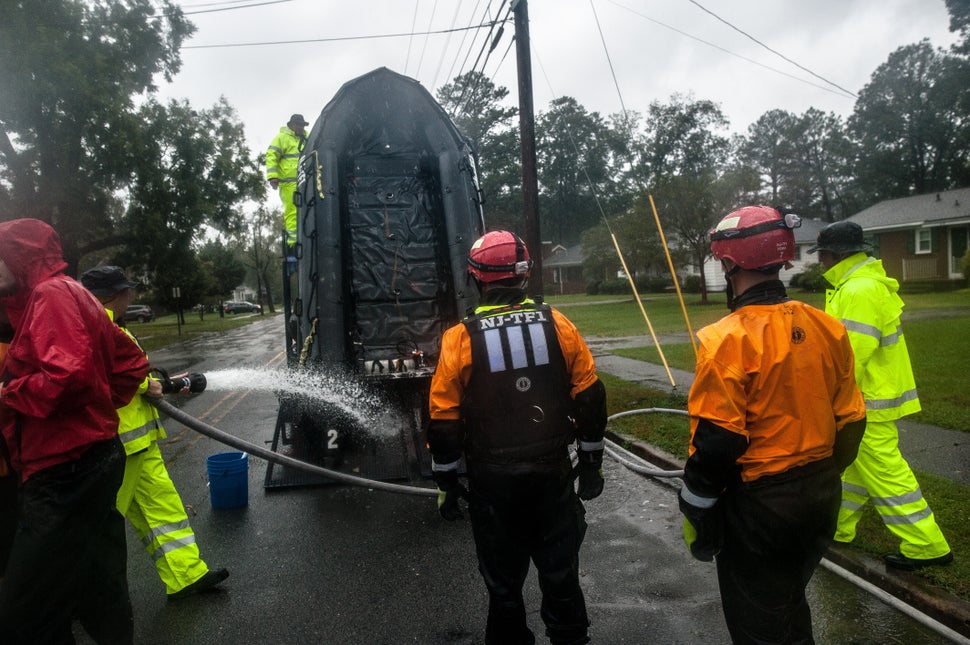 Washington sits along the Pamlico River, about 100 miles northeast from where Florence made landfall, and is no stranger to flooding. But its residents expressed surprise at just how fast and high the water rose Friday.
"It's been a long time since I seen anything like that," Langley said.
Large portions of town were inundated as the storm surge from Florence pushed water upriver and the area was lashed by heavy rain.
Shirley Griffin, 65, a lifelong resident, awoke just after 5 a.m. Friday to the sound of a transformer exploding down the street from her home. She looked out the window to find floodwaters already creeping toward her front door.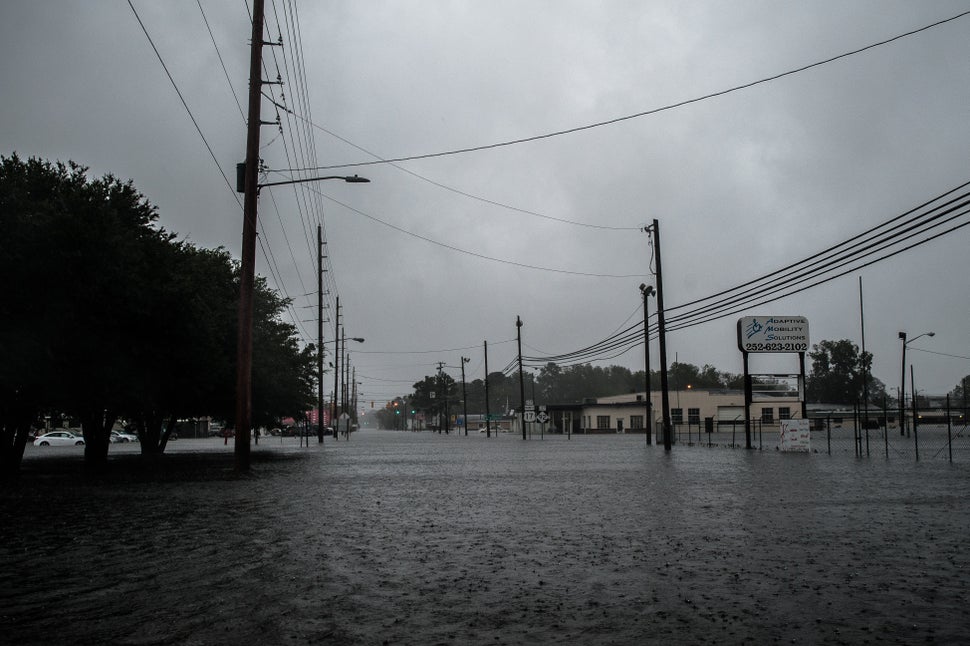 Griffin felt lucky the water stopped where it did, but feared she wasn't yet out of harm's way. The area could see several more days of rain as Florence, now a tropical storm, lingers over the Carolinas. It had already dropped nearly 20 inches of rain in some parts of the state as of Friday, and could bring up to 40 inches before the storm is over. Up to 18 trillion gallons of rain ― the equivalent of the Chesapeake Bay ― are in the forecast.
Experts are likening Florence's potential impacts to last year's Hurricane Harvey, a large, slow-moving storm that dumped 24.5 trillion gallons of water over Texas and Louisiana. And that's concerning for North Carolina residents who may have been spared high winds but still face flooding inland. Some communities in this part of the state are still recovering from Hurricane Matthew, which hit in 2016.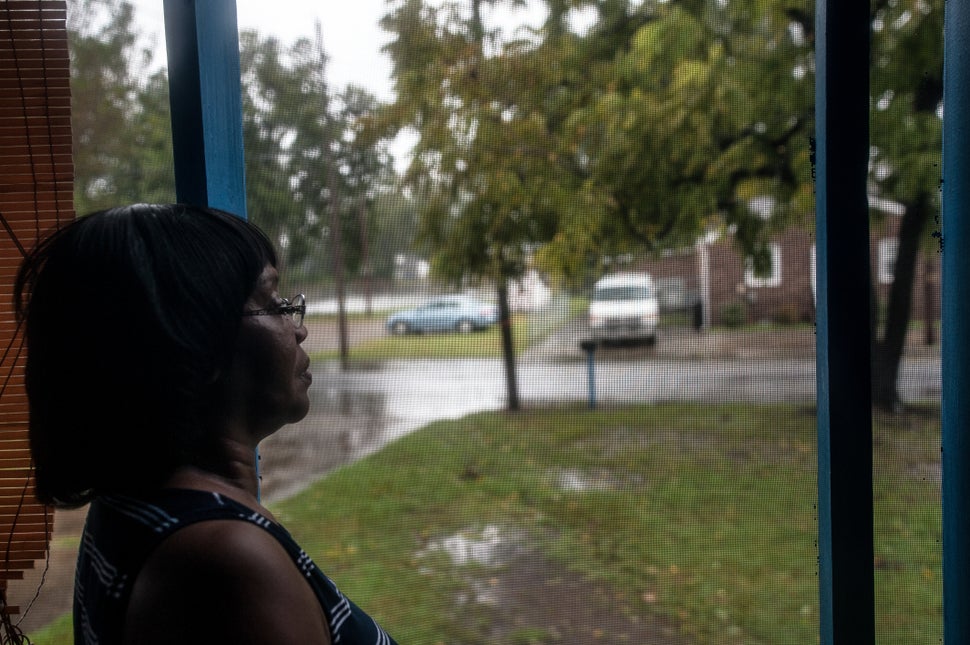 "I don't want to be scared overnight," Griffin said. "I hope and pray the water don't come up."
Many of those rescued from homes in Washington were taken to a shelter set up at an area high school that members of the media were not allowed to enter. Search and rescue personnel set up a staging area in the parking lot of a local flower shop. And 5-ton military trucks crisscrossed the town's waterlogged streets looking for residents still in distress.  
The historic town of New Bern, 40 miles south of Washington and located at the confluence of the Neuse and Trent rivers, appears to be among the towns hit hardest by Florence. The storm surge in Pamlico Sound left the entire downtown area underwater. Hundreds of residents were rescued from the floodwaters, as The Washington Post reported.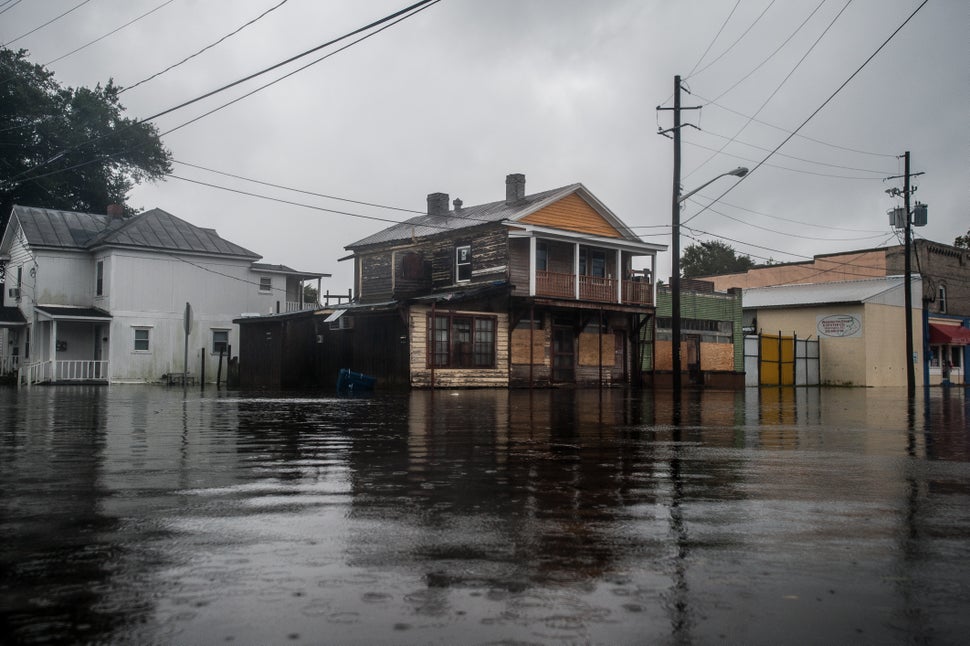 Ronald Elliott, a firefighter with Nakina Fire and Rescue and a resident of Fair Bluff, a town devastated by flooding during Hurricane Matthew in 2016, said that for North Carolinians, tropical weather is a part of life. During Matthew, he said, many Fair Bluff residents chose not to evacuate ― some even after their homes began to fill with water. He expects it will be more of the same this time around.
"That's their home," he said. "They ain't going to leave."
Calling all HuffPost superfans!
Sign up for membership to become a founding member and help shape HuffPost's next chapter
BEFORE YOU GO
PHOTO GALLERY
Hurricane Florence Moves Inland