The reconstruction costs for all 758,657 homes in the path of the likely storm surge ― which includes large swaths of North Carolina, South Carolina and Virginia ― would be a cool $170.2 billion, according to an analysis by the global property and analytics firm CoreLogic.
That's assuming Florence remains a Category 4 storm ― instead of strengthening to a Category 5, which is a possibility.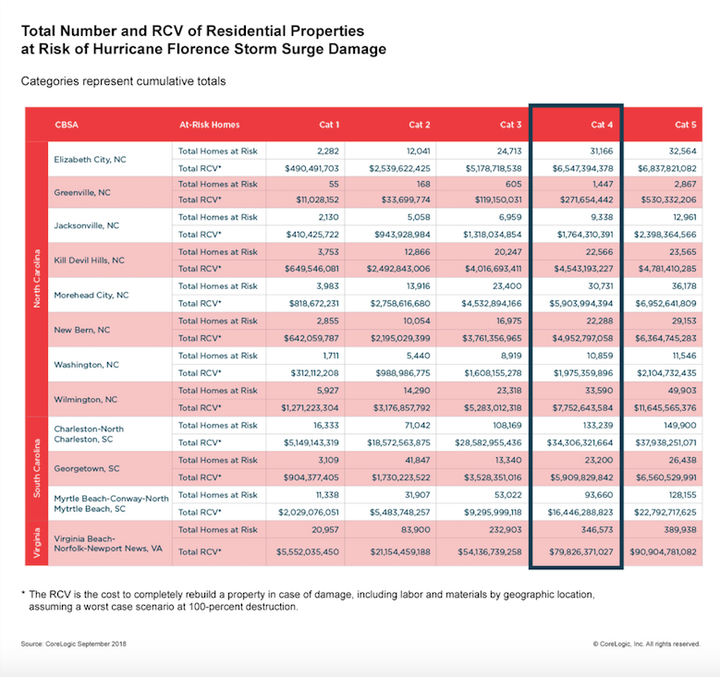 Of course, the likelihood of an event so catastrophic that every one of those roughly 760,000 houses would need to be entirely rebuilt is small.
But the sheer numbers at stake should give anyone pause. A quarter of that $170 billion would still put Florence in the top 10 list of most expensive hurricanes in U.S. history.
The best comparison to Florence we have is Hurricane Hazel, also a Category 4 storm that swept north through the Carolinas in 1954. Hazel killed 19 people in North Carolina and destroyed 15,000 buildings there. Then it rampaged as far north as Toronto, where the storm killed an additional 81 people and caused hundreds of millions of dollars in damage (in 2016 dollars).
Of the top 10 most expensive hurricanes in U.S. history (whether or not you adjust for inflation), all but one have happened since 2000. The exception is Andrew in 1992. The most expensive, Katrina in 2005, caused $160 billion in damage (adjusted for inflation), followed by Harvey in 2017 at $125 billion.
U.S. taxpayers are increasingly on the hook for these costs. According to a Government Accountability Office report last year, Congress has neglected to properly fund the National Flood Insurance Program, instead directing the Federal Emergency Management Agency to borrow straight from the U.S. Treasury. As of March 2016, FEMA owed the Treasury $23 billion.
Last year's devastation from hurricanes Harvey and Irma triggered renewed calls for Congress to reform the program. It has failed to do so. ―
The Government Accountability Office has labeled the National Flood Insurance Program as a "high risk," citing "structural weaknesses in how the program is funded." In a report published last year, the Congressional Budget Office found the program is operating at a $1.4 billion annual shortfall.
Chris D'Angelo contributed reporting.
Popular in the Community