And with Houston already inundated, the rain continues to fall. One meteorologist estimates that by the time the storm subsides it will have dropped a mind-boggling 25 trillion gallons of water across the state.
Certain locations along the Gulf of Mexico are expected to see as much rain in a few short days as is typical in an entire year. To accurately portray the staggering totals, the National Weather Service had to add new colors to its precipitation maps.
Harvey has wreaked havoc along the Texas Gulf Coast, just as meteorologists warned it would. But it has also proved somewhat of a communications nightmare.
Marshall Shepherd, director of the Atmospheric Sciences Program at the University of Georgia and a former president of the American Meteorological Society, told HuffPost that the bottom line is this: Harvey is an unprecedented storm system.
"We're kind of making this up as we go," he said of meteorologists' mapping and communication about the sheer magnitude of the event. "We haven't seen this type of rainfall over [such a short] amount of time."
Given precipitation totals through Monday and the forecast for the rest of the week, Shepherd said the situation in Texas "is shaping up to be [the] worst flood disaster in U.S. history."
The previous benchmark for flooding in an American city was Tropical Storm Allison in 2001, which dumped 40 inches of rain on Houston in five days, killing nearly two dozen people and causing $5 billion in damage. (The one-day U.S. record, 43 inches, hit rural Alvin, just south of Houston, during 1979′s Tropical Storm Claudette.)
Harvey delivered as much rain as Allison in roughly half the time — a statistic Shepherd described as "ridiculous."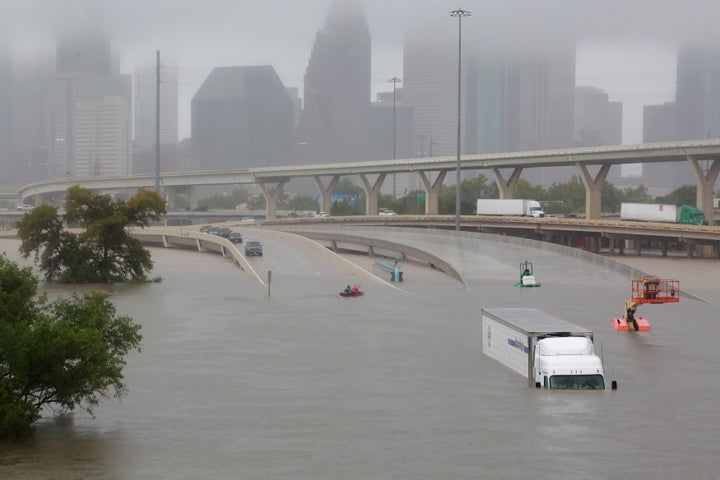 As Harvey has shown, conveying to the public the deadly risks of such an unprecedented weather event is not easy.
Sarah Watson, a climate and flood risk communication consultant that does contract work for the National Oceanic and Atmospheric Administration, told HuffPost she sees the problem as cultural. Many people associate tropical storms with wind and storm surges but not necessarily with heavy rain — which often proves to be the most destructive effect. When a storm like Harvey is downgraded from a Category 4 hurricane to a tropical storm, for example, people are often quick to think the threat has subsided.
Gina Eosco, a risk communication consultant, addressed this in a pair of posts to Twitter on Saturday.
As Watson sees it, a larger issue is how Americans use — and react to — certain language.
"We can describe a burrito and a pizza as 'epic,' but when we are trying to describe rainfall as 'epic,' and we're truly meaning this is epic — we've never seen anything like this in this country — it's not necessarily resonating," she told HuffPost.
Harvey has been reminiscent of Hurricane Katrina. As Katrina strengthened to a Category 5 hurricane and barreled toward the coast of Louisiana in late August of 2005, the National Weather Service in New Orleans warned of "devastating damage" that would leave areas "uninhabitable for weeks." Many people ignored or were unable to comply with a mandatory evacuation order.
Finding ways to better communicate the risks associated with natural disasters is an ongoing and complicated battle.
Last year, a study funded by the National Weather Service and NOAA'S Office of Oceanic and Atmospheric Research looked at how people interpret weather warnings and the risks associated with floods. Among other things, the team of researchers concluded that "people differ in how they react to uncertainty; for some, not having a concrete example of what a risk means can make them uncertain of what the actual impacts might entail and thereby impede their decision on whether to take action." They also found that "motivation for action came from knowing what was forecast for their specific town, and knowing what neighbors, friends, and family were doing to prepare."
Jennifer Marlon, an associate research scientist as Yale University's Program on Climate Change Communication, told HuffPost via email that improvements in technology and forecasting do not always translate into better communication or members of the public taking appropriate action.
"Humans," she said, "are not built to quickly and easily translate something as abstract as a precipitation map into a vivid, visceral feeling. And yet feelings and memories are what drive us in many cases, even more so than logic or reason."
In a study published in 2015, Marlon surveyed more than 1,000 people living along the Connecticut shore — where a mandatory evacuation was ordered in advance of Superstorm Sandy in 2012 — about whether they would evacuate or ride out a Category 2 storm. What she found was people fall somewhere in a spectrum — on one end are those who will evacuate any hurricane, on the other are "diehards" confident they can remain in place — and that different audiences would benefit from targeted messages.
If the goal is to get people's attention, she said, agencies must help the public grasp how a natural disaster is going to affect their daily life.
"Harvey was incredibly severe, of course, and evacuation isn't always the safest thing to do if officials are not prepared for it," Marlon said. "But these kinds of events are part of our warming world now, so unfortunately we are beginning to get more practice with them."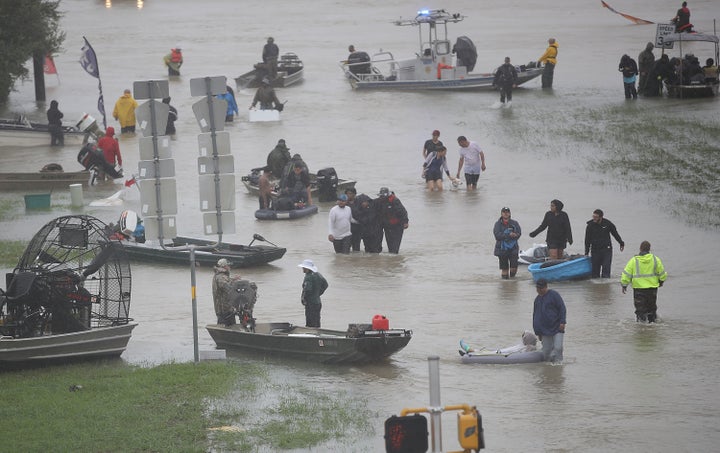 Sunshine Menezes, executive director of the University of Rhode Island's Metcalf Institute for Marine & Environmental Reporting, told HuffPost that when federal meteorologists are using words like "unprecedented" to describe a weather event, it's easy for the public to feel overwhelmed.
"When you're dealing with something that is quite literally beyond the scale that any of the professionals have worked with before, it doesn't matter how good a job they did within the divisional media they have to work with and the words they have to work with," Menezes said. "The understanding of that information is what, of course, is the most important, and we clearly don't know yet how to communicate that without effectively sounding like kind of doomsday scaremongers."
Given the magnitude of the the flooding in Texas and the increased risk of extreme weather as a result of climate change, Menezes expects Harvey will trigger a national conversation in the science-communication world about how to improve weather warnings.
When it comes to hurricanes, Shepherd wants to see less emphasis on a storm's category. With Harvey, he said, forecasters were stressing that the more serious threat was long-term, sustained rainfall — a point he felt was lost on some residents and local officials.
"We need a way to elevate significant flood threats like this to a level that gets people's attention in the same way the category of a hurricane does or the rating of a tornado does," he said.
Shepherd sees Harvey as a learning opportunity, not only for the low-lying city of Houston but also for other flood-prone states, including Louisiana.
"We're going to get tested time and time again with extreme rainfall like this," Shepherd said. "We better figure it out quickly in terms of how to message, how to respond."
This article has been amended to reflect Gina Eosco's current position; she is no longer with Eastern Research Group.
Before You Go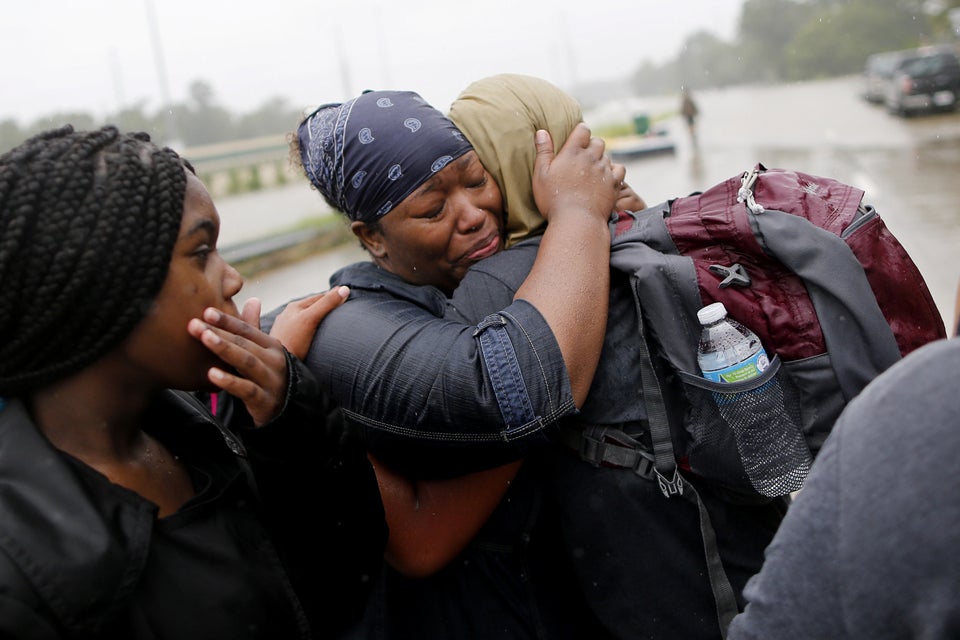 Catastrophic Flooding After Harvey
Popular in the Community