Hurricane Harvey wreaked havoc on the Houston Independent School District — the largest public school system in Texas and the seventh-largest in the United States — forcing school closures and disrupting the lives of hundreds of thousands of students and teachers.
As of last Friday, district officials reported that each of the 200 school-related facilities they'd inspected had sustained damage from the hurricane, which was later downgraded to a tropical storm. An additional 100 facilities likely face similar problems, but have been inaccessible because of flooding or other circumstances, Richard Carranza, the district's superintendent, told HuffPost.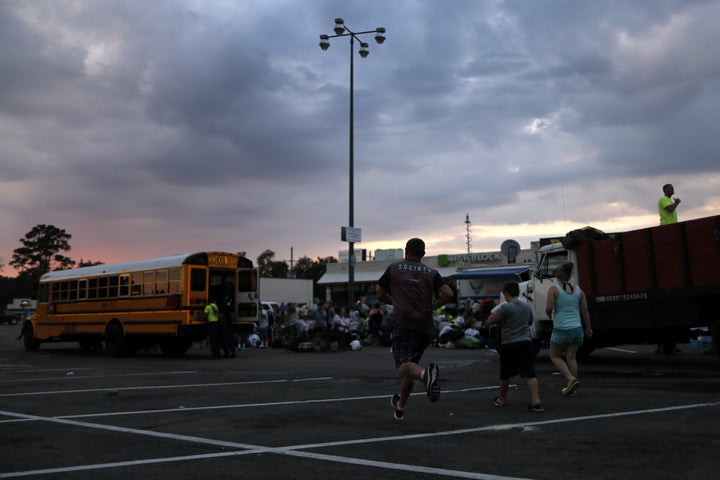 Schools in other Houston-area districts have also suffered damage. But if Hurricane Katrina, which struck the Gulf Coast in 2005, is any indication, the worst of Harvey's effects on education are still ahead. Katrina, which displaced more than 370,000 students in Mississippi and Louisiana, created a lost generation of students who were forced from their homes and schools. As a result, their academic achievement was lower, their dropout rates were higher, and they struggled with joblessness even a decade after the storm.
School officials in Houston, which took in more Katrina evacuees than any other city, are leaning on the research, experiences and improved technology that came out of Katrina to implement plans to reduce Harvey's worst possible consequences for children — and to prevent the storm from negatively impacting students for generations to come.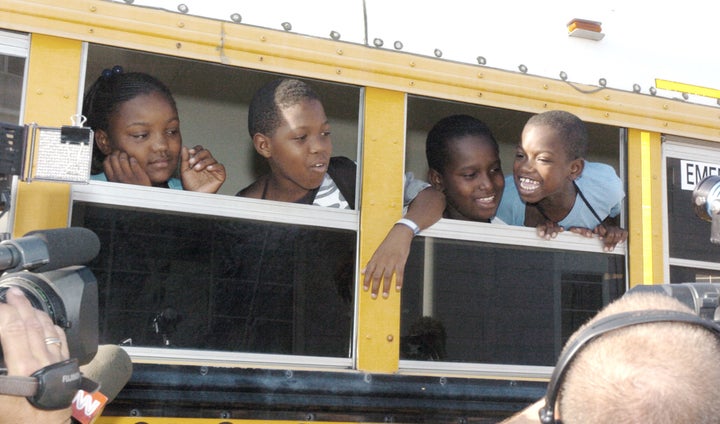 Houston schools will provide three free meals a day to every student during the upcoming school year, an expansion of an existing program. The district has also organized food and clothing drives with neighboring districts. When students and teachers return to school next week, crisis counselors will be waiting for them. Houston's district will also use technology to identify and track displaced and homeless students, Carranza said, a crucial step in implementing the lessons learned from Katrina.
But Houston can't successfully mitigate Harvey's worst educational impacts on its own. The school district has already faced crunched budgets and potential funding shortfalls. Experts who studied the aftermath of Katrina say an influx of money is necessary to hire staff and implement full recovery programs for displaced students who will need years of academic and emotional support.
And although the House of Representatives will take up its first Harvey-related legislation this week — a $7.85 billion relief package that will help the Federal Emergency Management Agency continue its efforts in Houston and other affected areas — Congress' crowded docket and looming spending fights could imperil future relief funding, included the sort of targeted education funding school districts need.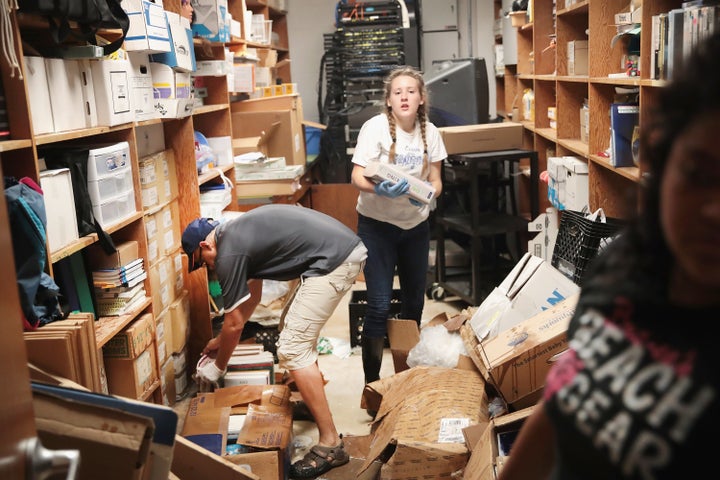 'The Needs Of Kids Will Outlast The Patience Of Adults'
For the vast majority of students, merely returning to the normalcy of school and receiving early counseling will be enough to recover, or come close to it. A year after Hurricane Andrew hit Florida in 1992, nearly 80 percent of students had recovered from the psychological trauma they experienced because of the storm, according to researchers. Even after Katrina, 71 percent of students had similarly recovered within two years of the storm making landfall, similar research found.
But for some students, recovery will take longer — and that's where Houston and other affected districts need to avoid the biggest post-Katrina mistakes.
A year after Katrina made landfall, students the storm displaced missed more days of school and had lower rates of achievement than they did before the hurricane, according to Dr. Michael Ward, who, as an education professor at the University of Southern Mississippi, studied Katrina's effects on students who moved schools.
But their rates of suspension and discipline for misconduct also fell, suggesting that teachers and administrators were more understanding and lenient than they typically had been — that they "really worked hard and really went out of their way to make sure that kids who had been displaced and suffered worst got the support and the help they needed from teachers," Ward said.
Five years after Katrina, however, rates of suspension for displaced students had skyrocketed beyond their pre-storm levels, and Mississippi's Katrina kids were twice as likely to drop out of school than students the storm hadn't displaced, Ward found. (The numbers were likely similar in Louisiana, he said.)
"So the lesson there appears to be that, if you're not thoughtful — if the adults in the process are not thoughtful ― what will happen is that the needs of kids will outlast the patience of adults," Ward said. "Unless there's a system for keeping track of kids who were displaced, the next school year they may end up with a teacher who doesn't know they experienced that sort of trauma. Two years out, five years out, it's kind of old history — except for the kids."
Houston and other districts, Ward said, will "need to maintain support systems around these kids for multiple years."
The most vulnerable children ― kids from poorer families and students of color ― are particularly likely to suffer from the hurricane. Harvey has already had a disproportionate impact on those communities, and the demographics of Houston's public schools — in 2016, 62 percent of its students were Hispanic or Latino, while another 24 percent were African-American — suggests the educational outcome could be similarly unequal.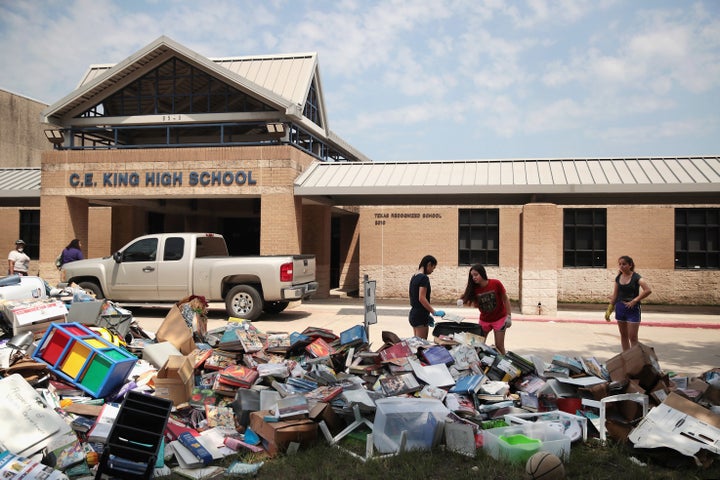 How The Federal Government Can Help
Texas doesn't have any near-term plans to provide extra money to help Houston and other school districts deal with the educational effects of Harvey. DeEtta Culbertson, a spokeswoman for the Texas Education Agency, said she was not yet aware of any plans for the state to step in to provide such funding, and last week, Gov. Greg Abbott (R) said he would not call a special legislative session to seek Harvey relief funding.
That leaves the feds. After Katrina, Congress approved $880 million in federal funding to assist school districts that took in displaced students, intended to help them hire staff and provide support to students in need.
As part of the package, Congress granted each district $1,500 per displaced student, allowing districts to provide basic education services, reopen schools, and operate temporary facilities. But many districts said that funding fell short of what they needed, according to a 2011 assessment from the Government Accountability Office, and only three of the 13 districts the GAO observed reported using the funds to hire new staff.
Hiring new counseling staff may be especially important in Texas. The state employs one school counselor for every 465 students, said Jill Cook, the assistant director of the American School Counselors Association, which recommends a ratio of one counselor for every 250 students.
School districts also reported that the verification process for the aid program proved challenging, according to the GAO. And district leaders told the agency that they were overly cautious in how they spent the money because they were unsure what costs it covered and feared they would have to return misused funds to the federal government.
Much of the federal aid, meanwhile, provided assistance only for the school year immediately following Katrina, even though children and their schools continued to deal with the storm years after it devastated the Gulf Coast. A federal package that helps avoid the failures of Katrina's recovery may need to be more ambitious than Congress' package a decade ago.
Members of Congress have held committee-level discussions about education relief funding, though no dollar figure has been floated yet, one House Republican said. Carranza, the Houston superintendent, said that he has heard "good rumblings" from lawmakers about "federal support for all of the students who have been displaced and students who will be actually homeless."
The good news, Ward said, is that Katrina led to loads of new information about what does — and doesn't — help schools recover after a storm. The challenge now is to apply those lessons.
"It's a worst-case scenario," Ward explained. "Katrina was a 500-year flooding event, and you hope that we'd have been spared something that catastrophic. But here we are again, and I'd like to hope that the research and the dissemination of that research after Katrina is helping Texas school districts now."
Matt Fuller contributed reporting.
Calling all HuffPost superfans!
Sign up for membership to become a founding member and help shape HuffPost's next chapter