HOUSTON ― Mold had already replaced Hurricane Harvey's receding floodwaters in the Rockport Apartments when the landlord showed up, residents say. But he wasn't there to make repairs. He was there to order the tenants to leave ― even though he was still charging them rent.
It took an intervention from Houston housing director Tom McCasland to get the owner to return the money to the residents of this crumbling low-income complex in southwest Houston.
Many said they had nowhere else to go. They had little extra cash, and many lack legal status, making it difficult to find other housing. The owner of the complex, Rukmini Investments LLC, told some tenants they could stay if they signed forms stating that they would not hold the company responsible for any problems, or otherwise risk eviction.
"The owner knows that most of us here are undocumented and he knows that we are afraid," said Jessenia Canás, a tenant who came to the United States from Honduras a decade ago.
In the aftermath of one of the nation's most destructive natural disasters, stories like those of the Rockport residents show how the region's more than half a million immigrants without legal status are often left most vulnerable. They qualify for little in the way of state and federal aid, and many are afraid to seek help at all, fearing deportation. Instead, they largely fend for themselves, sinking deeper underground and becoming even more susceptible to abuse.
"They are the perfect victims," said Mark Grandich, a lawyer with Lone Star Legal Aid, a Houston nonprofit. "It's so easy to take advantage of them. You have to be able to fight for your rights, and people who aren't documented often don't have that ability."
HuffPost is hitting the road this fall to interview people about their hopes, dreams, fears ― and what it means to be American today.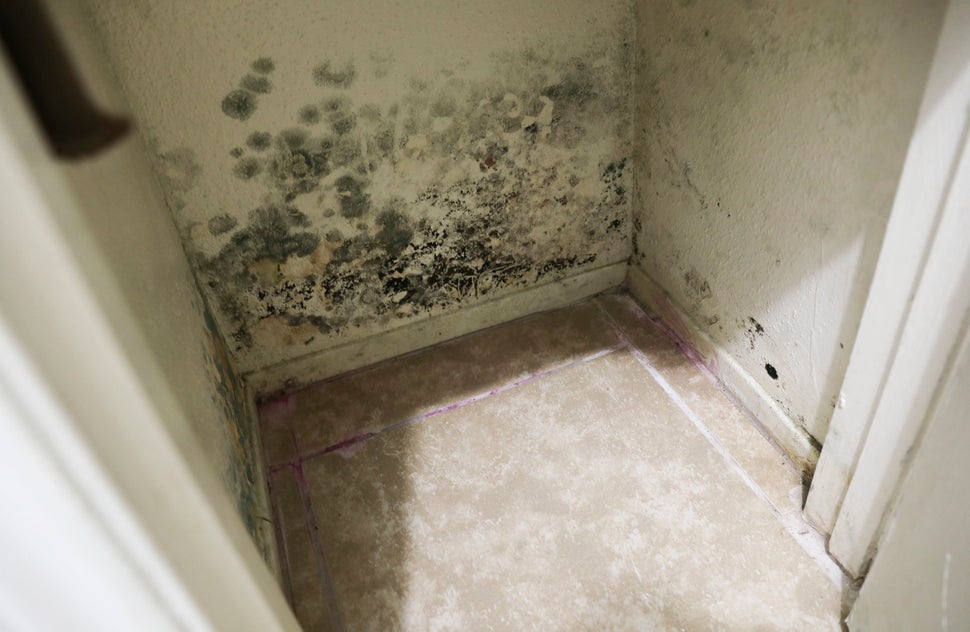 For undocumented immigrants, apprehension was already high before Harvey hurtled into Houston this August. President Donald Trump's administration has arrested more than 6,200 immigrants here illegally since taking office, the most apprehensions in the country after Dallas and Atlanta. The state legislature also passed a sweeping bill allowing police to ask anyone they stop about immigration status that Gov. Greg Abbott signed into law in May. A federal judge has temporarily blocked most of it, though police are still allowed to make such inquiries.
So, as the floodwaters rose, many immigrants hesitated to call emergency services and stayed inside unsafe homes, even as Mayor Sylvester Turner urged them to seek help. Two months into the recovery, they have the same wariness about seeking assistance.
"They don't want to put themselves at any risk of encountering immigration (agents)," said Alain Cisneros, an organizer with the immigrant advocacy group FIEL Houston. "They don't have the time or resources to fight for their cases and they lack the right information."
Confusion abounds, not only about whom to trust but for what aid they qualify. Though they are not directly eligible for most state or federal assistance, immigrants here illegally can get some funding from the Federal Emergency Management Agency for housing costs if at least one member of their household is a citizen or has a legal status. They can also apply for the Supplemental Nutrition Assistance Program, often called food stamps, for those with such a status.
Still, many are hesitant to apply, fearing their information will be given to immigration agents. Cisneros said one migrant his group worked with didn't even cash his FEMA check; he thought it was exorbitant and worried authorities would accuse him of fraud.
Deanna Frazier, a FEMA spokeswoman, said the agency doesn't collect data about immigration status in households receiving aid or share information with other authorities.
Many undocumented immigrants are reluctant to reach out to private groups as well, leaving nonprofits to go out and search for people in need of help.
"It's a challenge for us to reassure them assistance is available to them without any risk," said Rene Solis, senior vice president at BakerRipley, a Houston nonprofit managing relief for Harvey victims.
Often immigrants are most vulnerable in their own homes. The Metropolitan Organization, a coalition of religious and community groups across Houston, said abuse of tenant rights has been one of its greatest concerns since Harvey. Renters are often told to leave with little notice or asked to pay rent even though repairs have yet to be made.
"Most of these people are threatened and abused by their landlords," said Rev. Simón Bautista of the Christ Church Cathedral in downtown Houston. "They know they can take advantage of them because they have no voice and they are undocumented."
In some places, like the Maison de Ville apartments in the Greenspoint neighborhood, residents have not returned. The ground floor of the complex remains vacant. Televisions and appliances are stacked on patios, and chunks of insulation and scraps of sheetrock sit in a heap in the courtyard.
One woman, who declined to provide her name because her family is here illegally, said they moved out of their flooded apartment to one on the second level. Her husband repaired the ceiling himself in return for discounted rent.
"We're just trying to get back on our feet," she said. "I don't really like it here ... (but) I've got nowhere else to stay."
That's a sentiment familiar to those in the half-vacant Rockport complex, which advocacy groups say represents an extreme level of disrepair. Nine of the complex's buildings have been empty since a tornado struck two years ago ― even though the owner received at least $7.7 million in insurance payouts, according to court documents. An attorney for Rukmini Investments LLC said it has fixed about a third of the 250 units damaged in the tornado, and plans to repair the rest. City Councilman Mike Laster called the owner "a slum lord" in a meeting shortly after the tornado, noting he was nowhere to be found for days after the disaster.
The company's listed registered agent, Kamal Bhambhani, couldn't be reached for comment. An employee at the leasing office recently refused to allow a reporter to enter the property and declined to comment. The company's attorney, Les Little, suggested in an email that there were few properties in the city with the same low rents that had better conditions, noting that many of Rockport's current tenants don't want to leave.
But residents say their landlord was once again absent after the hurricane, doing nothing for two weeks after water had surged into the complex's ground floor and damaged ceilings and walls. Residents stayed quiet, worried about the ramifications of calling the authorities.
"A lot of people are really worried about everything that is going on," said one tenant, Zaidy Garcia. "What if they send them back to their countries?"
Someone eventually called FIEL, the immigrant advocacy group, which drew attention to the complex's "unlivable conditions" and showed reporters the black mold crawling up walls and inside closets. The Red Cross and city inspectors arrived, and management was suddenly spurred into action ― but gave some affected residents just five days to get out.
Little, the attorney, said the owner wanted to begin restorations, but didn't want residents to live in unsafe conditions. He said they were trying to make it easy for them to leave, not evict them. But the company only returned rent money to residents with uninhabitable units after the city housing director intervened.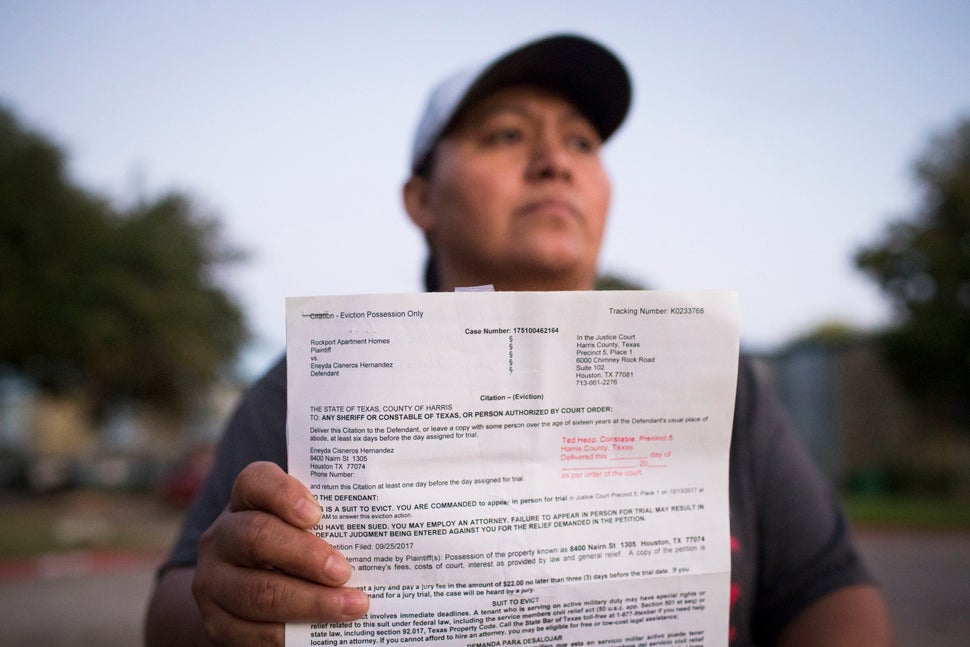 Canás, the tenant from Honduras, said many residents pleaded for extra time to find new housing. Many who lack legal status were afraid of eviction, so they signed the release forms the management company demanded, she said ― even though the forms were in English, and many had no idea what they said. Canás, who is 28 and the mother of two young boys, one with asthma, refused.
"Who knows what's going on with those apartments?" she asked.
She said she found a new place and told the landlord she could move out by early October, and would continue paying rent until then. She still received an eviction notice several days later.
Some residents called lawyers after the company threatened to throw out their furniture if they didn't leave by the next day. Grandich, the attorney with Lone Star Legal Aid, won such a case on behalf of an American citizen. (The nonprofit's grant funding restricts it from representing people without legal status.)
"Landlords can't just lock people out," he said. "You have to go through the judicial process."
He advised the complex's immigrant tenants to seek counsel. But lacking the resources to pay attorneys and afraid of showing up to court, some 20 residents without legal status did not appear, automatically losing their eviction cases. Others moved out, forfeiting their deposits. Still more stayed put, quietly making their own repairs without complaints.
It's a predicament advocates say is faced by many renters without legal status.
"They fear fighting would get them into deeper trouble, which is why they are so vulnerable," Grandich said. "People are in hard spots living in damaged apartments because they don't have anywhere to go."
Houston attorney Christian Navarro took on some of Rockport's eviction cases pro-bono. Many were dismissed because residents had already left or turned in their keys, though management either didn't record it or refused to accept them, he said. The company told some tenants that they didn't have to pay rent because of flood damage, then filed to evict them because they hadn't. A prior eviction often makes it more difficult to secure an apartment in the future.
"It was very vindictive," Navarro said.
Alan Scheinthal, an attorney representing Rukmini Investments LLC in the eviction cases, didn't return calls or emails seeking comment. Little, the complex's attorney, said in an email that he wasn't overseeing the evictions but that the company had given residents the opportunity to "break their lease with no penalty and with their September rent waived or refunded."
Another resident, Eneyda Hernandez, said she understood she too didn't have to pay rent for September because she lived on the damaged ground floor, but received an eviction notice that month. She showed up to her hearing and the judge agreed she could stay until Oct. 27.
Nevertheless, the Mexican immigrant said the complex has changed her locks twice, and then tried to charge her $50 for a new key. They cited her for violating her lease by speaking with a reporter in her apartment, accusing her in part of "prohibited conduct," by having contact with an "unauthorized occupant."
"It's like we're living back in our own countries with lots of corruption and without any rights," she said.
Canás, who was able to get her eviction case dismissed, said she is glad to be out of the complex. Many of her friends who are still there would like to leave too, she said, but are afraid to break their lease.
"They took advantage of us," she said, "because they know that we are undocumented."
Calling all HuffPost superfans!
Sign up for membership to become a founding member and help shape HuffPost's next chapter