KATY, Texas ― Like most residents of her suburban neighborhood just west of Houston, Deresharee Laracuente didn't leave ahead of Harvey's landfall, thinking that the anticipated flooding wouldn't reach her home.
But early Monday morning, with little warning, the Army Corps of Engineers began releasing water out of the burgeoning Addicks and Barker reservoirs to keep dams from breaking or overflowing. The additional water flooded Laracuente's neighborhood and forced her to flee with her two oldest children and a pair of dogs to a makeshift shelter at Cinco Ranch High School.
On Monday afternoon, Laracuente was thinking about what she'd left behind when she and her two teenagers fled to the shelter. She had recently bought a car and a new set of furniture. "I've cried for two days straight because we didn't have flood insurance," Laracuente told HuffPost. "I'm just thinking about all the things I worked so hard to provide the kids and my family.… Now it's all gone."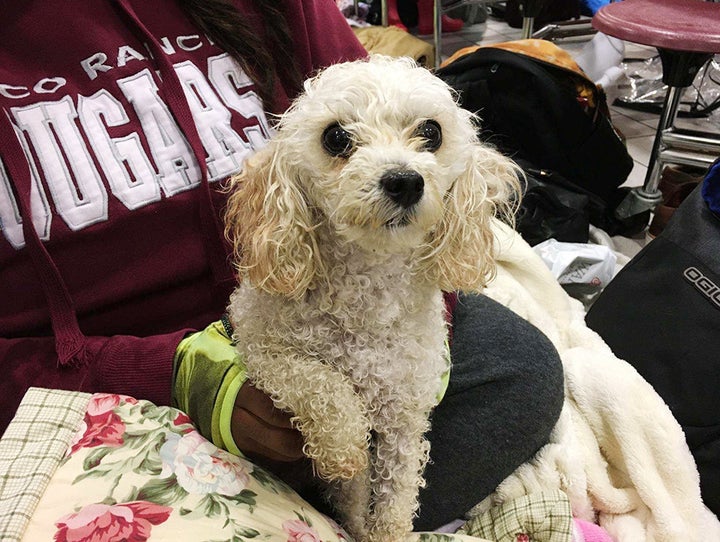 At the same time, she felt thankful ― for being able to escape the house before the water rose high enough to put her family in danger, for the boat that helped them out of the flooded streets and for the shelter that offered them food and a place to sleep. "I had to put things into perspective. We can always replace those things."
Laracuente also has an 8-year-old daughter who was with her father. Both were safe.
Thousands of people like Laracuente have packed into improvised shelters across the city as rain from Tropical Storm Harvey continued to pour and controlled releases from overflowing reservoirs turned city streets into rivers. The head of the Federal Emergency Management Agency, Brock Long, said FEMA expects as many as 30,000 Texans to be forced into shelters before the storm runs its course.
Evacuees at Cinco Ranch High uniformly praised the shelter operation. The halls were lined with blankets, toiletries, books and board games. The area that serves as a theater stage when school is in session was filled with dog crates and playing children. A line of people helped themselves to plates of hot food. Most of the grocery stores, restaurants and gas stations in the Katy area remained closed Monday.
"We walked in and we had a kennel that we were able to pick out ― a pillow for the dogs, blanket, pillows, food ― everything was here when we got here," Laracuente told HuffPost. "I was not prepared for it to be this organized.... I wish I could have been the one who donated, but we just couldn't bring everything with us.
"I'm just thankful for those who were able to."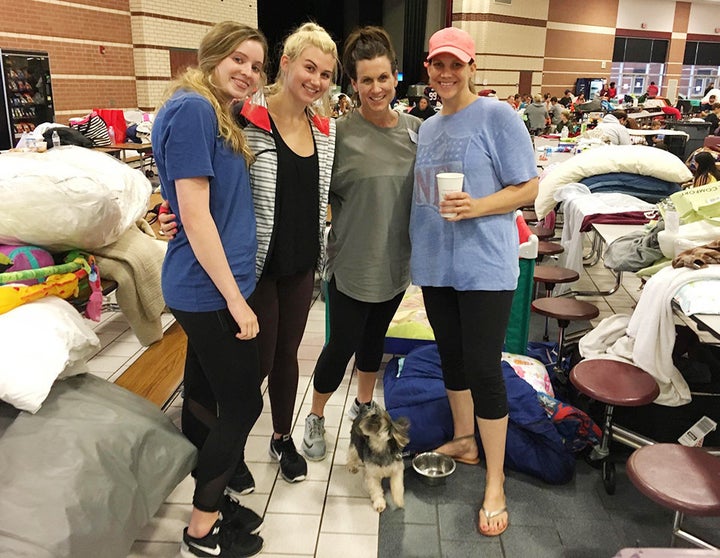 Cinco Ranch is one of at least three high schools in Katy that opened its doors to evacuees Monday as the number of people fleeing their flooded homes continued to spike. The team of volunteers running the shelter, which the school district is leading, tried to cap the number of people they'd take at 600, according to Lee Crews, the chief operations officer for Katy Independent School District. But by Monday evening, they had accepted roughly 700, separated into two wings: one for people for people with pets and one for those without.
"We just can't turn people away right now," Crews told HuffPost. "Everything I'm hearing is we will continue to have people seeking shelter, and that's what concerns me."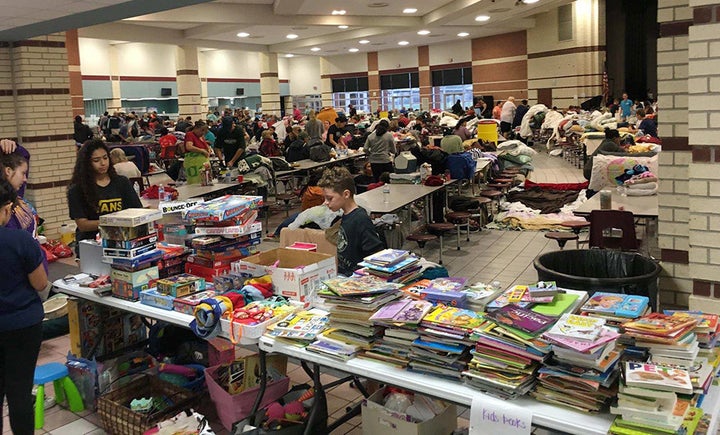 Laura Gonzalez, 44, said she didn't live in an area under mandatory evacuation and didn't plan to leave. But around 2 a.m. Monday, she woke to see her backyard flooded. When she looked outside her front door, the whole street was flooded, too. Soon water began creeping into her house.
"It took us by surprise," Gonzalez told HuffPost. "We thought we were safe, but here we are."
While the flooding from the reservoir discharge took Laracuente by surprise as well, she said she was happy that she hadn't evacuated earlier. Her father had recently died, and had she left before Harvey hit, she might not have assumed her house would flood and so might have left her pictures of him behind. And now they'd probably be ruined, she said.
"Knowing they were releasing the water prepared us to say, 'OK, let's put everything up,'" she said.
But like many others, Laracuente didn't know what her next step would be. Meteorologists expect the rain and flooding to continue for days, and she doesn't know when she and her family will return to their water-damaged home.
"I don't have a plan. I don't know what I'm supposed to do."
Matt Ferner contributed reporting.
Related
Before You Go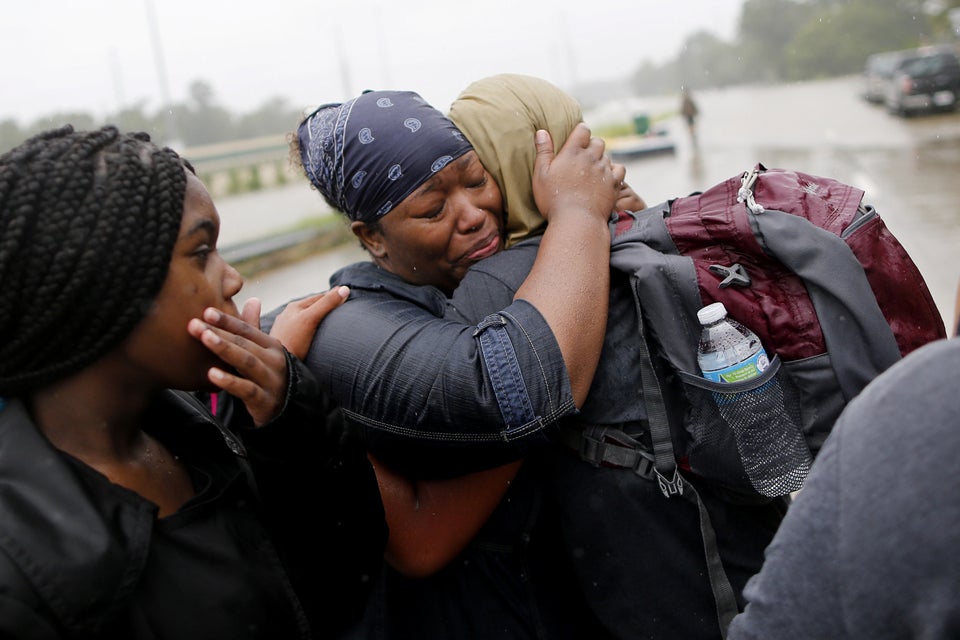 Catastrophic Flooding After Harvey
Popular in the Community