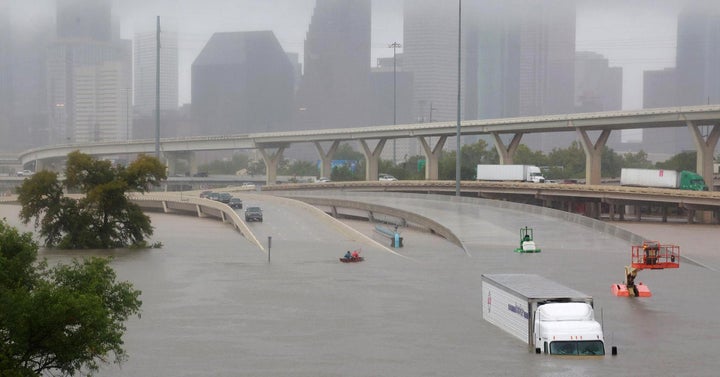 Hurricane Harvey arrived with its sights set on Houston and the Gulf region as a category 4 hurricane. Yet, once the winds and storm surge subsided the real peril of this storm was revealed. Harvey will go down in history as much more than the first major hurricane to strike the U.S. mainland in more than a decade. Harvey may very well be the very first "rain bomb" to go nuclear. The hydrological phenomena of rain bombs are intense – but typically short-lived – bursts of heavy localized rainfall. In Harvey's case, the fact that the storm system stalled over Houston dropping a biblical level of water over the flood-prone region has imperiled a major American city, grinding its citizens, commerce and local government to a halt. This underscores the economic output at risk when cities fall prey to complex man-made, natural and emerging threats.
Sadly, the scenes beaming around the world of a water-lodged Houston and the resilience of a citizen flotilla reflect the inconvenient truth that our communities and very way of life are in the crosshairs of an increasingly tumultuous world. All at a time when the U.S. has abandoned its seat at the climate change table. As a choke point for the oil industry and other major sectors, the economic ripple effects from Houston's 1 in 500-year flood event (where the water is still rising and it is the third 500-year flood in as many years) will be felt far and wide. Worst yet, the legal and policy squabbles of who is on the financial hook to help citizens dry off and get back on their feet will be as long and drawn out as recovery efforts.
This type of city-scale event underscores that resilient citizens are the very first and most important link in building a resilient society. Notably, at a time of heightened social, racial and political animus, Harvey's wrath has been color blind and indiscriminate. Events like Houston's flooding call on a system-wide response and, unfortunately, like the ghost of hurricane Katrina that still haunts the Gulf, many questions will be asked about preparation for hurricane Harvey. The first, with echoes of New Orleans' ill-fated Katrina response, being the choice to not order an evacuation. With climate impacts, the question of causality matters less than our preparation for weathering the effects and our response when calamity strikes.
The other hard truth that many sodden home and commercial property owners will have to contend with are the gaps in the private and municipally-backed flood insurance markets. Water rising is widely excluded from homeowners' insurance, as well as commercial property policies, which will literally leave billions in unfunded losses. The challenges and moral hazards in the flood insurance market are as insidious as the very floods they are supposed to guard against. Early estimates of Harvey's economic costs reach and will likely exceed the $100 billion mark, with the long-term impacts affecting the thriving city of Houston for years to come. Here too the other echoes of Katrina should be heard, however faint in Houston's case. Namely, the likelihood of flood fatigue settling in and the specter that Houston's population of citizens and businesses shifts as these types of calamities become all too commonplace. Indeed, post-Katrina New Orleans has never quite recovered its population levels – relegating the thousands in the Katrina diaspora as internally displaced people (IDPs).
From the insurer's point of view, Harvey, like Katrina before it, underscores that we are entering an invest now or pay later world. Simply put, it is time for insurers to get off the sidelines and begin pre-investing in the very market conditions their economic models thrive on. This not only requires greater insurance penetration at the household level (for example a mere 17% of California households carry earthquake insurance), which would help offset the tax-payer burden of unfunded losses, it requires pre-investing in human and commercial adaptation. Rather than having their balance sheets exposed after the fact in the form of direct insurance, reinsurance or catastrophe bonds, insurers can place their financial exposure on the front-end through incentive systems that enhance frontline resilience. Where all risks, especially in a turbulent interconnected world, are increasingly complex to model mathematically, resilience provides a clear investment destination.
As the gritty and weather-worn citizens of the Gulf show us, few things bring communities together like natural catastrophes. For the rest of the country that has been spared this time around, supporting organizations like the American Red Cross can help make a difference during acute relief efforts. Long range, the haunting images of an iconic American city under water should drive home the reality that climate resilience is a national security priority.
Popular in the Community