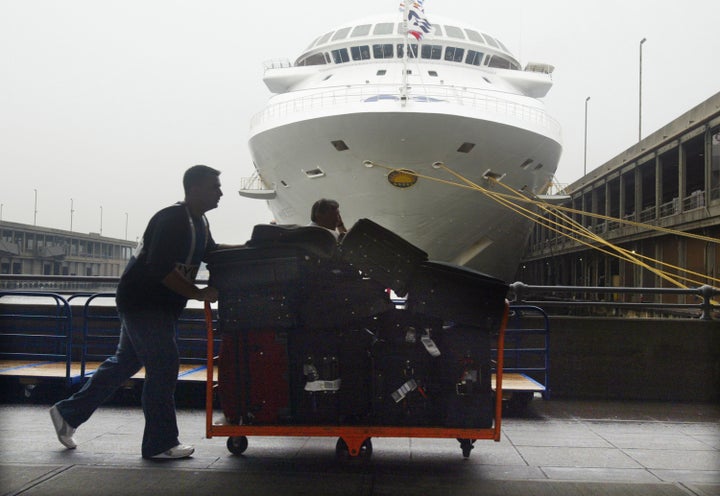 For Sandra and Eddie Castle, no hurricane was going to keep them from their cruise vacation.
"We just want to get on board, and get away from this storm," Sandra Castle said as she and her husband towed their bags toward the massive Princess Cruises ship docked the Brooklyn Cruise Terminal early Saturday afternoon.
On the terminal all around the boat, which was originally due to sail out around 5 pm, last-minute preparations were underway to get the boat ready two hours early. Dark clouds from the front edge of Hurricane Irene periodically dumped rain down on the final stragglers streaming out of coach buses and into the terminal.
Starting around 5 in the morning, dockworkers had to maneuver some the baggage and supplies of 3,000 or so people from the last trip off the boat and then replace them with supplies and luggage for 3,000 new travelers. Cruise-line officials at the dock said abut 900 people out of 3500 had cancelled their reservations for the Saturday afternoon departure.
"We did this work in half the time," Chris Marsala, a stevedore, said as he rested on a folding chair near the boat, snacking on potato chips. "We all worked shifts, everybody chipped in, doing two jobs at a time, three jobs for some."
"And what time is it now, 12:30?" Al Arcamona, the head foreman, asked. "Usually we aren't finished with this until 3:00, 3:30. This boat is going off on time."
One marine official overseeing the embarkation, who declined to give his name, told The Huffington Post that the boat, which was due to sail north toward Halifax, and away from the arriving storm, was unlikely to have much trouble getting out to sea and making its northward turn toward Halifax ahead of the storm.
Across New York Harbor, the Coast Guard has declared that any ship over 500 tons -- including all cruise ships -- had to be out to sea by nightfall. The Princess Cruises ship would get out, the marine official at the docks estimated, but he said there some concerns for another cruise ship docked along the Manhattan coastline. "I don't know what's going to happen to them," he said. In the distance, across the choppy seas of the Lower Harbor, a third cruise ship at Bayonne could be seen frantically loading for a late afternoon departure.
Another official with the terminal, who also didn't give his name, was more circumspect. "We're supposed to get off on time," he said, as he hurried by clutching a walkie talkie. "I guess we'll see."
Officials with the Port Authority, which oversees the cruise terminals, could not immediately be reached for comment.
Meanwhile, the dock workers continued to hastily get baggage screened and on-board, so the boat could push back early.
"Look around," Victoria Di Santo, a boarding agent with InterCruises, the company that manages embarkation, said as she pointed to the nearly empty dock. "Usually at this time, we're jam-packed."
For the Castles, who flew in from Manchester, England, Friday for the cruise, this vacation was going to happen. "I know it's supposed to be the biggest storm in 70 years," Eddie said." But all we need is for the hurricane to turn a little to the left, and everybody will be happy." And if it doesn't? "We all get wet!"

REAL LIFE. REAL NEWS. REAL VOICES.
Help us tell more of the stories that matter from voices that too often remain unheard.