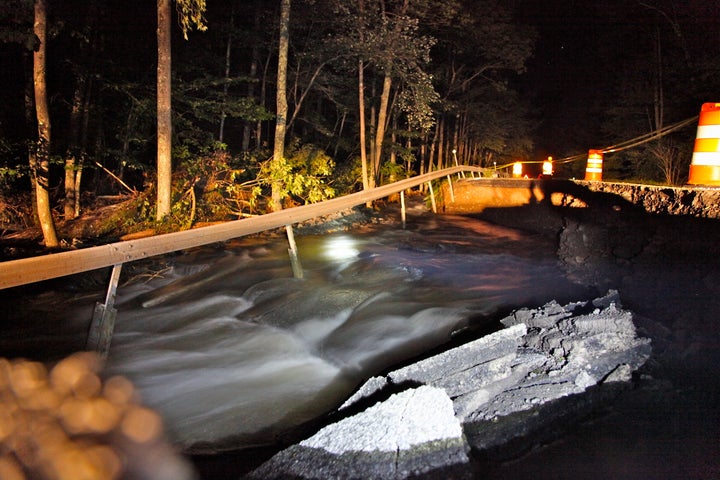 An 82 year-old Holocaust survivor and grandmother drowned Sunday in a Catskills cottage after it was overtaken with floodwater caused by Hurricane Irene, The New York Daily News reports.
Rozalia (Leah) Stern-Gluck, of Borough Park in Brooklyn, was vacationing with her husband at the Valkyrian Motel in Fleishmanns, New York when a nearby creek overflowed. Stern-Gluck was unable to escape her cottage at the Motel when it was evacuated at 8AM, according to VIN News. Her husband managed to escape to safety.
Stern-Gluck could be heard screaming for help throughout the day but at around 3:30 PM her cries stopped.
Her body was found later Sunday after the flooding subsided.
Isaac Abraham, a Brooklyn Hasidic community leader told The News that Stern-Gluck was born in Russia and survived the Holocaust. "She survived Hitler, but she couldn't survive Irene," he said.
Irene, which swept through New York late Saturday night into Sunday morning as a tropical storm, also claimed the life of a Bronx man. From The Wall Street Journal:
Jose Sierra was pulled Sunday afternoon from the water at Sunset Marina, on City Island, an area that had been ordered evacuated by Mayor Michael Bloomberg ahead of the weekend storm. Sierra, 68, was going to check on his boat and tumbled into the rough waters, authorities said. He accidentally drowned, the medical examiner said Monday.

Sierra, a father of 13, was found at 4:40PM Sunday after the Marina owner found him floating face-up in the water.
Just North of the city, two men died in Irene-related accidents.
Dr. Peter Engel, 53, a psychiatrist from Cross River in Westchester County, drowned Sunday afternoon after he and four fellow adventure-seekers' raft capsized in a raging Croton River, lohud.com reports.
Engel, a father of two children, had over 35 years of experience whitewater rafting.
And David Reichenberg, a 50-year-old father of four in Rockland County, New York, died after being electrocuted while rescuing a 6-year-old boy and his father from a power line felled by Irene in Spring Valley. According to CBS News, Reichenberg pulled the father and son away before falling into an electrified pool of water. Both father and son survived.
"I'm proud of him," said Richenberg's son, Akiva. "He was born a hero and he died a hero."
Some towns in upstate New york and Vermont are completely stranded as severe flooding has knocked out bridges and destroyed roadways.
Related
Popular in the Community