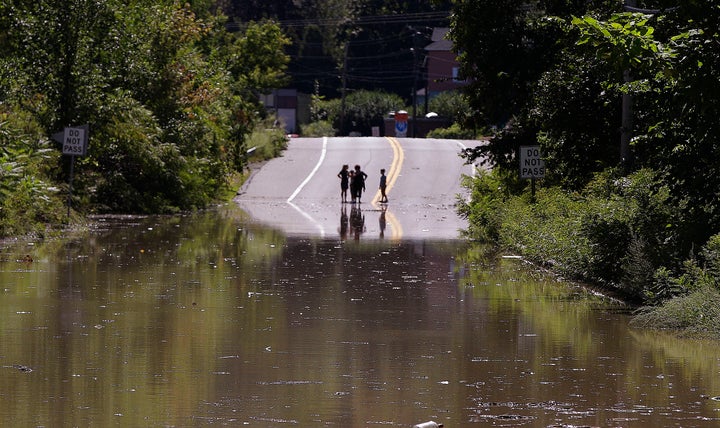 The GOP's philosophy has been to push government more towards the state and local level, but the wake of Hurricane Irene is leaving many seeking a role for the federal government.
Hurricane Irene left a path of destruction from Virginia to New England, causing what is expected to be billions of dollars in damage.
"The main purpose of government is to protect the safety of citizens," said New Jersey Assemblyman Jon Bramnick (R). "The purpose of the federal government in some respect is they have much greater resources. I am assuming when there is a disaster somewhere in the country, we should spread the cost."
Bramnick, a close ally of Gov. Chris Christie (R-N.J.) and the number two Republican Assembly, said he would like to see the federal government provide assistance to the Garden State and local communities. Many of the communities in Bramnick's northern New Jersey district, including Cranford and Westfield, have sustained flood and wind damage from Irene.
"The resources of Westfield, N.J., and their limited budget cannot compare to the state and federal governments," Bramnick said. "The state cannot compare to the federal."
Bramnick has long been an advocate for reigning in state-level spending -- a key concern for fellow Republican Christie. Bramnick stressed that he believes emergency management, along with public safety and the military, to be a top priority for government, particularly at the federal level.
Christie has sought preliminary federal assistance for the Garden State, which sustained flood and wind damage in most counties. In an interview on NBC's "Meet the Press" on Sunday, Christie said he expects the final sum of New Jersey's damage to total in the billions of dollars.
His office did not return a call for comment on whether the governor would be seeking federal funds for the hurricane, but in the past Christie has sought additional federal aid for New Jersey.
In Virginia, while Gov. Bob McDonnell (R) has also sought preliminary federal assistance for his state, and officials in his administration are saying Virginia is beginning to take steps to seek additional federal assistance.
Bob Spieldenner, a spokesman for Virginia's emergency management agency, said that assessments are currently being done on local areas around the state to determine the cost of the damage. He said McDonnell's office is starting to hear back from the harder-hit areas of the state and that the governor has not made a final decision on need.
House Majority Leader Eric Cantor (R-Va.) reiterated on Monday his call that additional federal assistance for natural disasters be tied to spending cuts, but not all Republicans are on board. Rep. Leonard Lance (R-N.J.) said in an interview with Patch on Saturday that he disagrees with Cantor. Lance, who has advocated fiscal restraint since his days as a state legislator, represents a district that has been severely impacted by flooding.
Mayors in communities impacted by Irene expressed opposition to Cantor's position.
"It is completely outrageous that someone would say something like that," said Dan Aschenbach (D), mayor of Cranford, N.J. "How does he represent his own people in Congress? Congressman Lance recognizes what the damage is."
Mayor W. Eugene Hunt of Poquoson, Va., said he believes in the need for additional budget cuts at the federal level and told HuffPost he would like to see more federal infrastructure investment to save funds at the local level in the long-term.
"What I can tell you is tying any kind of federal aid to spending cuts overall is not necessarily an investment in infrastructure," he said.
Calling all HuffPost superfans!
Sign up for membership to become a founding member and help shape HuffPost's next chapter