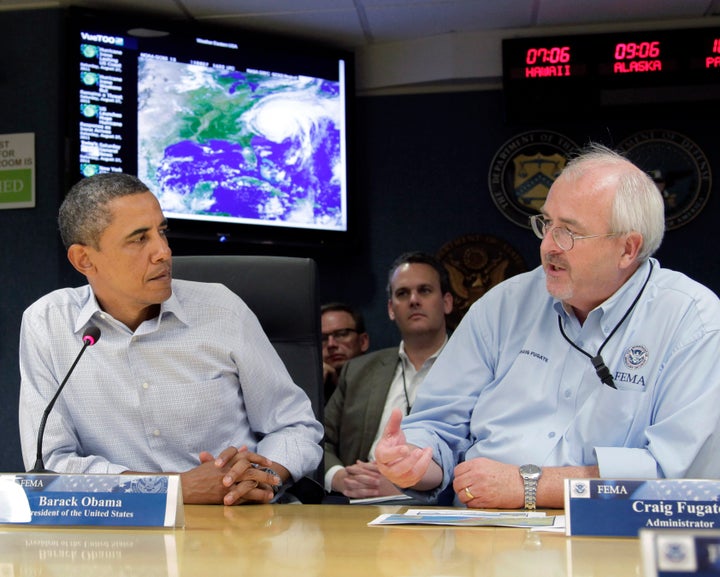 WASHINGTON -- Governors of both parties are praising the federal response to Hurricane Irene, giving a much-needed vote of confidence to the Federal Emergency Management Agency (FEMA), which has been struggling to regain its good name after its response to Hurricane Katrina.
When asked by ABC's "This Week" host Jake Tappper whether there's anything that New Jersey needs from the federal government that it hasn't been getting, Gov. Chris Christie (R) replied, "Not at this point."
"We have FEMA representatives here at the Regional Operations and Intelligence Center [who have] been working with us. I'm going to be calling [Homeland Security] Secretary Napolitano in an hour or two to make a further request of additional needs. But so far, FEMA has been very responsive," said Christie.
"I spoke to Secretary Napolitano in the last 24 hours," he continued. "She's offered to do whatever she needs to do to help us out here in New Jersey. She knows how hard we're going to be hit. So right now, the cooperation between New Jersey and FEMA has been great, and I'm going to be calling Secretary Napolitano shortly to ask for some more help."
At 10:30 a.m. on Sunday, President Obama convened a video conference in the White House Situation Room to receive updates on Hurricane Irene. Top officials, including Napolitano, FEMA Administrator Craig Fugate, Vice President Biden, Transportation Secretary Ray LaHood, Energy Secretary Steven Chu, Treasury Secretary Tim Geithner, White House Chief of Staff Bill Daley and Homeland Security Advisor John Brennan participated in the call.
Obama received updates on the recovery efforts as well as the status of energy and transportation infrastructure, and he directed Napolitano and Fugate to stay in touch with governors. They will be reconvening for another meeting Sunday evening.
On NBC's "Meet the Press," Maryland Gov. Martin O'Malley (D) also had nothing but praise for the federal response.
"Craig Fugate and the people at FEMA, Secretary Napolitano and President Obama -- they have been excellent," said O'Malley. "They have been with us since day one, and actually, before the storm arrived, they were here, and it's worked really, really well. This is a much better FEMA than the olden days."
For example, while FEMA staffers warned Brown that people stranded from the hurricane were dying at the Superdome in New Orleans, his aides were worrying whether Brown had enough time to dine out at a restaurant.
Of course, it's still early in the recovery process, and FEMA will be helping states and cities clean up for a significant amount of time.
Virginia Gov. Bob McDonnell (R), also appearing on "Meet the Press," said on Sunday that a large number of deaths and problems actually occur after the natural disasters are over, due to downed power lines and other hazards.
Indeed, after Hurricane Katrina, criticism of FEMA continued to increase and there was a significant amount of partisan finger-pointing during the rebuilding efforts. U.S. public health officials found that there were "potentially hazardous levels of toxic formaldehyde gas in both travel trailers and mobile homes" given by FEMA to Katrina victims.
Newark, N.J. Mayor Cory Booker (D) praised both Obama and Christie for their response to the hurricane, saying they had made the right decision in declaring a state of emergency.
He added, however, that many of the post-Irene problems the city is seeing could have been avoided or lessened if its system was more up-to-date.
"I'm very concerned in our country that we have not been investing in infrastructure like we need to," he said. "Our worst thing in the city of Newark is lots of flooding and problems because our infrastructure is getting very aged. And we haven't had the kind of investment or the resources to put the investment into it to keep our infrastructure strong and safe."
"And I know this is a problem from around the country," Booker added. "I've talked to many mayors. We need to begin to understand that investment in infrastructure is actually going to save us money over the long term. It's going to keep people safe. And it's actually going to help our economy, as well."
Popular in the Community