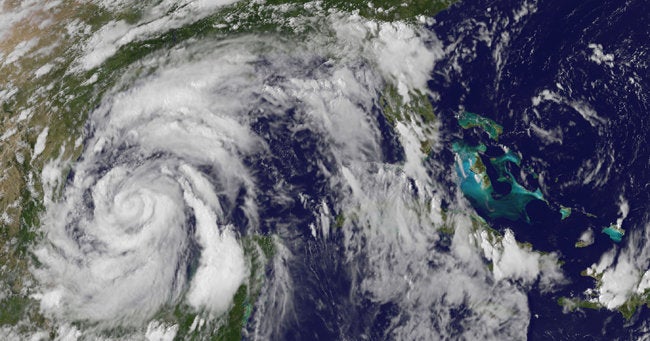 The Red Cross is preparing dozens of shelters along the East Coast and distributing supplies to areas in the storm's path.
People can find open Red Cross shelters by viewing an interactive Google map. You can donate to the the Red Cross relief efforts by calling 1-800-RED CROSS, texting the word REDCROSS to 90999 to make a $10 donation, sending contributions to the American Red Cross, P.O. Box 37243, Washington, DC 20013 or donating online.
The Red Cross is looking for 1,000 volunteers to help in New York City during the storm and its aftermath. Jordan Humphrey of the Red Cross tells The Village Voice it's looking for anyone who's been through Red Cross reserve training, as well as Red Cross-trained EMTs, mental health professionals, and nursing professionals.
The Salvation Army is ready to provide food, drinks, spiritual and emotional care to emergency responders and survivors between the Carolinas and New England. The Salvation Army has already set up 30 mobile canteens in the Carolinas, which are able to provide in excess of 45,000 meals. An Incident Command Team has been established in Charlotte, NC and will deploy to the Carolina coast once the storm passes, according to the organization's website. To contribute to the Salvation Army's relief efforts, text "STORM" to 80888 to make a one-time $10 donation or contribute online.
Network For Good, an online hub of charities, nonprofits and volunteers, has a list of organizations offering relief.
Direct Relief has pre-positioned Hurricane Prep Packs in eight states throughout the Gulf Coast. Each pack contains medicine, items to treat patients with injuries and other medical supplies. The organization is accepting donations online.
When disaster strikes, Feed the Children rolls out its fleet of semi-tractor trailers stocked with the critical supplies, including diapers, baby products, bottled water, cleanup supplies, snacks to be used in the days and weeks of critical recovery time. To help Feed the Children help those in need, consider making an online donation.
AmeriCares is accepting donations to provide emergency medicines and supplies, with immediate shipment possible. The organization specializes in wound care medicines and supplies, water, and other storm-relief items.
Operation Blessing provides relief to disaster victims worldwide. The organization is accepting donations to respond with emergency food, water and other relief supplies for people impacted by Hurricane Irene.
Calling all HuffPost superfans!
Sign up for membership to become a founding member and help shape HuffPost's next chapter