In the winter of 1992, a nor'easter sent a storm surge over the floodwall guarding the southern tip of Manhattan. Seawater quickly overwhelmed major roadways and New York City's subway system, shutting down the entire subway for nearly 10 days.
"If Hurricane Irene had hit an hour differently or 10 percent stronger or moved 10 percent slower, it would have caused a repeat of that event," Jeff Masters, a meteorologist with the leading forecasting service Weather Underground, told The Huffington Post.
Masters and other experts warn that the city may not be as lucky next time. As the warming climate brings higher rainfall and raises the sea level, they say, ever more pressure will fall on America's aging infrastructure.
"Both winter storms and hurricanes are predicted to grow in strength with the warming world. The strongest storms will get stronger, and there will be storm surges on top of rising sea levels," Masters said. "What we saw yesterday is a taste of things to come. "
And U.S. facilities are not ready for these stronger storms. In its most recent "report card" assessing the nation's infrastructure -- everything from the resilience of the power transmission and distribution systems to the integrity of crucial water and sewer networks -- the American Society for Civil Engineers was unequivocal: These critical facilities are often woefully underfunded, aging and in some cases nearing failure.
The organization gave the nation a grade of D overall and estimated that some $2.2 trillion over five years was needed to bring that up to a B.
On NBC's "Meet The Press" on Sunday, Cory Booker, the mayor of Newark, N.J., said the hurricane, which may have caused billions of dollars in damage to state and local governments, should act as a wake-up call to lawmakers.
"We're seeing in the city of Newark lots of flooding and problems because our infrastructure is getting very aged, and we haven't had the kind of investment or the resources to put the investment into it to keep our infrastructure strong and safe," Booker said. "And I know this is a problem from around the country."
Finding both the funds and the political will to invest in infrastructure upgrades is difficult in even the best of times, much less during an economic slump. And no amount of spending can completely eliminate the risks associated with natural disasters like Hurricane Irene, which has left millions still without power and ravaged communities up and down the Eastern seaboard with historic floodwaters.
But improvements to critical infrastructure can make a difference, even during such storms, and some experts say the country continues to underfund these upgrades at its peril.
"Overall, I think we fared pretty well during the storm," said Patrick J. Natale, the executive director of the American Society for Civil Engineers. "The problem is, if you keep hammering a weak system, eventually it's going to poke a hole in it and then you're going to have a major disaster."
Natale emphasized that his group's report card merely evaluated the U.S. status quo, not attempting to predict outcomes if the nation continues to shirk infrastructure spending. But he suggested that natural disasters have a way of shining a light on the system's shortcomings.
"You throw in something like a hurricane in the Northeast, or Katrina six years ago, that's above and beyond. It compounds an already tough situation," Natale said. "We try to get by with less on a regular basis, and eventually it's going to catch up with us."
Many water infrastructure assets, for example, have exceeded their service lives and need to be replaced, according to the Congressional Budget Office's 2010 water infrastructure report. Among them: cast-iron pipes from the late 1800s with a 120-year lifespan; post-World War II pipes with a 75-year lifespan; and treatment plants built in the 1970s and '80s that have useful lifespans of just 15 to 50 years.
Failure to replace such components and facilities has consequences. Andrew Juhl, a research scientist at Columbia University's Lamont-Doherty Earth Observatory, said that while the data has not yet been collected, he is certain that a "tremendous amount" of combined sewer overflow swept into the Hudson River after the storm, which could lead to widespread contamination.
Juhl said he could give the city a pass for such an outcome after a storm like Irene, but the fact that combined sewer overflows occur with even one quarter-inch of rain is "unacceptable," he said.
Nationwide, dilapidated infrastructure leads to a variety of other problems. Some 240,000 water main breaks are documented annually, at a loss of approximately 6 billion gallons of water per day, according to the Urban Land Institute's Infrastructure 2010 report.
The Environmental Protection Agency has estimated that nearly $400 billion must be invested by 2019 to repair and replace existing infrastructure and build new facilities to serve expanding populations.
Natale said that a sizable portion of the money needed for all necessary infrastructure improvements was already available at the local, state and federal levels. What's lacking, he said, is leadership. "It doesn't matter if you're a Democrat or a Republican or an independent," he said. "We all drive on the same roads. I think we need to realize that it's an investment in our future and that there's a return on that investment. It's too easy to just say cut, cut, cut."
Donna Cooper, a senior fellow with the economic policy team at the Obama administration-allied Center for American Progress, said much government spending is going towards infrastructure growth in new communities rather than toward fixing the aging infrastructure that's in place.
"The capital costs for growth are superseding the need to repair the aging infrastructure," Cooper said in an interview on Monday afternoon. "So as new developments are built, there's demand on the limited pool of capital that's available each year for investment to go to meet the growth demand," she added, citing as an example the burden on local municipal water authorities to extend service to new developments.
In the last 19 years, Congress has provided $14.5 billion for drinking water-related infrastructure improvements, but as need for infrastructure investment rises along with the cost of the materials needed to build it, the federal share of investment actually decreased by 13 percent from 2003 to 2007, while state and local investment increased by 3 percent.
"Feds are a very small player," Cooper said, "and the fed money is really critical to leveraging the investment towards aging infrastructure because you can only really use their money for aging existing infrastructure. That's why that little bit of federal money is so important ... We're getting further and further behind."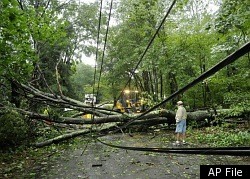 With millions of homes and businesses still lacking power, authorities will also be looking at ways to reinforce the electrical grid. Ted Kury, director of energy studies for the Public Utility Research Center at the University of Florida, said those decisions boil down to weighing benefits of infrastructure investment against the cost.
In the aftermath of disastrous hurricane seasons in 2004 and 2005, Kury noted, Florida state officials discussed moving a significant portion of its power distribution system underground, where it would be immune from wind damage. "The problem is, undergrounding distribution lines is very expensive -- a rule of thumb is about $1 million a mile -- and even then, you haven't eliminated risk," Kury said. "You've just shifted it from wind damage to storm surge and flooding damage. And when power lines are underground, they're much more expensive to fix once something goes wrong."
New York City's power lines are mostly underground. To protect the city's more than 8 million residents from future extreme weather events, some experts are urging policymakers to consider building storm barriers in the harbor. Others propose cheaper, less intrusive measures.
Malcolm Bowman, a professor of marine and atmospheric sciences at Stony Brook University, on Long Island, is one of the barrier proponents. He thinks the city needs a series of walls in the relatively shallow water to choke off connections between New York Harbor and the ocean. Gates would allow ships through during calm weather.
Such a project wouldn't be unprecedented, he added, pointing to similar projects in St. Petersburg, Russia, which has an entire ring of barriers around the city. The Dutch and British have also completed projects, as have other northeastern cities including Stamford, Conn., and Providence, R.I.
"Stamford's storm surge barrier held off the storm of 1992," noted Masters.
David Bragdon, head of New York City's Office of Long-Term Planning and Sustainability, said a storm barrier is among the "myriad of measures" that the city is evaluating as part of its PlaNYC, a long-range project set forth by Mayor Michael Bloomberg. However, Bragdon added, the proposed barrier is also the "most highly engineered and expensive" piece of infrastructure in that mix.
A principal problem is that the New York City coastline is estuarial, requiring a wider defense grid than that of a city like New Orleans -- the site of another major barrier project -- where a single river empties into the ocean. "If you were try to insulate NYC from tidal effects or hazards coming from the ocean in one way or another, you have to consider multiple entrances," Bragdon explained. "That's a very expensive undertaking."
Bowman, the Stony Brook professor, estimates that the price tag would be around $10 billion, which he said would be "nothing compared to the damage that we could have had on Sunday."
"I'm not saying build it tomorrow, but we should start planning," Bowman said. Based on similar projects, he added, it could take 30 years from planning to completion.
Vivien Gornitz, a senior research scientist at the NASA Goddard Institute for Space Studies at Columbia University, is less convinced that barriers are the answer, due to both their high cost and their potential ecological impacts. "It should be thought of as a last resort," she said. "I think that there are a number of other steps that could be taken first."
Gornitz suggested strengthening the city's current sea walls -- which only rise about five feet above sea level -- and building more green infrastructure that can retain the floodwaters. She also cited some innovations that were recently exhibited at the Museum of Modern Art, such as a restructuring of the topography of the shorelines that would leave them sloping gently towards the water, easily filled with vegetation that could act as berms.
Some construction projects already underway, Gornitz added, should be cut, including new high-density residential buildings being built along the very same beachfront areas that were evacuated for Hurricane Irene.
Related
Popular in the Community