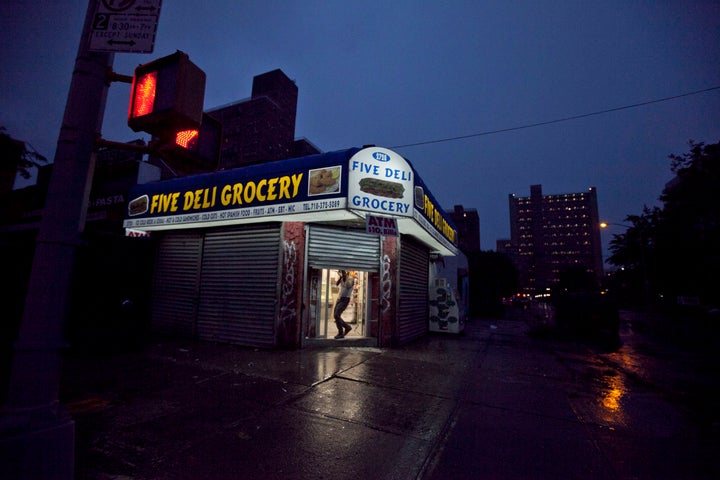 CONEY ISLAND, New York -- Long after Crown Fried Chicken and Bargain Land were shuttered on Saturday in preparation for Hurricane Irene, the Five Deli Grocery on Mermaid Avenue served as the final neighborhood lifeline for holdouts in search of last-minute beers or cold cuts.
"The storm's nowhere near here, so why should we close?" a confident Roberto DiMartinez, who manages the store, said earlier this evening. "Even the police come in here to shop. They said, 'You guys are crazy, but we're glad you're here.' "
But when the strongest bands yet from Hurricane Irene reached the last open bodega in Coney Island, the southernmost neighborhood of Brooklyn, DiMartinez quickly realized the party had to end. Within minutes of the latest downpour, all four employees lowered the shutters, shoved sandbags in front of the doors and headed for higher ground.
It was the end of a daylong party at West 28th Street and Mermaid Avenue. Throughout the afternoon, Five Deli Grocery was the go-to spot for supplies and socializing in this tight-knit corner of Brooklyn. Throughout the day, as streets emptied and almost every other store shut down, the employees at Five Deli continued to dole out flashlights, duct tape, malt liquor, beer and bread to a constant stream of customers.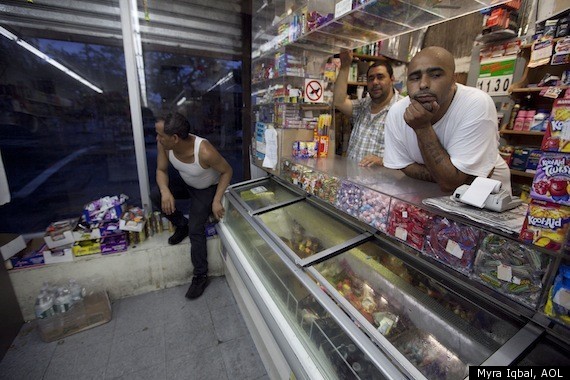 Five Deli Grocery Manager Roberto DiMartinez, right, looks on with two other employees manning the store.
Mark Irwin, 43, who has lived on West 28th Street his entire life, had been there since 8 a.m., catching up with neighbors and nursing a few Colt 45s along the way. Most of those frequenting the store have known one another for years and remembered well the storms of the past.
A few mentioned Hurricane Gloria in 1985, when the streets of Coney Island could be traversed by rowboats. Yet Irene seemed little more than a nuisance to the throngs who streamed in and out until the store finally closed.
"We aren't afraid of no water," said Jose Serrano, 34, a native of the neighborhood. "If you live in Coney Island, you gotta know how to swim."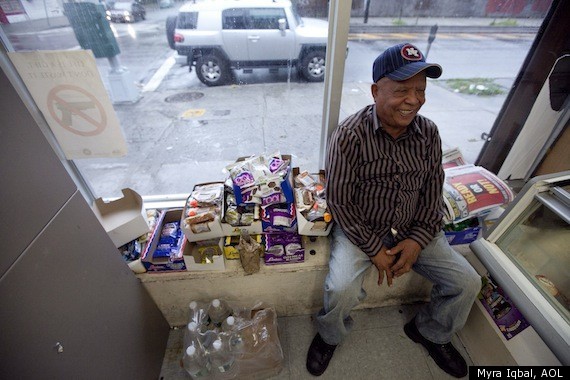 Lorenzo Hernandez, a patron who lives across the street, was socializing with other neighborhood residents at the store on Saturday.
Jason Solomon said he believed all the hubbub was politics. Surely an evacuation order for Coney Island wasn't necessary, he said.
"We don't live in a fish tank," he said. "We've got streets, with drains. The water will go down."
As the latest downpour picked up, prompting the final few purchases, Solomon confidently walked off.
"The worst is not going to happen," he said. "At least, I hope not."
REAL LIFE. REAL NEWS. REAL VOICES.
Help us tell more of the stories that matter from voices that too often remain unheard.