Hurricane Irma left behind death and destruction on several Caribbean islands after a nearly weeklong rampage across the region toward Florida.
At least 38 people in the Caribbean were killed and thousands of homes and businesses destroyed as maximum sustained winds of 185 mph wreaked havoc on residents and tourists alike.
Some islands, such as Puerto Rico and several southeastern islands of the Lesser Antilles, were spared direct hits, though they still incurred damage and casualties. In Barbados, a 16-year-old professional surfer was killed trying to catch a wave during the storm.
Here are the islands that were hit hardest by Irma:
Antigua and Barbuda
Hurricane Irma first made landfall early Wednesday on Antigua and Barbuda, a single Caribbean nation made up of its two namesake islands as well as a few smaller islands.
Antigua was largely spared from severe damage, while the eye of the hurricane passed directly over Barbuda, killing a 2-year-old boy along the way as his family sought refuge from the storm.
Irma's then-Category 5 winds destroyed about 95 percent of the island's infrastructure, a spokesman for the Royal Police Force of Antigua and Barbuda told HuffPost on Monday.
Most of Barbuda's roughly 1,600 residents have been evacuated to Antigua, the spokesman said, adding that the only people left on the tiny island are police.
"There is nothing ― no water, no electricity," he said. "I've never seen a storm like this."
Gordon Browne, the country's prime minister, described the aftermath of Irma on Barbuda as "total carnage."
"It was easily one of the most emotionally painful experiences that I have had," Browne told BBC Radio Four.
St. Martin and St. Barts
St. Martin, an island controlled by France in the north and the Netherlands (Sint Maarten) in the south, was hit with extensive damage when Hurricane Irma made landfall around 6 a.m. Wednesday.
At least 10 people on the island were killed by the storm, reported The Associated Press. Over 100 people were injured, French Interior Minister Gerard Collomb said Friday.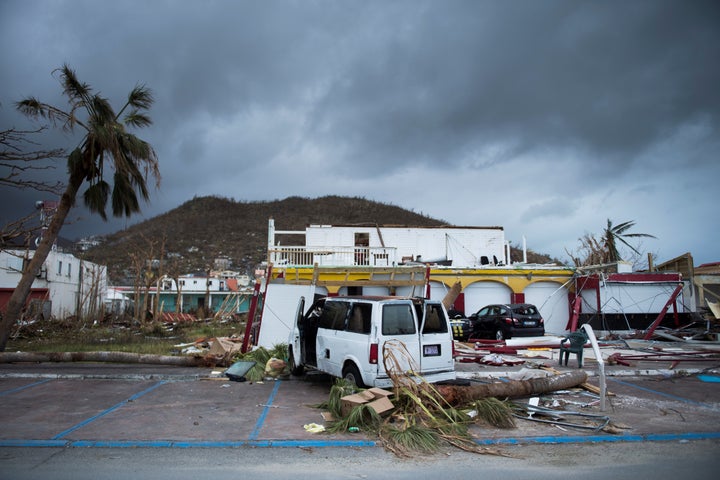 "In terms of material damage, the four strongest buildings on the island of St. Martin have been destroyed," Collomb told reporters, suggesting that weaker structures on the island had likely been leveled by Irma.
By Saturday, over 1,200 stranded Americans had been evacuated from the island, Heather Nauert, a spokeswoman for the State Department, told HuffPost in an email. Officials paused rescue efforts on Saturday due to weather, but planned to resume operations after Hurricane Jose passed.
Anguilla
Just north of St. Martin, the tiny island of Anguilla suffered the full force of Irma's 185 mph winds when it whipped past the British territory Wednesday morning.
One person was killed and roughy 70 percent of the island's "critical infrastructure" was damaged or destroyed by the hurricane, Melissa Meade, director of Anguilla's disaster management agency, told HuffPost. As of Monday afternoon, the island was still without running water or electricity, she said.
The island's airport was open only for relief charters and emergency flights on Monday.
Josephine Gumbs-Connor, a lawyer on Anguilla, said last week that Irma had left the island in "absolute pieces."
"When you look at our island at the moment you would think that it just suffered nuclear bomb devastation," Gumbs-Connor told BBC Radio 4.
Police and fire stations, as well as medical centers, sustained damage, but were operational. Meade said residents were not panicking, but were in desperate need of food, water and fuel.
"We got impacted," Meade told HuffPost. "But we're rallying together to try and get the country back to some state of normalcy."
U.S. and British Virgin Islands
About noon Wednesday, the British Virgin Islands felt Irma's wrath as the hurricane's powerful eye passed over areas of the archipelago.
Photos show collapsed roofs, piles of destroyed boats and flattened trees among the damage dealt to the British territory. Electricity and internet was still down for thousands as of Monday afternoon.
Heather Robinson, a BVI resident, said she lost nearly everything in the storm.
"I mean, our house literally got swept away from around us," Robinson told PBS. "I'm really scared. Like, we went through our rubble and found some — like, a thing of peanut butter and some crackers and biscuits and stuff, but we — it's not going to keep us much longer."
The British government came under fire last week for not doing enough to aid in preparation and recovery.
"It's absolutely disgraceful that it has taken the whole day for [the British secretary of state for international development] to respond to the worst hurricane we have seen in a British territory since the 1920s," Dorothea Hodge, a former United Kingdom-European Union representative told The Guardian.
The U.S. Virgin Islands, which includes St. Croix and St. Thomas just south of the BVI, as well as St. John to the east, also suffered extensive damage. At least four people were reported killed during the storm, according to Reuters.
The islands' 911 emergency system was down Thursday, Stacey Plaskett, the Virgin Islands' Democratic delegate to Congress, told USA Today.
President Donald Trump issued a disaster declaration for the U.S. territory on Thursday and told reporters that the islands had been hit "very, very hard."
Puerto Rico
Hurricane Irma only scraped the northern region of Puerto Rico on Wednesday night, prompting Gov. Ricardo Rosselló to "thank the Almighty" on Thursday.
Still, at least three people were killed during the storm and the island's current economic crisis poses a serious challenge for rebuilding efforts in Irma's aftermath.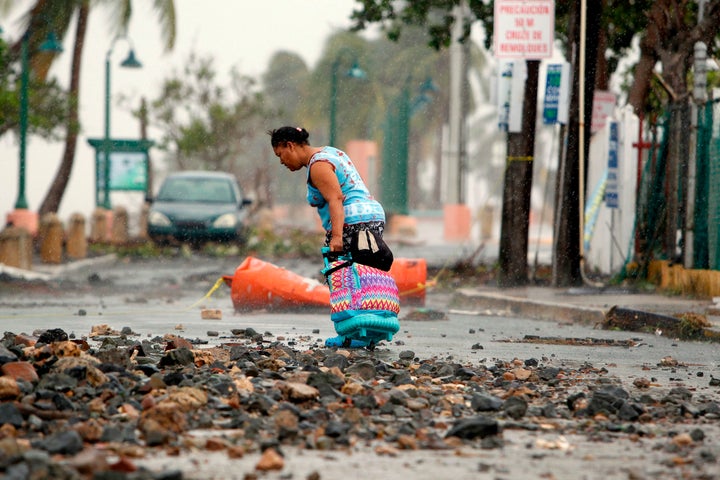 Irma left more than 1 million people in the United States territory without power in the storm's immediate aftermath, according to Ricardo Ramos, chief executive of the island's electric utility. By Tuesday morning, the number of people without power had been reduced to 300,000, according to Federal Emergency Management Agency Administrator Brock Long.
Flooding damaged or destroyed many homes along the island's northern coast.
Irma blew the roof off of Melissa Rivera's home in the coastal town of Loíza.
"All I thought was, 'Wow, my house is gone,'" Rivera told The Times. "I don't have anywhere to live anymore."
Turks and Caicos
As Irma blew past Grand Turk Island on Thursday night, roofs were ripped off dozens of residential homes, streets were flooded and snapped utility poles caused an island-wide blackout, The Times reported. Hurricane-force winds could be felt as far as 70 miles from the center of the storm.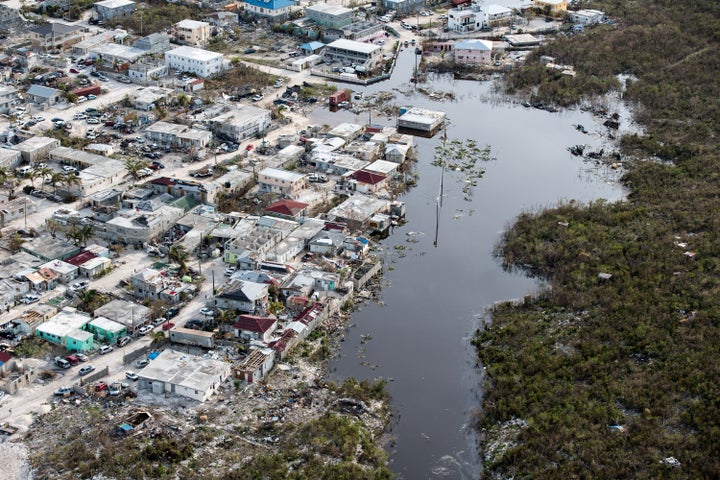 Power, communications and cell service remained down for many on Monday afternoon.
Commissioner of Police James Smith said Monday that no death or serious injuries had been reported as a result of the hurricane, though a state of emergency had been declared Monday for two heavily affected islands, South Caicos and Grand Turk.
Cuba
Irma made landfall on northern Cuba early Saturday as a Category 5 hurricane. The storm delivered strong winds and heavy rains, causing extreme flooding in some areas.
The storm ― the first Category 5 to hit the island since 1932 ― killed at least 10 people. Photos showed downed power lines and trees, as well as many leveled homes and businesses.
Hundreds have been left homeless in Irma's aftermath. Cuba, already facing economic crisis, faces a long road to recovery.
"I've been working in the Caribbean for 10 years, and this is the first time I have seen a situation like this," Raphael Hamoir, the emergency coordinator for the French Red Cross in the region, told The Times.
Lydia O'Connor contributed reporting.
Popular in the Community