 * Producers curtail 93 pct of US Gulf of Mexico oil output
* Isaac approaches Louisiana at hurricane strength
* Experts see minor risk of energy infrastructure damage
* Isaac to boost chance of US SPR crude release - analysts
By Kristen Hays and Erwin Seba
HOUSTON, Aug 28 (Reuters) - U.S. Gulf of Mexico oil production dropped by more than 90 percent and coastal refineries shut down on Tuesday as Hurricane Isaac approached the Louisiana coastline.
Government figures showed offshore oil output down by 1.3 million barrels per day from normal levels. Offshore gulf natural gas output was curtailed by two-thirds, and refinery and port closures added to the storm-related supply disruptions.
The closures were precautionary and most energy analysts expected Isaac to spare Gulf Coast energy installations from any significant damage. U.S. oil futures rose by less than 1 percent on Tuesday, while gasoline and natural gas futures both fell, a sign energy traders were betting against prolonged outages.
As of Tuesday at 2:16 p.m. EDT (1816 GMT), Isaac was 55 miles (89 kms) offshore and featured maximum sustained wind speeds of 75 mph (120 kph), making it a low-grade Category 1 hurricane, the National Hurricane Center said.
"It seems from current projections that Isaac is not likely to cause major damage to infrastructure and therefore shouldn't be like Katrina (in 2005) in having a long-term impact on U.S. refining and production operations," said energy expert Amy Jaffe of Rice University's Baker Institute in Houston.
Isaac was due to make landfall as early as Tuesday night.
Katrina, which ravaged energy installations and took out 4.5 million barrels a day of refining capacity seven years ago, was a Category 3 hurricane with 120 mph (193 kph) winds when it hit Louisiana, killing more than 1,800 people and inflicting billions of dollars of damage along the Gulf Coast.
The U.S. Bureau of Safety and Environmental Enforcement said 93.3 percent of offshore Gulf oil output was shut in as of Tuesday afternoon, up from 78 percent on Monday. The Gulf usually accounts for 23 percent of U.S. oil output.
As of Tuesday, about 12 percent, or 936,000 barrels per day, of Gulf Coast refining capacity was closed down due to Isaac, the U.S. Department of Energy said. That was down from a Department estimate of 1.32 million bpd offline as of Monday.
"What refiners have to worry about is the storm surge, flooding and wind damage," said John Auers, a refining specialist at Turner, Mason & Co. in Dallas.
Many Gulf Coast refineries are in low-lying areas, but Auers predicted any flooding would be much less severe than during Katrina. He expected the region's idled plants to restart three to five days after Isaac's passage.
Since 2005, more than $14 billion has been spent to protect New Orleans and nearby coastal areas from storm surges.

The supply disruptions could provide an impetus for the U.S. government to release oil from its 727 million barrel-capacity Strategic Petroleum Reserve (SPR) in the coming weeks, experts said. The SPR currently holds 696 million barrels.
"I think the probability (of an SPR release) has gone up significantly," said Citigroup's Morse.
Dozens of major oil and gas-producing offshore platforms have been shut, and import terminals like the Louisiana Offshore Oil Port (LOOP) have temporarily shuttered.
The White House said the potential to tap the SPR was already under discussion before Isaac developed. "That option has been on the table for some time, and remains on the table, but we have no announcements to make today," said spokesman Jay Carney.
The White House has been considering an SPR release amid high U.S. fuel prices and disruptions in global crude supply from sanctions-hit Iran.
The Gulf Coast region is the country's top refining hub, accounting for 45 percent of total capacity or 7.8 million bpd. Louisiana usually processes more than 3 million barrels per day.
Major refiners such as Exxon Mobil Corp, Valero Energy Corp and Phillips 66 began shutting plants along the U.S. Gulf Coast region on Monday, idling some 800,000 barrels per day (BPD) of capacity. Many other plants, such as Marathon's Garyville, Louisiana unit, are running at reduced rates.
U.S. crude futures rose on Tuesday afternoon by 73 cents a barrel to $96.20, while gasoline futures fell by 1.3 percent to $3.11 per gallon, after they had risen on Monday.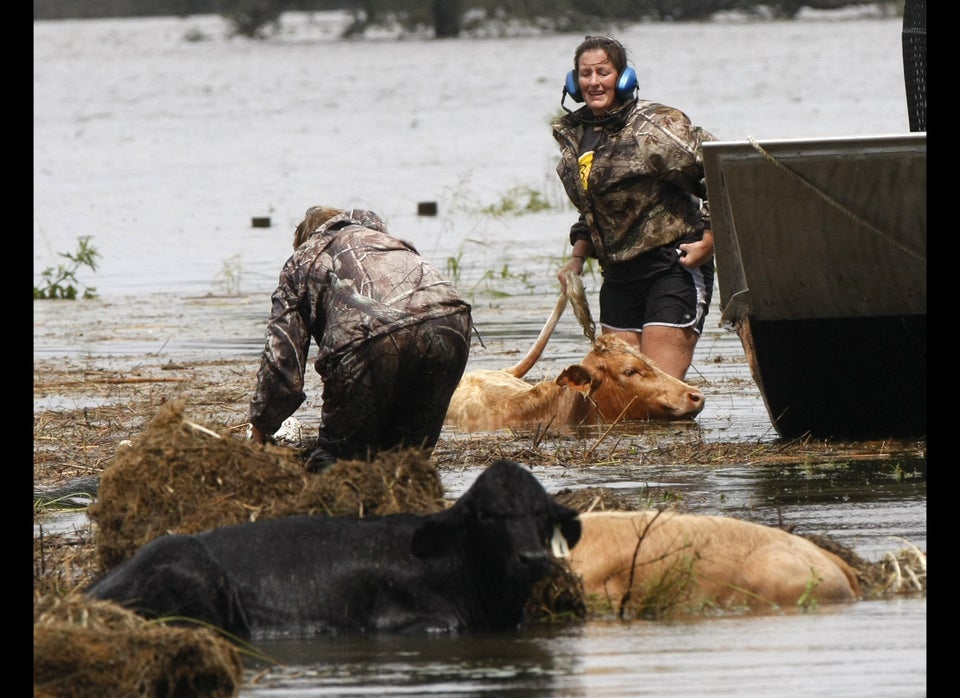 Hurricane Isaac